Houseplants are an extremely popular addition to a home. Bringing the outdoors inside is a great way to freshen up a space and bring life into any room. As long as you research and choose the correct plant, they can thrive in almost any area of your house. For example, if you have a dark corner that needs some brightening, a ZZ plant is tough enough to thrive in the low light. If you have a tiny, humid bathroom with one small window, an orchid is a tropical plant that loves that extra humidity. Houseplants are really versatile, and can be used to fill an empty space in a house, frame a mantel or line a shelf, as wall decor, or even to hang from the ceiling.
As beautiful as they are as decor, the benefits houseplants offer are the real reason to start adding them to your home. When shopping for houseplants, make sure to research the impact that each individual plant can bring to your home environment.
Houseplants help clear air by reducing air pollution.
Not only will all plants help you breathe by converting carbon dioxide into oxygen during the day (by way of photosynthesis), certain plants will keep oxygen flowing throughout the night, making them perfect for bedroom nightstands (aloe vera or orchids are great examples).
A variety of plants can also remove pollutants and improve air quality. Airborne toxins, dust, and germs can be found in every area of the home. NASA's Clean Air Study found that there are a number of air purifying-plants that can help minimize each of these pollutants, and also protect your health. Chemicals like carbon monoxide and formaldehyde can be combated by plant leaves alone. The researchers at NASA recommend one (air purifying) potted plant per 100 square feet of indoor space.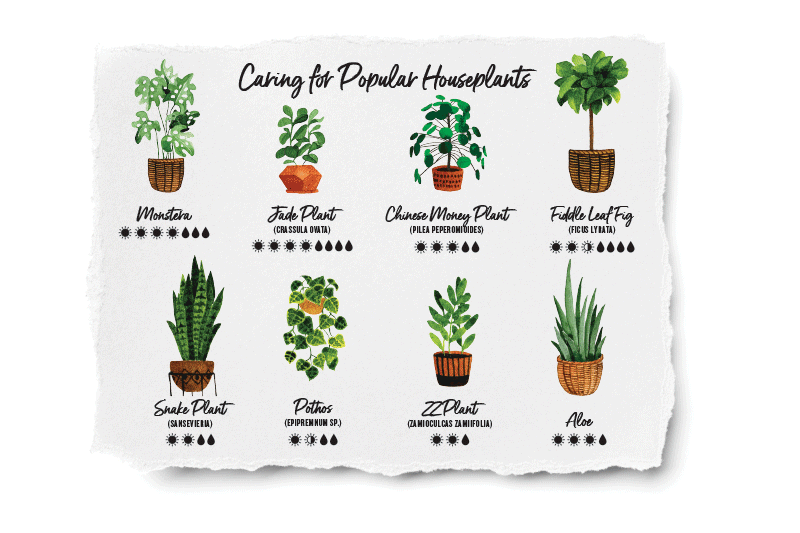 Houseplants can help prevent you from getting sick.
Almost every plant has the ability to increase humidity levels through a process known as transpiration. Research tells us that many viruses survive longer in low humidity, which further increases your risk of getting sick. The ideal humidity for comfort in the home is said to be between 40%-60%, so keep in mind that the bigger the houseplant, the more humidity it produces (for instance, the Areca palm).
With plants doing their job of cleaning the air and making the environment a bit more comfortable, they can also be an aid in countering sleep deprivation. That's another way to ensure that they're working to keep you well.
Research shows that houseplants have several psychological benefits.
Just like when gardening outside, the act of tending to houseplants can have therapeutic benefits that will help relieve stress. Studies have also shown that green, leafy plants can help people feel happier and more optimistic. They can also help enhance creative thinking and keep workers more productive, so it's a great idea to showcase a couple of plants in the office.
The scent of some fragrant plants (such as lavender or jasmine) can interact with a neurotransmitter called GABA, which helps improve mood, promotes rest, and reduce anxiety. This is why so many people pop a few drops of lavender essential oil on their pillows to help them get to sleep. If you have a south-facing sunny windowsill, try bringing a lavender plant inside and see if it helps calm your nerves!
While all these benefits sound great, you should resist the temptation to turn your home into an indoor jungle. If you're somebody with a mold allergy, the soil in houseplants might trigger symptoms. You also need to research which type of houseplants are safe around your pets or children.
Adding too many plants can make you feel a bit overwhelmed, especially when it comes to keeping up with their care. If you're known as a plant serial killer, start off with plants that are a bit more resilient. Golden Pothos are fast-growing, tolerable to a lot of light levels, and can deal with irregular watering. Spider plants are a houseplant that are very common, easy to find, and are durable enough to deal with some neglect. Snake plants have been very popular lately, and although they are slow-growing, they are incredibly easy to take care for, and thrive in a variety of situations.
It's easy to want to follow trends when it comes to which plants are aesthetically pleasing in your home! Just make sure that you research the proper care, and what type of benefits (or even risks) the plants can bring before you make an investment. While there are some houseplants that are just naturally short-lived, others could have no limit to how long they'll be a part of your home, as long as you give them the attention they require.