Photos by Jamie Alexander
For our agriculture issue, we thought we'd share some recipes you can make with some fresh autumn produce. So many flavors and ingredients are synonymous with autumn, and we picked some that are perfect comfort dishes that really hit the spot once the weather starts to cool. So once you see the leaves start to change, pull out the chunky socks and baggy sweaters and sit down with an oversized plate filled with these delicious fall flavors.
Acorn Squash Mac & Cheese
INGREDIENTS
1 acorn Squash (plus additional if you plan on using as bowls)
16oz. box of pasta (your favorite bite-sized!)
3 cups shredded cheese (again, your favorite – I mixed white cheddar/parmesan)
1 cup milk
1 cup chicken broth
2 Tbs butter
Garlic powder to taste
Dry mustard to taste
Salt & pepper to taste
INSTRUCTIONS
1. Preheat oven to 400 degrees. Cut one acorn squash in half. If you plan on using others as bowls, you will slice the bottom points off so they can stand upright, and then the top portion at the widest point (to act as a lid). Scoop out the middle of each squash (seeds, etc), and discard. Then drizzle olive oil on top of what remains and season with salt, pepper, and garlic powder. Place the squash and lids on a baking sheet and add a small splash of water in each squash and on the pan itself. Roast in the oven for 40-50 minutes, or until golden brown and soft.
2. Once roasted, take the halved acorns (not the ones used as bowls), and combine them in a large pot with the butter, broth, milk, garlic powder, dry mustard, and pepper. Stir consistently while heating up on medium heat (about 8min).
3. Remove from heat and blend with an immersion blender or food processor until smooth, then slowly add cheese until all cheese is melted.
4. Add cooked pasta and stir until coated. Then transfer into the squash "bowls" and cool a few minutes before serving! The interior of the bowls will also be edible!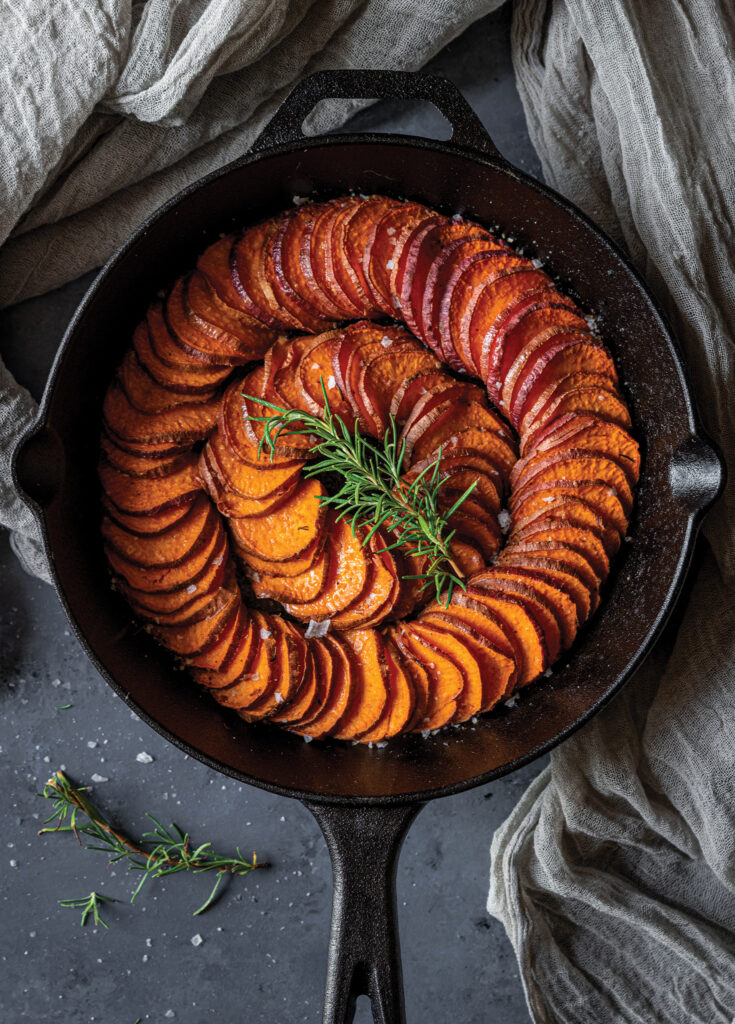 Sweet Potato Casserole
INGREDIENTS
FILLING:
4 pounds raw sweet potato
2 large eggs
1/4 cup unsalted butter, softened
1/2 cup milk
1/2 cup light brown sugar, packed
2 tablespoons sugar
1 tsp vanilla extract
1 tsp salt
1/4 tsp nutmeg
1 tsp cinnamon
TOPPING
5 Tbs unsalted butter, melted
2/3 cup light brown sugar, packed
1/2 cup all-purpose flour
1 cup pecan halves
1/4 tsp salt
INSTRUCTIONS
1. Peel and dice sweet potatoes into large chunks. Cover with water and bring to a boil. Cook with high heat until the potatoes are tender, then drain and transfer to a large bowl.
2. Preheat the oven to 350 degrees and spray a 3-qt baking dish with cooking spray.
3. Add eggs, butter, milk, brown sugar, granulated sugar, vanilla, salt, nutmeg, and cinnamon. Beat with an electric mixer on medium speed until combined and fluffy. Pour into the baking dish and smooth the top out with a spatula. Set aside.
4. To make the topping, add butter to a microwave-safe bowl and melt. Then add brown sugar, flour, and salt. Toss with a fork until moist crumbs form. Add the pecans and toss until incorporated.
5. Spread the topping overtop the filling evenly. Bake for 45 minutes, or until the top is golden brown and the edges are set. Serve immediately!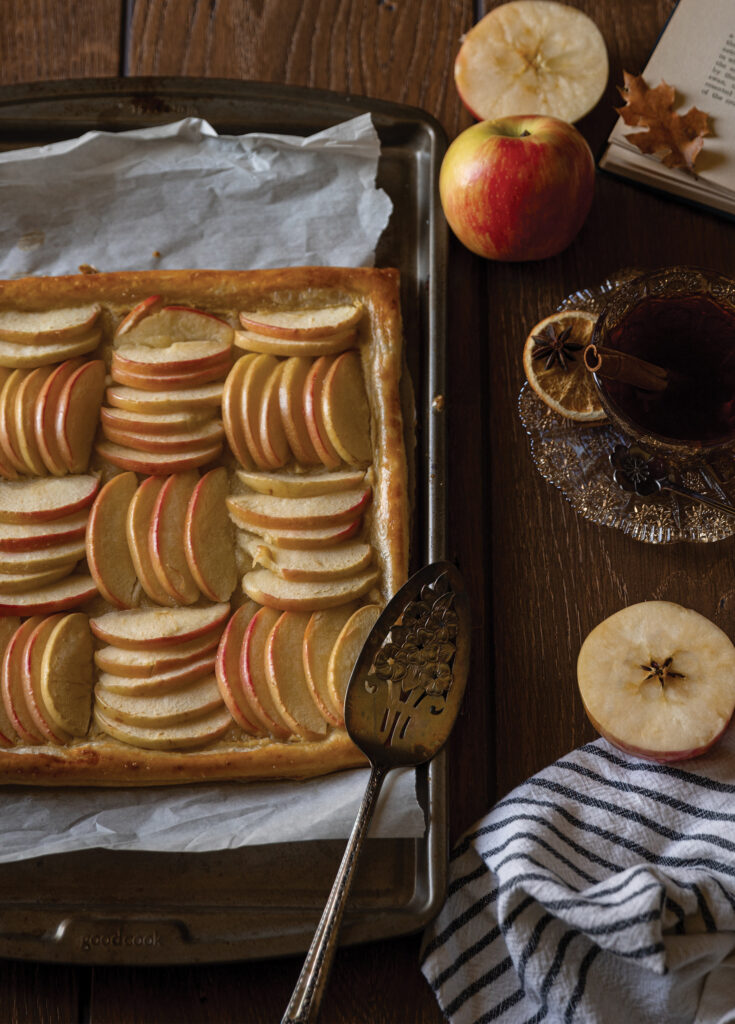 Easy Apple Tart
INGREDIENTS
1 sheet puff pastry
4 apples
3 Tbs Sugar
1 tsp cinnamon
2 Tbs apricot jam
1 tsp water
1 egg (for egg wash – crust)
INSTRUCTIONS
1. Preheat the oven to 400 degrees. Roll out puff pastry sheet on a baking sheet lined with parchment paper. Score out a 1/2 "crust" around the perimeter, then poke holes through the interior.
2. Cut the cores from each apple, then slice them into 1/8" pieces. Arrange them on the puff pastry, overlapping slightly within the 1/2 inch crust. Brush an eggwash over the crust. Combine the cinnamon and sugar and sprinkle over the apple slices.
3. Bake in the preheated 400 degree oven for 40 minutes.
4. Mix apricot jam and water in a bowl (microwave for 10-15min if it needs to be thinned out more). Brush the jam over the baked apples and crust to make a glaze. Cool before serving! OL