Photos by Jamie Alexander
Ernesto Martinez knows what it takes to get ahead. He spent years working toward his goals, yet he refuses to take any credit for his recent successes. 
After facing numerous setbacks to his business in 2020, the new restaurant owner is still very positive about pursuing his dream.
His journey in the restaurant industry started with experience at Owensboro establishments like La Fiesta, Casa Martinez, Cinco De Mayo, and Mezcal.
After moving away from Owensboro for 10 years, acquiring more experience in restaurants in other parts of the country, Martinez was excited to return to Owensboro to pursue his dream of opening his own restaurant.
Martinez officially opened Ernesto's Mexican Bar and Grill in early 2020, alongside his brother Oscar Martinez. He credits many people who helped him along the way, and says it would be impossible to repay them for the kindness they have shown him.
"Mezcal was a good experience for me. David Lanham, who owns the business on West 2nd Street, helped me a lot. He made a great difference in my life, and is just one of the people who helped me through the years," Martinez said.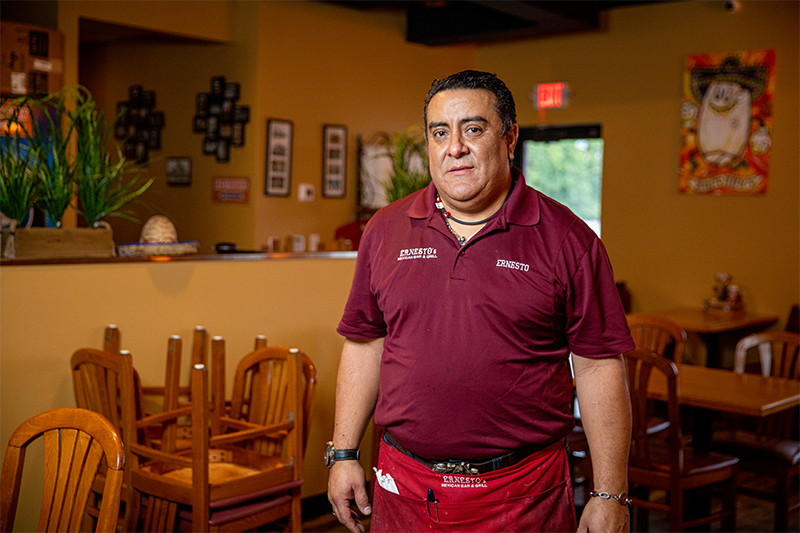 His plans of owning his own restaurant may have started years ago, but as his dream came to fruition in 2020, he would face several obstacles, including mandatory restaurant shutdowns and a fire that closed his business for nearly four months.
"The kitchen caught fire in July, and we had to wait months to open back up," Martinez said.
According to Daniel Hagan, of Hagan Construction, the actual fire damage was pretty well contained to the kitchen area and roof above it. However, the smoke damage more or less made it a complete gut job. The final product after the restoration work may prove to be a blessing in disguise.
"We put the building back pretty much just like it was with only a few minor changes. But new floors, bathrooms, and fresh paint freshened it up a bit. The new, more efficient HVAC, all LED lighting, and added insulation should also help keep his utility bills down substantially," Hagan said.
Hagan describes Ernesto as a passionate, hard-working man, with a never surrender attitude. He believes closing due to COVID-19 and a fire would be enough to make most want to quit after opening a new restaurant.
"He was there pretty much every day after we started putting the building back together, cleaning equipment, painting tables, etc. And then maybe two weeks after reopening, he gets hit with a second round of shutdown. Somebody give this guy a break!" Hagan said.
During the long months of waiting to re-open, Martinez says the people he met and the support of the community are what carried him through a difficult time. He had over 1,000 Facebook followers who he says were waiting for him to re-open so they could support his business.
"In those four months, I found great people. Hocker Associates that own all of our buildings over here are some of those great people. Everyone helped me, wished me well, blessed me, and texted me to check on us," Martinez said.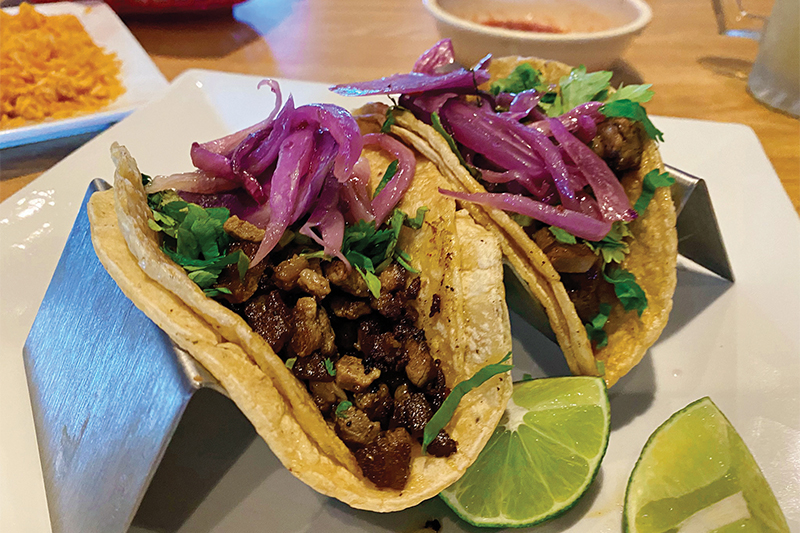 Nearby businesses and patrons were pleased to see Ernesto's able to re-open at the start of November, just before the second round of closures would hit.
"We love that we can walk to Ernesto's from our home and from our business. We are beyond blessed to have such great neighbors in Wesleyan Park Plaza," said Annie McCrary, owner of Pure Barre Owensboro.
On the other side of the struggles, Martinez says he is left feeling the support of Owensboro, backed by customers who never stopped waiting for the restaurant to re-open. His patio with heated outdoor seating allows him to continue to serve his loyal customers even under less than ideal circumstances.
In the future, Martinez says he would love to open two more locations. As far as his favorite part of the business, he enjoys seeing the restaurant teeming with customers.
"I like just seeing this place busy. I love this place. We picked up in November when we re-opened after the fire and even with this shutdown, we have support," Martinez said.