A Personal Transformation Story
Photos by Jamie Alexander
Jacob Kiper understands what it means to undergo personal transformation. Not only has he found a way to connect with an important piece of his past, but he has also been on a weight loss journey that helped him to reconnect with his children and himself, too.
When his father passed away from cancer in 1992, he left his 10-year-old son a special gift. Though he did not know it at the time, that gift was a bit of a legacy in the making — and decades later allowed Jacob to identify with his father in a way he could have never imagined.
"Four years ago, my mom told me she had saved the last bottle of Maker's Mark that was my dad's. When she asked me if I wanted it, I took it," Kiper said.
Although Kiper says he had no previous interest in bourbon, he decided to pick up the book "American Whiskey, Bourbon and Rye: A guide to America's Favorite Spirit" by Clay Risen as a way to feel connected with his father.
"I realized that I did not know a lot about bourbon," Kiper said. "Being from Kentucky, that was a bit unacceptable."
He started bourbon tasting, and continued his discovery of the distilled spirit's history by picking up new books every time he got the chance.
"I finished my 260th book about booze history," he said. "I am currently reading number 261. It's a way for me to identify with something my dad enjoyed, decades later. Dad had been through numerous cases of cancer over the years. I did not know much about what my dad enjoyed."
In November, Kiper posted on Twitter and Facebook what that bottle meant to him on the anniversary of his dad's death.
When Maker's Mark officials saw the Twitter post, they sent Kiper a personal letter, letting him know that his story touched them.
"I shared the letter they sent me, and it was viewed by 1.63 million people, which is absurd," Kiper said. "The letter meant something to a lot of people. I shared it for a few friends that I interact with. I did not expect Maker's Mark to see it; it was a bit of an emotional moment."
While Maker's Mark is the drink that started his interest in bourbon as a hobby, he has decided to dive headfirst into his study of American whiskey history. And he has another 150 books still on his reading list.
"I love being able to understand a product that my dad enjoyed with his friends," Kiper said. "My mom also appreciates that 28 years later I have a way to connect with my dad."
Aside from his special journey to understand something his father enjoyed, Kiper encountered a personal breakthrough, offering him a way to reconnect to his sons and to life.
"January 14th marked three years since I joined Weight Watchers. Growing up, weight was a stumbling block for me. I was obese much of my life," Kiper said.
Kiper had two main goals in mind—to be a better dad to his 8-year-old twin boys, Reid and Sam, and to live longer.
"We would go to Holiday World and I couldn't fit into any of the rides. My kids had never known a dad who could physically chase after them the way a young kid wants from their dad," Kiper said.
A breakthrough moment came when Kiper was 90 pounds into his weight loss journey.
"About two years ago, we were outside, and I tried chasing my kids, and I realized I could actually run after them. It was quite the revelation to realize that I could. I still had quite a bit to go, but just knowing I could chase them was a revelation to me," Kiper said.
Kiper remembers trying everything he could to lose weight, and becoming frustrated when the diet would end, and poor eating habits would take him right back to where he started.
"I have had weight loss success in the past and it didn't last—I didn't do it in a healthy manner. I wouldn't eat much, follow a super strict, super rigid diet. I would have one bad day of eating, the towel would get thrown in, and I would give up. I was trying to do it on my own," Kiper said.
In January 2018, he made a decision that changed his life.
"Something just clicked this time. I thought I would give Weight Watchers one more try and this time, I found that I could do this," Kiper said.
At the start of his weight loss, he weighed 280 pounds. Now at 162 pounds; Kiper says he looks the healthiest and he feels really good where he is at right now.
"This process has re-educated me. Nothing is off-limits; I just look at food differently. Instead of six slices of pizza, I have two. I don't overeat anymore, and I do portion control," Kiper said.
Today, his lab work is good. His cholesterol went from high to healthy, a significant change for someone with a family history of heart disease and diabetes.
"My dad had a heart attack. I realized genetically, I was a ticking time bomb waiting to happen. I realized that I am not going to die an early death from being obese—it took a lot of stress off me and my family."
Kiper says one of the positive benefits of his weight loss is that he truly feels healthy now.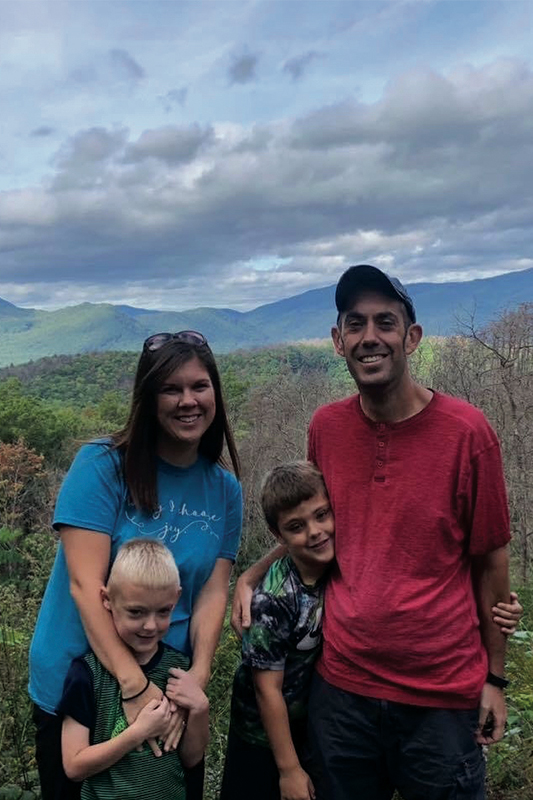 "I no longer worry about diabetes or dying from a heart attack," Kiper said. "This has given me the physical ability to be a better dad than I was before."
As far as his bourbon goes, Kiper says a respect for alcohol means portion control there, too, an aspect that is still considered under what he consumes.
"If I want to consume a glass, I count the points for it. It is one of my pleasures in life, and I work it into the program with me. It doesn't mean I can't enjoy the occasional beer or liquor. I drink in moderation—one for the respect for alcohol and one because I have to count it into my points and my health journey," Kiper said.
It's hard to picture the place he was three years ago when he made the decision to make a lifestyle change. From becoming a more active dad, to having energy and feeling good about himself, Kiper has reaped the benefits of a new life.
"I am thankful for getting off the couch, being energetic with my kids, things I didn't do before. Today, I do push-ups and planks every day. I have met my weight loss goals and I am trying to be a more active dad," Kiper said.
Kiper's advice for others who want to see their own personal transformation is simple—try not to give up.
"I started and failed at getting healthy dozens of times and this time it stuck. It is something I can maintain for a lifetime, unlike other things I tried which are not long term or sustainable. Try not to give up if you fail, because eventually it will stick," Kiper said.