Photos by Jamie Alexander
Matt Weafer, owner of Niko's Bakery and Cafe alongside his wife Jessica, has a new culinary venture—executive chef of the Paddock at the Country Club of Owensboro. 
Weafer's experience in the food industry began twenty-two years ago with his first job at the Big Dipper. He believes the three years he spent there contributed to the success he is experiencing today.
"Working at the Big Dipper was a wonderful experience. I worked for the Osbornes, and I still think about them when I make a decision as a manager today," Weafer said.
Born and raised in Owensboro, Weafer graduated from Brescia University with an English degree. While he enjoys writing, he has always been drawn to the food industry.
With more than two decades in, Weafer has gained experience from local establishments such as the Famous Bistro, the Campbell Club, and more recently Niko's Bakery and Cafe.
"My wife and I bought it a month to the day before COVID hit. We actually got busier when everything happened," Weafer said.
Although he wasn't looking for the opportunity to run two kitchens, the opportunity presented itself to him and he knew it was an open door to do more of what he loves.
"It was a quick turnaround. I took over at the end of July. We have some carry over from previous staff—more than half brand-new employees," Weafer said.
Private dining includes a smaller group of clientele, something Weafer appreciates because of the opportunity to get to know each of his customers on a more personal level.
"I'm here to make them feel special. Private dining means we learn their names, their anniversary dates, what their wife likes to drink," Weafer said.
The new restaurant, with a Kentucky Derby theme, offers seating for 120, with a whole new menu. The club prides itself on made from scratch dishes and unique offerings.
Weafer describes sous chef Cameron Anderson as a major asset to the team.
"Having him as part of the team is the critical element—he can run a kitchen. It takes a while to get a job like this down, but he has an eye for it, a palette for it; I am loving every minute of it," Weafer said.
Making connections with the local farmers in town, Weafer says offering a delicious cut of beef or fresh produce from within the community is another aspect of creating dishes that he enjoys.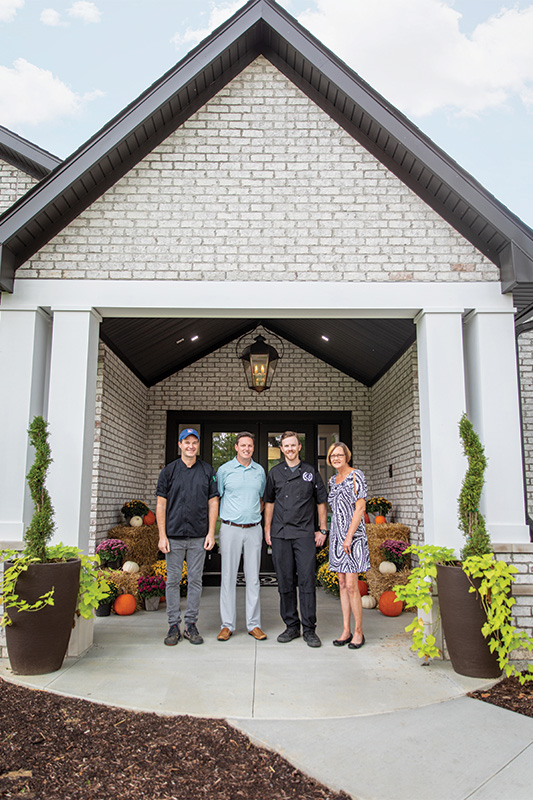 "We have been involved with the farmer's market for years and we frequent the different vendors, we are indiscriminate with it. I also love seafood—knowing it was caught just 24 hours ago, breaking it down and turning it into a meal that night," Weafer said.
His expertise in the restaurant industry has helped him gain this opportunity, with a passion for customer service, working with the staff, and of course creating delicious food.
"In all honesty, I love every aspect of working in restaurants-from teaching and training, to interacting with customers, to showing the staff how to clean the kitchen properly," Weafer said.
And when it comes down to it, Weafer feels the most fulfilled right where he's at.
"I left for a while several years ago for a day job at the Post Office. For two years, all I did was walk around daydreaming about food," Weafer said.
As far as what fuels his passion, Weafer enjoys the endless supply of things to learn.
"There is always a better way to do it. This job is not stagnant, not stationary. I can always try something new," Weafer said.
Although the Paddock is open to members only, there may be future events that are open to the public, similar to events the club has hosted in the past.
In a time where so much has been unknown for businesses and the restaurant industry, Weafer says the community has continued to show unwavering support.
"We stay pretty busy. The support has been phenomenal; this community is extremely well receptive."
And with a talented local chef like Matt Weafer, diners at The Paddock are certainly in good hands.