Photos by Jamie Alexander
I always love taking advantage of all the fresh summer produce from my favorite local farms! The recipes below all use different types of beautiful produce and are perfect for enjoying a hot summer evening on your porch! Now that it's getting safe to gather, make sure to share these recipes while (responsibly) entertaining—they are definite crowd-pleasers! 
Whipped Feta with Roasted Tomatoes 
INGREDIENTS:
1.5 lbs Cherry tomatoes
6 oz. Feta cheese
1 cup olive oil
2 oz. cream cheese (room temp)
3 cloves garlic, diced
4 fresh thyme sprigs
2 fresh oregano sprigs
1/2 lemon juice and zest
sea salt and pepper to taste
(recommended: crusty bread for serving)
INSTRUCTIONS:
1. Preheat oven to 450 degrees
2. Place tomatoes on a rimmed baking sheet or a large, shallow baking dish. Drizzle evenly with about 3 tablespoons of olive oil. Season with sea salt and pepper, and 2 cloves of the diced garlic. Tear leaves off herb sprigs and sprinkle over tomatoes. Toss everything until combined evenly, then spread tomatoes out into a single layer. Roast the tomatoes until they start to turn carmalized and burst (20-30min).
3. In a food processer or blender, combine feta, cream cheese, 1/4 cup of olive oil, lemon juice/zest, a dash of salt and pepper and 1 clove of diced garlic. Blend until smooth and creamy.
4. Spoon the whipped feta into a serving bowl. Top with roasted tomatoes and a drizzle of more olive oil (can use fresh but leftover oil from the roasting tomatoes tastes great!). Optional: Add garnish of more fresh thyme and oregano leaves, salt and pepper. Serve alongside some toasted bread!
Easy Peach Galette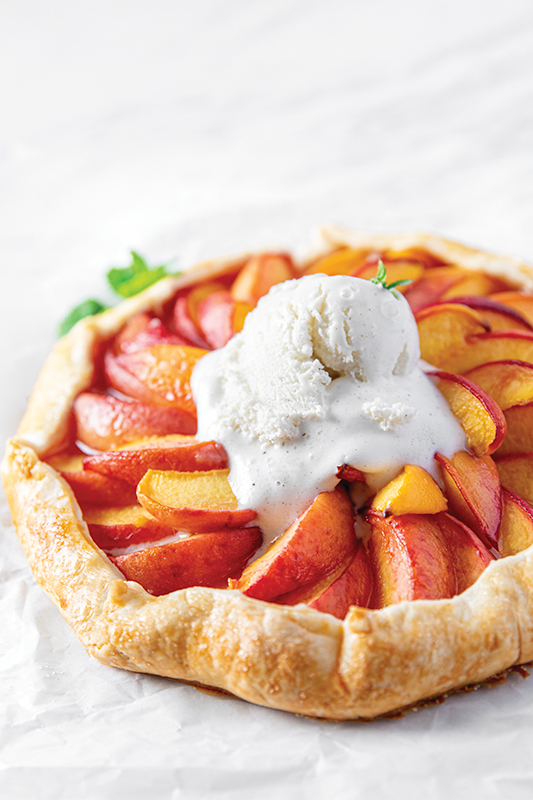 INGREDIENTS:
5-6 medium peaches, sliced (optional—peel)
1 tsp vanilla extract
1/2 cup + 1 tbsp sugar
1/8 tsp salt
1/4 cup flour (+ a bit more for rolling surface)
1 egg, beaten (for wash)
Juice from one lemon
Your favorite pie crust recipe (or single ready-made pie crust)
optional—serve with vanilla ice cream
INSTRUCTIONS:
1. Preheat oven to 375 degrees.
2. Place peach slices in a large mixing bowl. Sprinkle lemon juice, vanilla, salt, and 1/2 cup sugar over peaches then gently toss to completely cover them.
3. Sprinkle peaches with flour, then toss gently again to cover them. Set aside.
4. Roll out pastry on lightly floured board until you have an 11-12 inch circle. Lay out the peaches in the center of the circle (can be done in decorative design if you wish). Leave a 2-inch border around the edge.
5. Fold the pastry up over the edges to create a crust—crimp as needed! Add to a parchment paper-lined baking sheet. Brush the crust of the pastry with an egg wash before sprinkling with 1 Tbsp sugar.
6. Bake for 35-40min, until peaches are bubbling and crust is golden brown. Let cool 10 min—can be served cold or warm (recommended warm with a scoop of vanilla ice cream!)
Corn & Cucumber Salad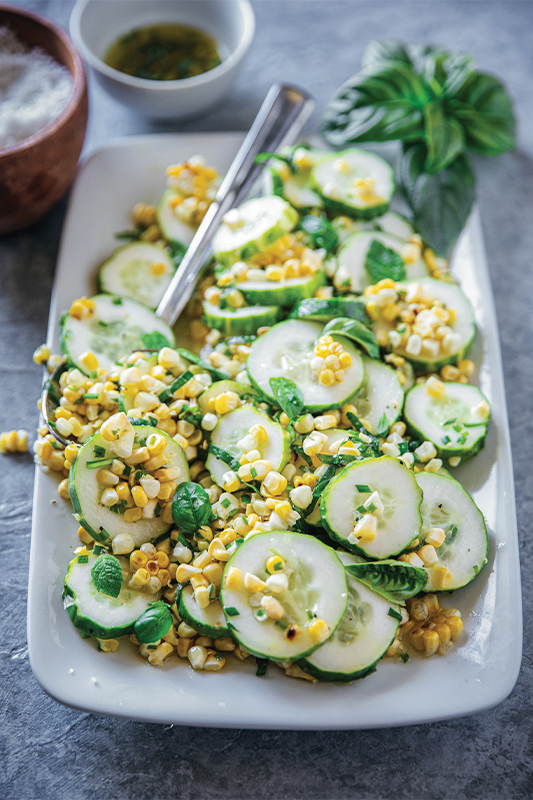 INGREDIENTS:
1/4 cup lemon juice
1/4 cup olive oil
1/2 tsp salt
1/2 tsp pepper
1/2 cup fresh basil, chopped
1/2 cup fresh mint, chopped
1/2 cup fresh chives, chopped
3 large cucumbers, sliced
4 cups freshly cooked corn kernels
INSTRUCTIONS:
1. In a large bowl, whisk together lemon juice, olive oil, salt & pepper.
2. Stir in all fresh herbs, cucumbers, and corn until fully combined.
3. Cover and chill for an hour before serving
Optional: garnish with more finishing salt.