Photos by Jamie Plain
When Stacy and Barry Bratcher opened Beef O'Brady's on Highway 54 in 2006, they were looking for a way to put their young children through school. Now, they own the highest-performing Beef O'Brady's in the country, and they've found a community of loyal customers. 
For the last two years, based on having the highest volume of sales, the franchise has been Beef O'Brady's highest-performing location. Stacy credits the staff for the accolade.
"We have the best staff I feel like there is," she said. "When you own a business, you know that your staff makes or breaks you," she added.
The couple first had the idea to open the restaurant as they were looking for a way to supplement their children's education funds. Barry found information about Beef O'Brady's online, and the couple visited one in Louisville. "The concept just fit our family at that time perfectly," Stacy said. "You can go in without getting dressed up, it's family-friendly, and then we just fell in love with it as soon as we saw the feel of it."
Seventeen years later, the rest is history. The kids are grown and through school, and Stacy says the family now enjoys "just being here for the community and our staff."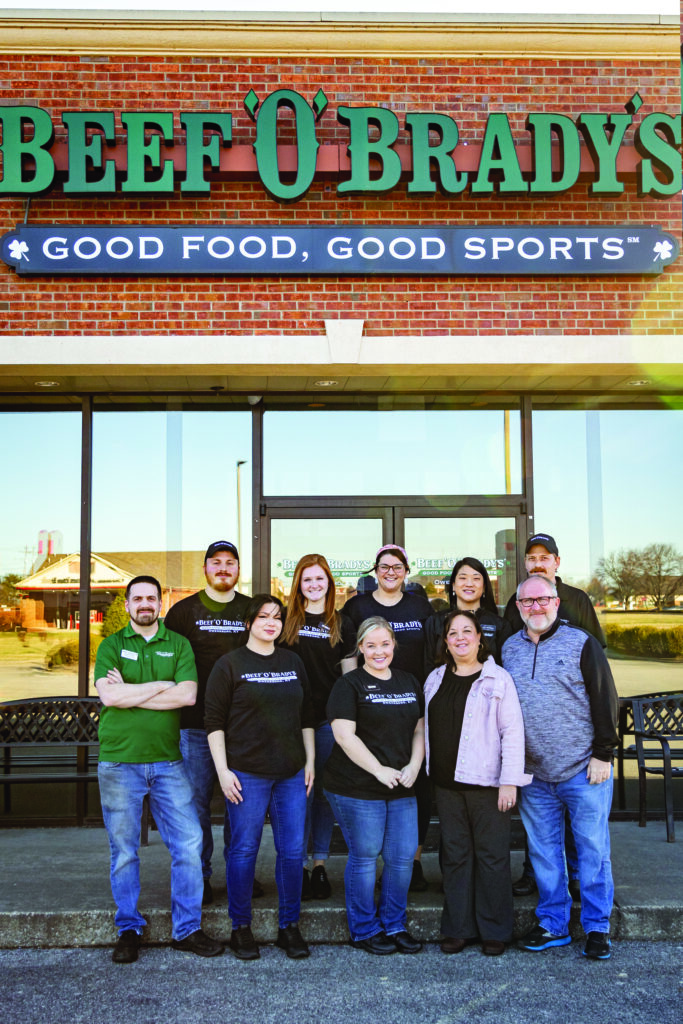 Stacy said the restaurant's most popular dish is wings, which come in a variety of flavors. They're also known for their salads, wraps and steaks, but their burgers draw crowds — especially during Owensboro's annual Burger Week.
They'll create a special burger to participate in this year's event, which is March 3 – 11. They've participated since it started in 2021.
"We had no idea what was going to happen the first year," Stacy said. "We were shocked by what we normally see because the past two years, Burger Week has been five days. In a typical five-day period, we would sell about 400 burgers. The first year for burger week, in five days, just the special cheeseburger sold 1,377."
Last year, they created a Campfire Burger, and they outdid themselves, selling 2,100 burgers in five days.
"We were shocked," she said.
This year, the event is nine days long instead of five, and the Bratchers and their staff are looking forward to it. "It just adds excitement," Stacy said. "You might see people you don't normally see."
And that's important to the couple, who have been lucky to build a community of regular customers.
"They have been so loyal to us," she said. "Through the years, we've had people that have been coming in since day one. And you know, we just want to take care of our customers. It's amazing to me because we have customers that come in and they bring gifts to our servers. I've never had that experience of going somewhere and being so close to the staff at the restaurant. I just love the interaction."
That interaction extends beyond the walls of the restaurant, as they make a point to help the community when they can.
"Every organization that comes to us, we say 'yes' to," Stacy said. "It might not be exactly what they asked for, but we're always happy to work with people — especially youth programs and churches, or people fundraising for medical expenses or whatever. It's just always been important to us."
The love for the community is mutual, with some regular customers stopping by once or even twice a day. "Maybe it might just be for a drink for a few minutes," Stacy said. "But then they come in and see their friends, and it's just somewhere where they feel welcome." OL