Natasha Neely Shines as Dolly Impersonator
When Natasha Neely was just three years old, her parents signed her up to sing at open mic night at Owensboro's legendary Goldie's Best Little Opryhouse. She's been shining on stage ever since.
Today, Natasha thrives in the Nashville music scene — whether that means being a country singer with her band at venues around Music City, or impersonating Dolly Parton at corporate events. Still, she looks back fondly on the Owensboro stage, where she got her start.
Before Goldie's closed in 2008, Natasha was a part of the regular cast every Friday and Saturday night. For years after the music venue closed, she returned to perform at Goldie's New Year's Eve shows at the RiverPark Center.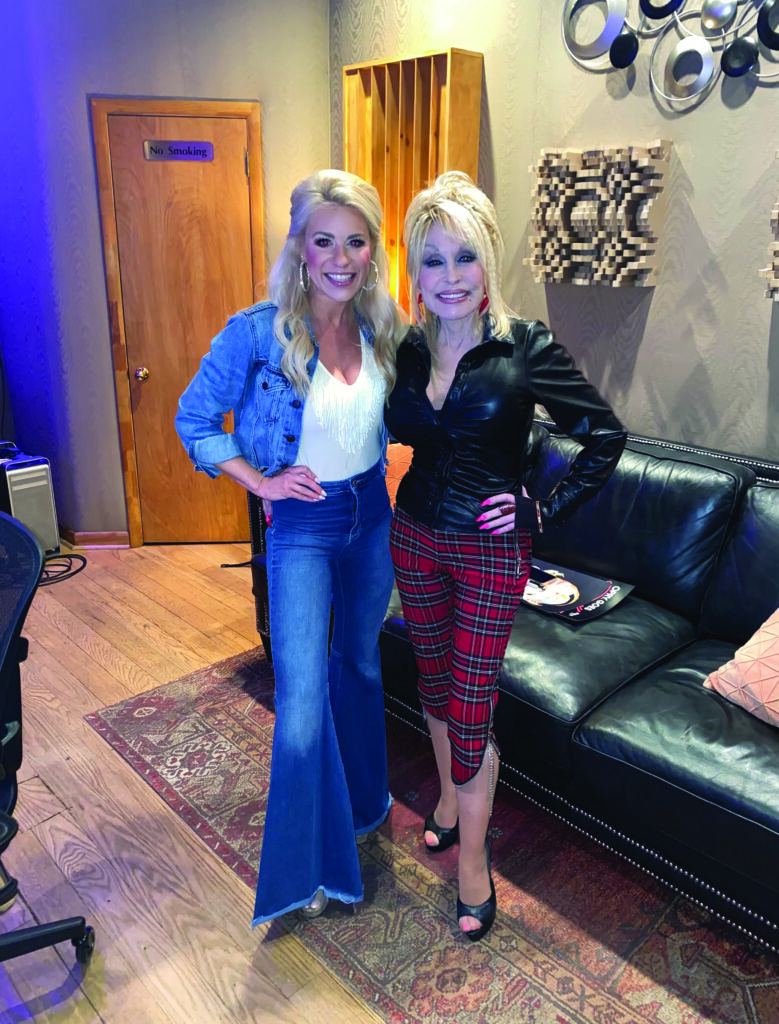 "That's where I got a lot of my experience performing, and found my love for country music," Natasha said. "In addition to Goldie's, I was very active in the community, performing for different events and singing at church on the praise team at Owensboro Christian Church. But Goldie's was kind of the main reason for it all."
To continue fostering her love of music and the music industry, she headed to Belmont University, where she secured a degree in music business and facilitated many professional connections that have continued to help her through the years.
Her first professional job outside of Owensboro was singing at Dollywood, Dolly Parton's theme park in the Smoky Mountains.
"I loved the cast, and all of the material on the show was genuine, traditional country music like I grew up singing," Natasha said. "It was just the coolest opportunity."
It was also where visitors would notice that Natasha resembled the park's namesake.
"People would come up to me at meet and greet. And they would say, 'Are you related to Dolly? You look like her.' And sometimes, I would joke around and say, 'Oh, I'm her niece,'" she said.
A talent agent in Nashville asked if she'd be interested in portraying Dolly for shows they booked for corporate entertainment — a growing industry in a city full of conferences and events.
"Who wouldn't want to be Dolly?" Natasha said.
That was 12 years ago, and she's been embodying the larger-than-life country star ever since.
"When I started doing this, I was doing it three or five times a year," she said. "And now I'm doing it anywhere from three to six times a week. I think the corporate events industry is booming, and Dolly is more popular than ever."
She even had the opportunity to meet Dolly after singing on a demo session for a song a friend wrote. The song was a tribute to Dolly, and the songwriter had a connection to Dolly's producer. When the producer and Natasha met, she shared with him that she'd worked at Dollywood, had met several of Dolly's family members and was even friends with her wardrobe assistant, but had never been able to meet Dolly. A year and a half later, the producer made her dream come true.
He arranged for Natasha and her husband to be at a studio early one morning to catch the star coming into work.
"In walks Dolly, and I saw her blond hair bopping in the door," Natasha said. "I was like, in my mind, 'She's really here. This is actually happening.'"
"I told her that I was one of her Dollywood girls, that we have a lot of mutual friends and people that we know and love, and that I've been impersonating her for over a decade," Natasha said. "She put her hand on her hip and said, 'Well, you look like family!'"
After chatting for a few minutes and taking photos, Dolly told her, "Good luck with your career — whether it's being me or being you!"
Natasha keeps that blessing in mind, as she not only impersonates Dolly in a 90-minute show full of costume changes and her biggest hits, but also as her own performer with the Natasha Neely Band, living out her country music dreams.
"My first passion is performing as myself as a country singer, just like I've done from the time I was a little girl in Owensboro," Natasha said. "That is my passion, but being Dolly has brought so many unique opportunities and very cool, memorable experiences that I will talk about for the rest of my life."
Follow along with her career at NatashaNeely.com.