When Gene's Health Food owners Karissa Costello, Andrew Keller and Olivia Vancil were looking to expand, they knew they not only wanted to grow the store, but they also wanted to expand their restaurant to better serve the community.
Gene's is named for Costello and Keller's grandfather, Gene Clark, who owned the health food store until 2013, when Costello and Keller purchased it. In 2018, Olivia Vancil became a partner, and the three have been busy expanding their inventory and menu.
Keller is responsible for the 40-seat deli, and he said he finds joy in creating a variety of healthy options for customers. Often, when Costello and Keller travel, they eat at organic, healthy restaurants to get ideas to bring back to the Owensboro community and visitors.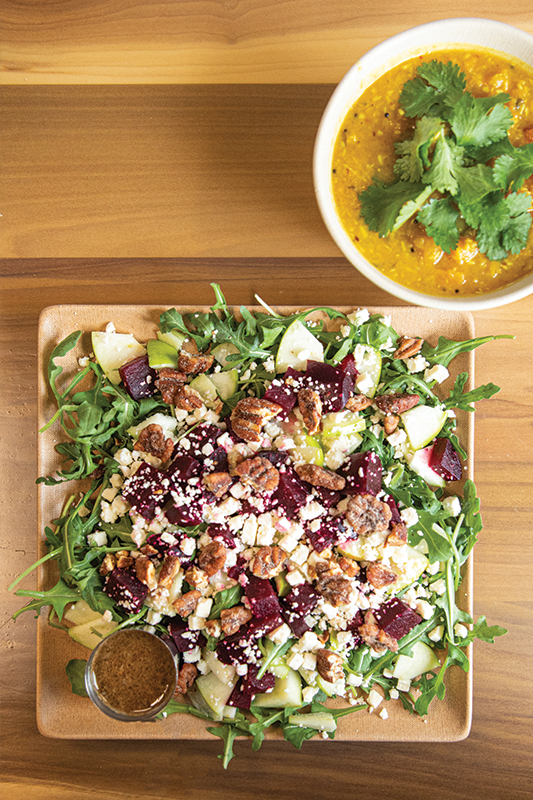 Same Favorites, New Menu
Many of the items on the new menu are customer favorites from the previous store, but as they were expanding and relocating, many of the existing specials they offered previously became everyday menu items.
"We don't stick to a specific genre of food," Keller said of the eclectic menu offerings, which can also be altered to accommodate food allergies.
Both Keller and Costello have children with food allergies, so bringing options to customers is important to their specialized service.
"We feed families foods they can't get — by changing the ingredients," he said.
Customers order Gene's Famous Tuna Salad most often, which is made with a secret family recipe. Containers of the Famous Tuna Salad and Curry Chicken Salad are always available for takeout, but those willing to try extraordinary items can choose from several options that are on their restaurant menu.
Specials are often fusion cuisine, which means they are inspired by a combination of various cuisines. These include rice bowls and uncommon wraps.
The restaurant, located in the back of the store, has a large menu board that allows customers to select from organic salads, sandwiches and wraps, soups and sides, and any order can be modified and customized.
The fig and pig grilled cheese offers crisp bacon, fig preserves, mozzarella and white colby cheeses and is topped with fresh basil served on bread that is made locally.
The grilled brisket and cheese is so popular that many people visit their "Fresh by Gene's" food truck when it is at events just for this item.
Keeping it Local
Sourcing local produce, meats and breads as much as possible is important to Keller, and he said he goes out of his way to source meats from the state.
With their expanded menu and eat-in dining area, as well as take out and delivery options, Keller said the new store has been very well received since opening, and they plan to do even more.
The Fresh by Gene's food truck is really Keller's creative outlet, he says, and it allows their food and desire for a healthy Owensboro to reach more people.
"We provide something different that appeals to crowds," Keller said, including their smoked salmon tacos that are available in the restaurant and on the food truck.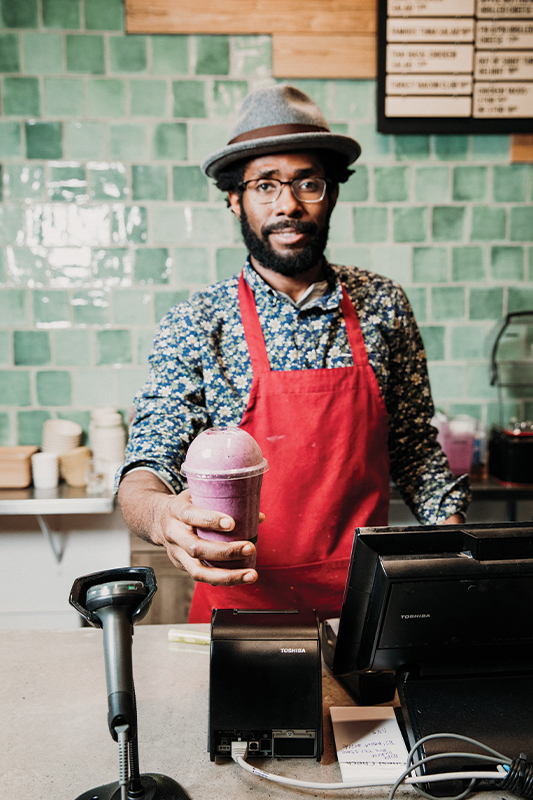 They plan to grow their own herbs soon to use in their recipes, and they have considered extending their hours for dinner. Currently, the deli is open the same hours as the store, and customers can also choose smoothies and juices from the counter.
The juices are made with organic ingredients, and customers can choose from several varieties, or can create their own mix. Keller said that many patrons regularly visit during the morning hours to purchase one of the drinks.
Gene's Health Food is open Monday through Friday from 9 a.m. to 5:30 p.m. and on Saturday from 9 a.m. to 5 p.m. The store's new location is at 1738 Moseley St.