Photos by Jamie Alexander
Autumn doesn't get much better than wrapping up in a flannel blanket and making s'mores on a campfire. S'mores are definitely a year-round dessert for me, but if the weather isn't cooperating (or I just need to make a special treat) this cake is definitely a "go-to." I've included a great recipe for the layers of chocolate cake, but boxed cake can be used in a rush (you may need two boxes in order to get the three layers of the cake). Don't be scared to decorate! The cake in the photos is the first time I ever decorated a cake, but using the right tools (bowl scraper and a turntable stand) made it so much easier! Honestly this cake is so delicious, nobody will think much about how it looks!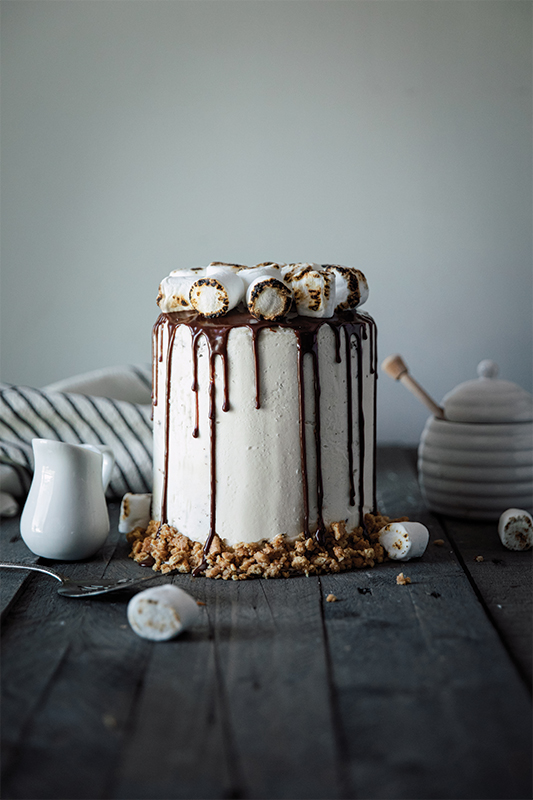 Chocolate Cake
INGREDIENTS:
3/4 cup unsweetened cocoa powder
1 cup flour
1 cup sugar
2 tsp baking soda
pinch of salt
1 cup buttermilk
1 cup vegetable oil
2 large eggs
2 tsp vanilla extract
1 cup hot (almost boiling)water
INSTRUCTIONS:
1. Preheat oven to 300F. Prepare three 8-inch pans by greasing your favorite way (I use a store-bought baking spray then line the bottom of the pan with parchment paper).
2. Whisk all dry ingredients together in a large mixing bowl.
3. Add eggs, buttermilk, and vegetable oil and mix until combined.
4. Stir vanilla extract in hot water, then pour into the cake batter bowl and mix well.
5. Divide the batter evenly into three pans and bake for 25-30 minutes (until toothpick inserted in the middle comes out almost clean). When finished, let the cakes cool for 15min before removing them from a pan, then leave them on a cooling rack to cool completely. While cooling, make marshmallow frosting & Graham cracker filling.
Marshmallow Buttercream:
INGREDIENTS:
13oz. Marshmallow fluff
1 cup unsalted butter (room temperature)
4 cups powdered sugar
1 tsp. almond extract
INSTRUCTIONS:
1. Cream butter in a stand-mixer until smooth. Add in almond extract, then slowly add in sugar 1/2 cup at a time until incorporated.
2. Carefully fold in marshmallow fluff until mixed.
Graham Cracker Filling:
INGREDIENTS:
5 graham crackers, crumbled
1/3 cup unsalted butter, melted
1/2 tsp cinnamon
1/2 tsp all spice (optional)
pinch of salt
INSTRUCTIONS:
1. Fold all ingredients together in a bowl until graham crackers are coated.
2. Spread in a single layer on a parchment-lined baking sheet and cook for 8 min at 350F (until you see a slight browning). Allow to cool.
Assembly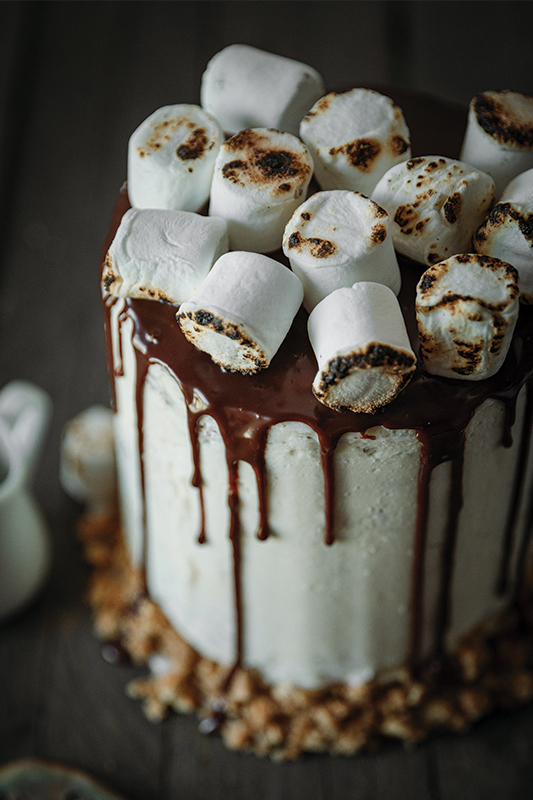 1. Once cakes are completely cool and marshmallow frosting/graham cracker filling is prepared, place a layer of cake down (I add a small dab of frosting to the stand first to keep the cake in place while decorating), before adding a layer of frosting, then a layer of graham cracker filling. Add the second layer of cake, before another layer of both the frosting and graham cracker filling, then add the last layer of cake on top.
2. Frost the entire cake with a very thin layer (this is called the "crumb coat". It prevents crumbs from the cake getting stuck in the frosting while decorating). Then place the cake in a fridge for 20 minutes so it sets.
3. Once the cake has chilled, bring it out and add your final layer of frosting. It's sometimes easier to spread it all over so that the cake is completely covered before crafting it into the "look" you desire (to get your frosting extra-smooth like it is in the photo, I recommend using a bowl scraper if you're a beginner).
4. Decorate your cake however you prefer. I made sure to reserve some graham cracker filling for the outside of the cake and made a simple chocolate ganache to drip off the top (and help cover my beginner-decorating imperfections). I also toasted marshmallows with a culinary torch to finish the look!