Granola can be a healthy alternative to many other snack options available. Nevertheless, if you check nutrition on store-bought granola, you'll see that isn't always the case. So many granolas are filled with way too much added sugar, along with a lot of ingredients that are difficult to even pronounce. Not only is making your own granola at home easy, but you can choose your own ingredients, and opt for healthier options like whole grains, unrefined oils, and natural sweeteners. 
Granola can be made specifically to your liking, so make sure to use the ingredients listed in the recipe as a base, and then adjust to your preference. You can also adjust your steps to achieve your favorite consistency (traditional oats are better for bigger clumps, and instant oats are best for a flakier granola), and get creative with toppings to give each batch a unique taste. Some popular add-ins to try are dried or fresh fruits (apples, bananas, blueberries, pineapple), seeds (chia, flax, pumpkin), nuts (almonds, cashews, pecans), spices (cinnamon, nutmeg, ginger), chocolate chips, or coconut flakes. Granola is great as a cereal, on top of your favorite yogurt, or as an "on the go" snack!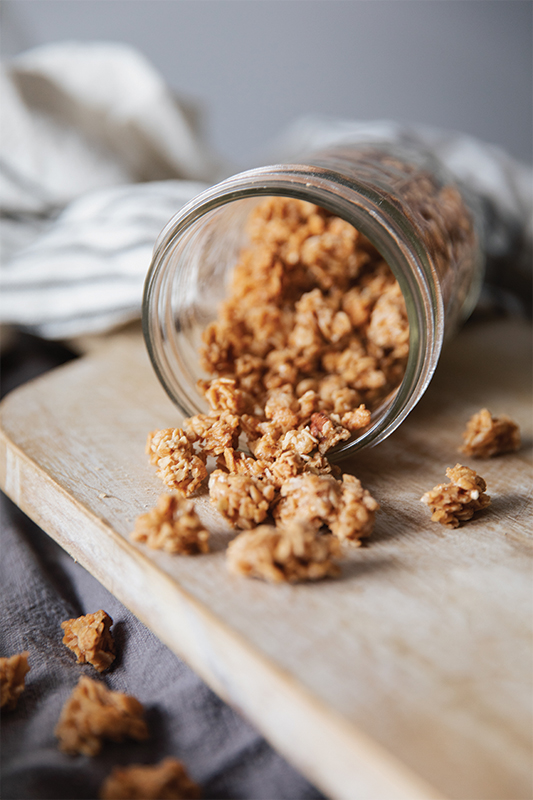 INGREDIENTS:
4 cups rolled oats
2 cups nuts and/or seeds
1 cup optional add-ins (see article for recommendations)
1/2 cup oil (recommended – melted coconut or olive oil)
1/2 cup raw honey or pure maple syrup
1 tsp vanilla extract
1 tsp sea salt
1 tsp cinnamon
INSTRUCTIONS:
1. Preheat your oven to 350. Line a baking sheet with parchment paper.
2. Mix together dry ingredients (except dried fruit/chocolate) in a medium-sized bowl (base ingredients: oats, nuts/seeds, salt, and cinnamon).
3. Add in your wet ingredients (oil, sweetener, and vanilla). Mix well until everything is coated.
4. Pour the granola mixture on the prepared pan, and spread it out into an even layer.
5. Bake 10 minutes, then pull the granola out of the oven to stir it. If you want chunkier granola, press the stirred granola back down to mold it into another even layer. After stirring, put back in the oven and bake another 10-15 minutes (watch for it to be lightly golden – it will continue to crisp as it cools).
6. Let the granola cool completely before adding fruit or chocolate mix-ins. Break into pieces and serve!