Photos by Jamie Alexander
The time has come for fuzzy socks, thick chunky blankets, a good book or movie, and some filling comfort food. While these are great recipes for hosting holiday events, sometimes a nice night in with these dishes all to yourself really hits the spot (we are not here to judge). Made with ingredients that are on theme with the changing weather, every bite should bring you warmth and comfort!
Bourbon Spiked Hot Chocolate 
INGREDIENTS
1 cup milk
1 Tbsp cocoa powder
2 Tbsp brown sugar
1 1/2 oz. bourbon
1/4 tsp salt
1 tsp cornstarch
2 oz semi-sweet chocolate
1/2 tsp vanilla
INSTRUCTIONS
1. Whisk together milk, cornstarch, and cocoa powder in a saucepan until combined. Turn the heat to medium/high and add brown sugar, salt, and semi-sweet chocolate. Stir constantly until the chocolate melts and the mixture is hot.
2. Remove from the saucepan and stir in vanilla and bourbon. Pour into a mug and top with your favorite toppings! Serve hot!
Pecan Pie Cheesecake Bars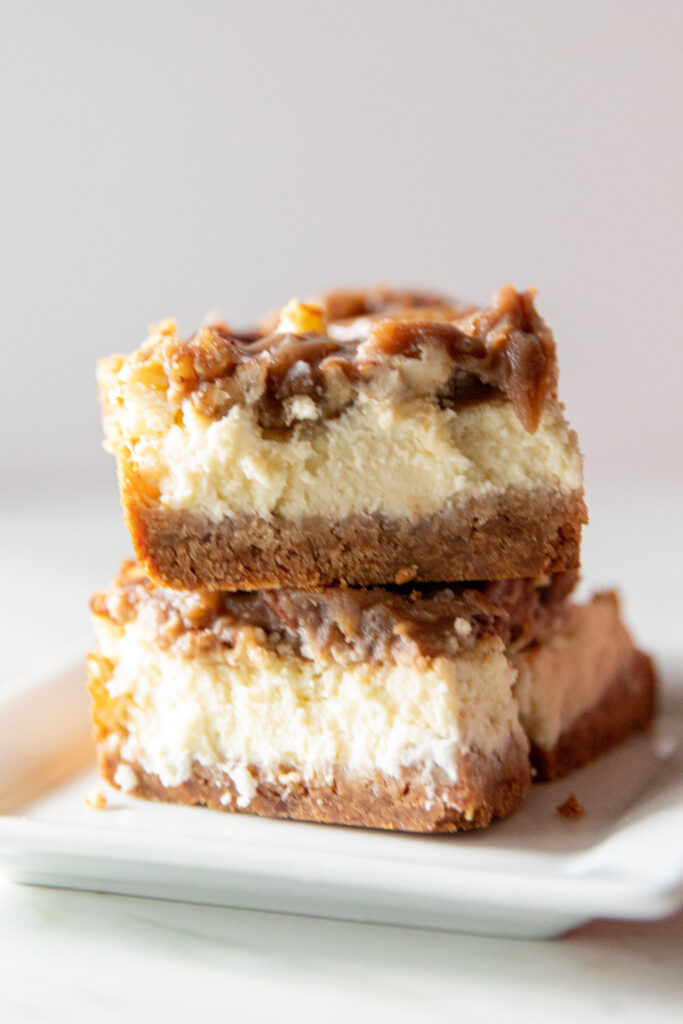 INGREDIENTS
CRUST:
13 graham cracker sheets
1 cup pecan halves
3 Tbs brown sugar
1/2 cup melted butter
CHEESECAKE:
24 oz. cream cheese, softened
1 cup sugar
1 cup sour cream
4 eggs
1 Tbs Flour
2 tsp vanilla extract
pinch of salt
TOPPING:
2 cups pecan halves (chopped)
3/4 cup light brown sugar
3/4 cup heavy cream
1/2 cup butter
1 tsp ground cinnamon
1/2 tsp salt
INSTRUCTIONS
1. Preheat the oven to 375 degrees and prepare a 9×13 baking dish with cooking spray.
2. Place pecans, graham crackers, and brown sugar into a food processor/blender and pulse into fine crumbs. Pour in melted butter and pulse again until combined.
3. Pour the crumb mixture into your baking dish and press down into a tight even layer – bake for 10 minutes.
4. Clean out your food processor/blender and place the cream cheese, sour cream, sugar, eggs, flour, vanilla, and salt inside – process until smooth.
5. Pour cheesecake batter over the cooked crust. Bake again for 30-40 minutes (until toothpick inserted in the middle comes out clean). When done, let it cool.
6. For the topping, add chopped pecans, brown sugar, cream, butter, cinnamon and salt to a small sauce pan over medium heat. Bring to a boil and let simmer for 3 minutes before removing from the heat. Pour over top the cheesecake, then use a spatula to spread it into an even layer. Chill for 2+ hours to set! 
Sweet Potato Casserole with Crumble Topping
INGREDIENTS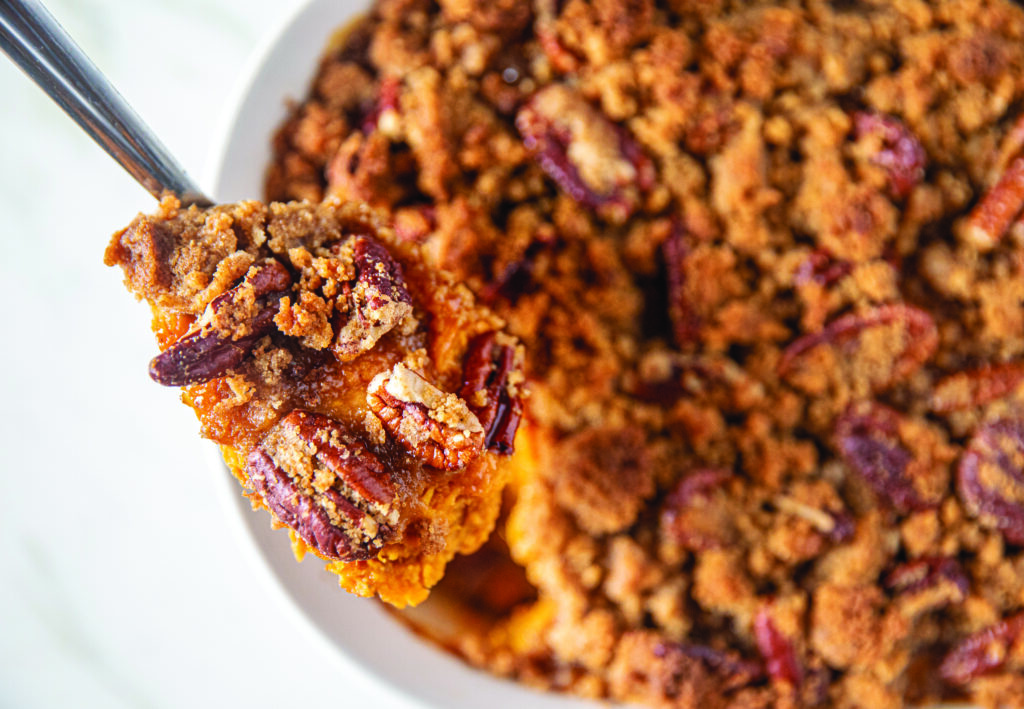 FILLING:
4lbs sweet potato (peeled and chunked)
1/4 cup butter, unsalted
2 eggs
1/2 cup milk
1/2 cup light brown sugar
2 Tbs granulated sugar
1 tsp vanilla extract
salt, ground nutmeg, and cinnamon to taste
TOPPING:
5 Tbs butter, melted
2/3 cup light brown sugar
1/2 cup all-purpose flour
1 cup pecan halves
salt to taste
Instructions Filling:
1. Boil the potato chunks until they are tender. Drain and let cool.
2. Preheat an oven to 350F and spray a 9×13 casserole dish with cooking spray.
3. Add sweet potato chunks, eggs, butter, milk, brown sugar, granulated sugar, vanilla, salt, nutmeg, cinnamon to a large bowl. Beat with a mixer until everything is combined and smooth.
4. Pour into the prepared baking dish and smooth the top.
TOPPING:
1. Melt butter in a bowl, before adding brown sugar, flour, and salt. Stir gently with a fork until moist crumbs have formed.
2. Add pecans to the mixture and toss until incorporated. Pour the entire mixture evenly over the filling.
3. Bake the casserole for about 45 minutes or until the top is golden brown and set. Make sure to keep checking so the topping won't get burnt.