Written by Kristi McCabe
One doesn't have to travel to southwest Pennsylvania and tour Fallingwater to see the influence of famed architect Frank Lloyd Wright; a stroll down Owensboro's historic Griffith Avenue will suffice.  
Local homeowners Floyd and Elaine Tapp discovered a rare jewel when they purchased their home at 531 Griffith Avenue, in the form of a stained glass window that had been mysteriously concealed.
"When we purchased the home and began a restoration of it in 2013, my wife Elaine was walking around the perimeter outside and spied a stained glass window; it could not be seen from the inside," explained Mr. Tapp. "We discovered that the window had been covered with sheetrock. What we uncovered stood out immediately as something unique."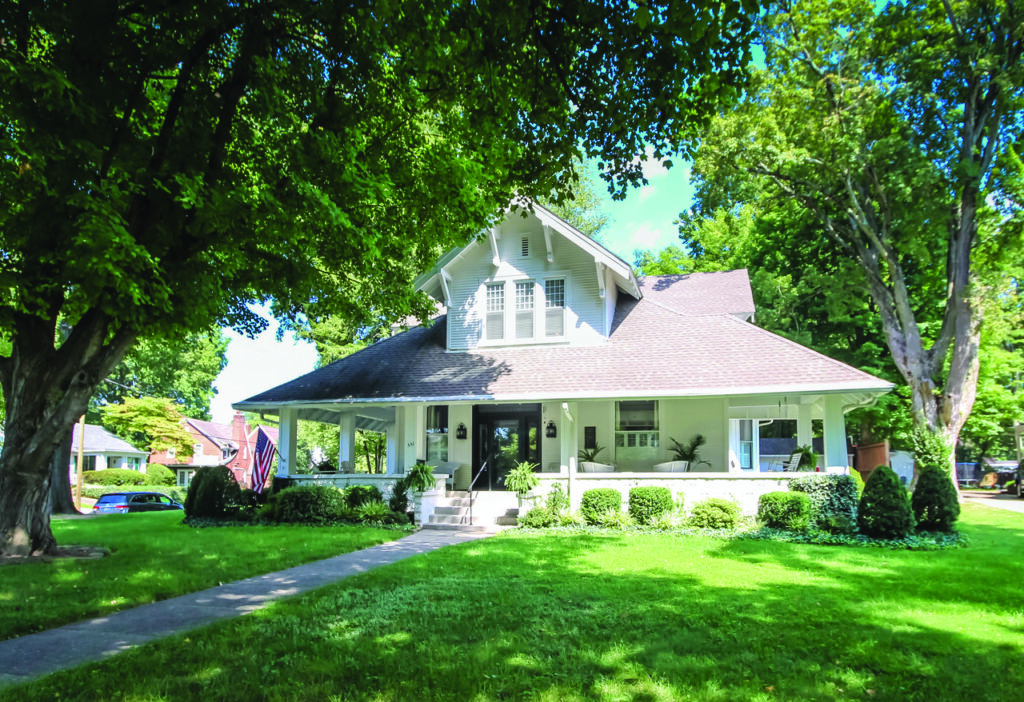 For those familiar with Wright's "light screen" leaded glass designs known for their use of clear glass with geometric designs and organic design, the window was a dead giveaway. The unusual floor plan of the home also led the owners to believe there was a Frank Lloyd Wright connection.
"This is not cut from the same cloth as the typical Frank Lloyd Wright home, with falling water features and more dramatic architecture," listing agent Mary Anne Steele commented. "However, the homeowners had a visiting art historian relative who agreed that the window was reminiscent of Frank Lloyd Wright. So, they got to work to find out if that could be true."
After consulting an expert of Wright's work at the Guggenheim Museum, the Tapps were astounded to learn that the window was indeed, very likely the work of Frank Lloyd Wright–if only indirectly.
"In 1909, a couple of architects who studied under Frank Lloyd Wright were living here in Owensboro and designed this house," explained Floyd Tapp. "There was a family issue and they had to leave and move south; the time frame fits perfectly for someone who had studied directly under Wright. They left his employment and then professionally disappeared, so this home may be one of the last projects those particular students completed."
Built in 1911 and restored in 2013, this three-bedroom, three-bathroom home is a unique blend of classic modernism. Located in Owensboro's coveted Griffith Avenue district, the home is situated on a corner lot with aged shade trees with a wraparound front porch perfect for hosting guests.
The home has ten-foot ceilings, original hardwood floors, three fireplaces, a central staircase, art deco stained glass, and antique radiators. The kitchen is both inviting and functional, with black- and white-checkered floors, butcher-block countertops, and glass-front cabinets for display. The master suite is inviting and charming, with a clawfoot tub, a beautiful panel of bathroom windows, and airy, moss-colored walls.
"I first fell in love with this house as a boy," Floyd recalled. "I was riding my bicycle past the house and crashed, and two kind old ladies came outside and fixed me up. They invited me inside and I never got the picture of those beautiful chandeliers and fireplaces out of my head."
"It's just a special house. The floor plan is very unique," Floyd continued. "It's one step from the bedroom to the bathroom, two steps to the kitchen, five steps to the great room, and so on. There are no hallways. It's very open."
Another unique feature of the home is a bunk room on the second level, which could be used as an additional bedroom; currently, it functions as a storage area. It would be difficult to find another home in the Owensboro area with many similarities to the one at 531 Griffith Avenue.
Listing agent Mary Anne Steele noted, "There is not another home like this in town.  It is the perfect combination of modern conveniences and classic style.  Throw in the Frank Lloyd Wright connection and Griffith Avenue location and you've got a very unique find." The home is currently listed for $520,000.