Photos by Eric Bivens & Monica Smith
Overcoming barriers is nothing new for the downtown establishment now navigating through a global pandemic. The restaurant thrived for decades when the riverfront was but a map dot, parking was scarce, and many of their neighboring businesses were closing their doors or moving shop.
There was once a time that the iconic restaurant was the destination. The reemergence of the area has transformed downtown into the destination, with Smother's Park being a focal point, and Colby's a likely stop for drinks and dinner.
Either way, business is good, and lifetime owners Colby and Carole MacQuarrie attribute that to their authenticity and many loyal customers. Their son, Collin, now co-manages Colby's Deli, which opened in the Corporate Center just a block away in 1992.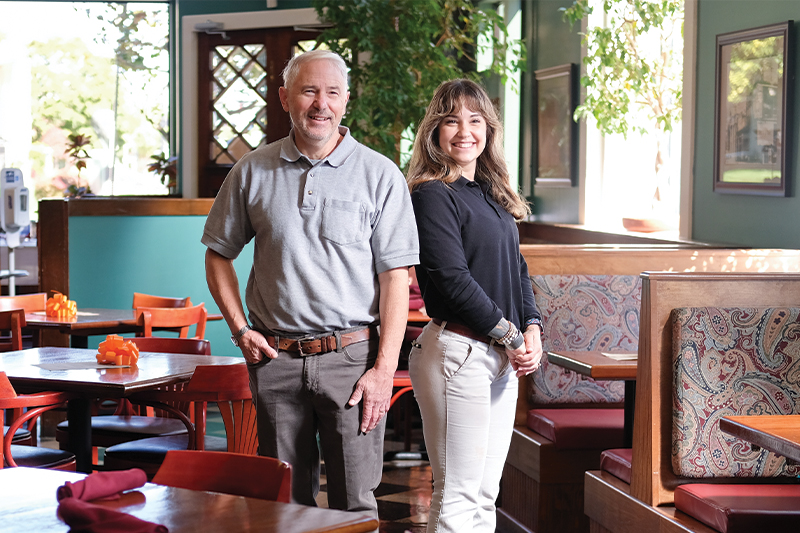 "My dad knows what he's doing – he knows what it takes when it comes to running restaurants – he's been in the industry his entire life," said the younger MacQuarrie. "Colby's has succeeded because the leadership can weather social, economic, and cultural storms."
Colby and Carole partnered with Malcolm and Sally Bryant in 1987 to create the original restaurant before opening Colby's Deli in 1992. The original Colby's menu is slightly different from the current one, but the flavors remain consistent.
"The goal is excellence – the goal is to be as authentic to the brand as possible, as well as pursuing excellence," he said. "We don't want to be stagnant, so it's our goal to create new menu items that align with the original menu."
Those initial staples that they continue to pride themselves on are steak, seafood, Cajun food, and house-made desserts. They paired that authentic product with extraordinary hospitality, and converted a century-old building into the restaurant that customers visit today.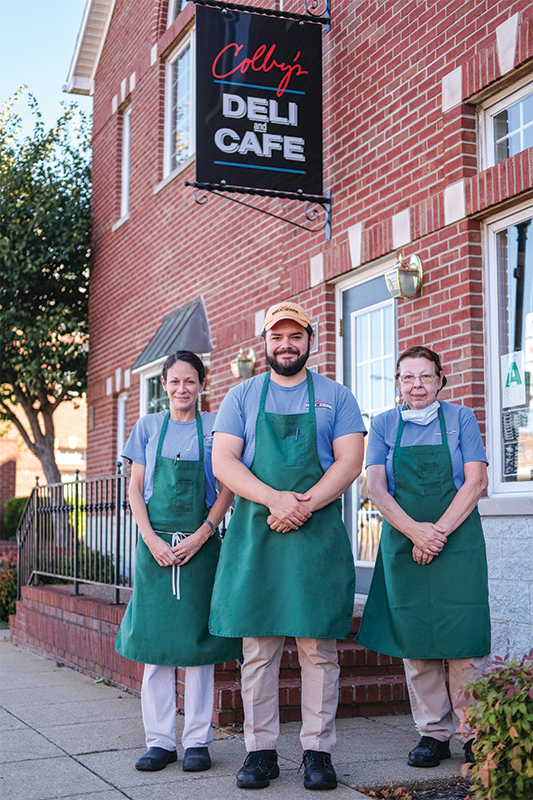 The building at 204 West Third Street served as Weir's Drug Store for several years, and the MacQuarries were adamant about maintaining the original architectural elements. The original brick walls and classic decor accomplishes their overall goal of balancing the modern with the classic.
Consistency can also be found within the staff at both the restaurant and the deli, both of which boast employees with over 20 years of service. There is a relational element present that transcends the walls of the two establishments.
"Mary Goetz has been with the deli for 22 years," said MacQuarrie. "When you look at both businesses and see that these individuals have been there for a long time, you know customers have been there for a long time. You want to maintain consistency. When you create a culture that fosters that kind of result, you know you're doing something right."
As protocol continues to change, the restaurant remains steadfast in their efforts to keep their doors open in whatever capacity that might be.
"This is a culmination of many efforts," said MacQuarrie. "We have a lot of loyal customers. They are very supportive and helpful during difficult times."
The restaurant is presently operating from 11a.m. – 8 p.m. Monday through Thursday, and 11 a.m. – 9 p.m. on Friday and Saturday, while the deli is open from 7 a.m. – 2 p.m. every weekday. More information is available at colbysfinefoodandspirits.com, or by searching Colby's Deli and Cafe on Facebook.