Photos by Jamie Plain
The use of puff pastries in recipes is an easy way to upgrade any dish!  It's incredibly convenient to take a pre-made puff pastry and add a rich and flakey element to any dish. While it's commonly used as crusts for tarts or wraps for turnovers, they can also be used as a topper for savory pies like the beef & ale pie we shared here! As a bonus, we're also sharing these incredibly easy chocolate croissants that you can make for dessert. 
Beef & Ale Pie
Ingredients:
2 Tbsp extra-virgin olive oil
1/2 large white onion, diced
1 (8 oz) package baby Bella mushrooms, thinly sliced
3 garlic cloves, minced
1 cup chopped carrots (two medium carrots)
1 Tbsp thyme leaves
2 lb sirloin beef tips cut to cubes
1 cup beef stock
1 cup dark beer
1 Tbsp Worcestershire sauce 
2 Tbsp all-purpose flour
1 cup peas
1 package frozen puff pastry, thawed
1 egg, lightly beaten
Coarse salt
Instructions:
1. In a large skillet over medium heat, add 1 Tbsp oil, onions, carrots, thyme, and mushrooms. Season with salt and sauté until vegetables start to soften. Add garlic and sauté another minute.
2. Move vegetables from the skillet and into a bowl – set aside. Add 1 Tbsp of oil to the pan. Pat dry the meat with paper towels, then add to the pan to brown. Once browned, remove from the skillet to a plate – set aside.
3. Take the skillet off heat and add the beer, using it to deglaze the pan (scrape all the bits off the bottom of the pan). Add beef stock, Worcestershire sauce, thyme, salt, and pepper.
4. Add meat and veggies back to the pan. Bring to a boil then cover and let simmer for 1 hour (until meat is tender)
5. Mix flour and water together in a small bowl to get rid of lumps. Add it in sections to thicken the liquid (until it reaches desired consistency. Add peas to combine.
6. Spoon beefy mix into six ramekins or mini pots. Cut thawed puff pastry into six squares and place over each pot. Brush with egg wash.
7. Place all ramekins on baking dish and bake 25-35min (until pastries are golden brown)
8. Let rest for 5 min, then serve.
Easy Chocolate Croissant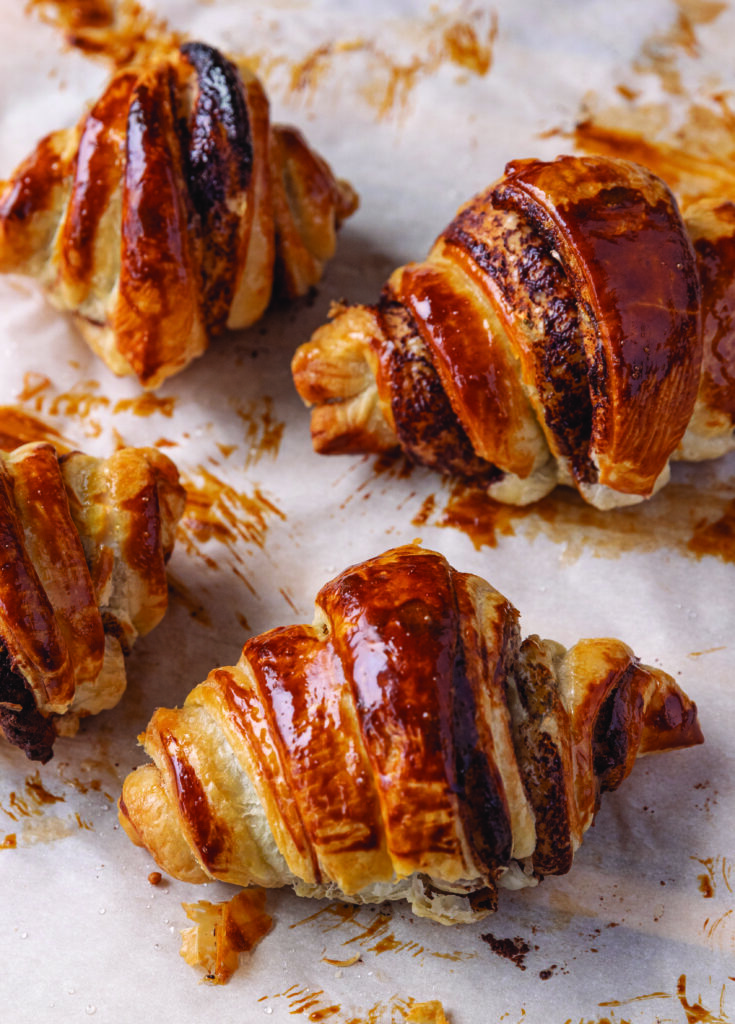 Ingredients: 
2 sheets of frozen puff pastry (thawed)
Nutella (to taste)
1 egg (for wash)
Instructions:
1. Preheat the oven to 425 degrees.
2. Roll each puff pastry sheet out to 1/8" thickness.
3. Lay one sheet flat on parchment paper, then spread Nutella evenly across the entire surface (if you spread it too thick it could get difficult to roll/might leak). Lay the other sheet on top of the Nutella layer.
4. Cut even triangles using a knife or pizza cutter, then roll each croissant starting with the broad side.
5. Place the croissants on a parchment-lined baking sheet. Use the egg to create an egg wash (if you want a deep golden brown color for your croissants, use only egg yolk).
6. Bake for 20-25 minutes until golden brown. Serve warm!