Photos by Jamie Plain
Kahawa Java opened this past August, and so far, business has been the opposite of a slow drip. Owned and operated by the mother-daughter duo Ticy ("tee-ce") and Ayanna Cox, the coffee shop is the only one on the West side of the city. While the location is certainly part of the appeal, the quality coffee and the friendly staff are decided perks.
The idea of being in the coffee biz had been on the Cox's radar long before the shop opened. In 2019, Ayanna—an Apollo grad—was a student at WKU and Ticy—a native of Indianapolis who was Director of Dismas Charities in Owensboro—discussed the idea of starting a coffee truck. Of course, as they were in the midst of dreaming and planning, the pandemic hit, and plans were put on hold. Ayanna graduated WKU with a bachelors in Healthcare Administration in 2021, and in October of that year, Ticy left Dismas. Talk of a coffee truck resumed and turned serious. At one point, Ticy was headed to Nashville to put down a deposit on having a custom coffee truck built, but had a revelation on the eve of the drive and decided to look at local properties. When she saw the current space in West Parrish Shopping Center, just down from Donatos, she said, "This is it!"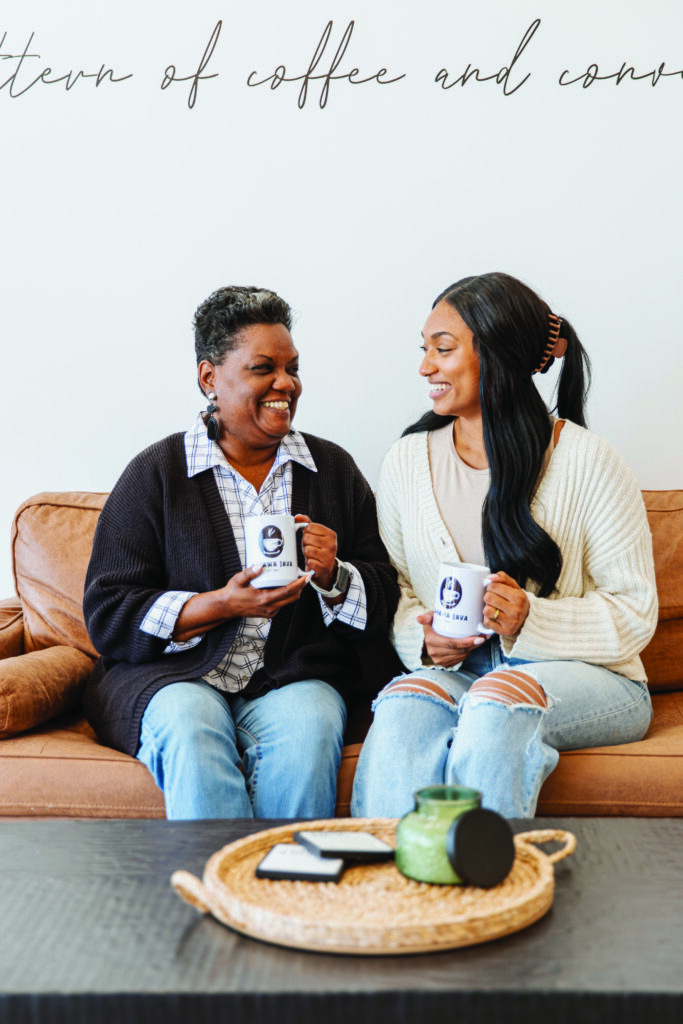 She called Ayanna, who was living in Houston at the time, and asked what she thought about a brick-and-mortar store instead. "I wanted a brick-and-mortar store from the beginning," Ayanna recalls, "but Mom did not." Thrilled about her mom's reversal of thought, Ayanna was all in, and came back to town to transform the space according to her aesthetic vision. The two did much of the work themselves, just as they do on a daily basis in the shop each day.
Ayanna worked at Dunkin Donuts for a long stint as a teen, so she knew how to brew coffee on a commercial scale and perform barista tricks of the trade. Ticy had experience in the restaurant industry that made setting up points of sale and finding suppliers less daunting. "Our roaster—Frothy Monkey, out of Nashville—came in and did a training, as well," says Ayanna.
Both women are proud of the excellence of their beans. They discovered Frothy Monkey on a trip to Nashville for Ayanna's birthday a few years ago. The two humbly attribute the quality of their brews to the success of the endeavor. Ticy says business "just took off" from day one," and has been so good that there have been days "we wonder 'what did we get into?'" They often have regulars waiting on them when they get to the store at about 6:40 a.m. for the 7 a.m. opening.
Ticy says they have between 25 to 30 regulars they see every day and that group is a mix of age ranges. "We have a lot of OCHS and OHS kids," she says, but the demographic of their patrons is quite a variety. They, and the two additional baristas they employ, see a consistent morning rush that lasts a couple hours, followed by a midday rush, and then some afternoon stragglers each day. "Thursday, Friday, and Saturday, we are busy all day," they say.
The store does catering, as well, bringing their caffeinated wares to local churches and businesses upon request. OL