Photos by Jamie Plain
There's a lot to love about honey! This all-natural sweetener boasts some health benefits and can be added to a lot of your favorite recipes to add just the right amount of sweetness. The recipes below are some of our favorite ways to incorporate honey into different types of dishes. Make sure to grab a jar of honey local to Owensboro for an amazing fresh taste!
Hot Honey Fried Chicken
Ingredients:
Frying oil
4-6 Boneless Chicken Thighs
Buttermilk
Hot Sauce
2 cups flour
1 tablespoon garlic powder
1 tablespoon onion powder
1 tablespoon paprika
1 teaspoon cayenne
1 teaspoon black pepper
1 teaspoon salt
Brioche Buns
Hot Honey:
1 cup honey
4 tablespoons butter
1 tsp cayenne
1/2 tsp crushed red pepper (more to taste)
Instructions:
1. In a large bowl, toss your (trimmed) chicken thighs in seasoning, then top everything with buttermilk (until they are completely covered in a pool of it). Add hot sauce to taste (I usually do around 1/2 cup or more). Cover and marinate 24 hours before frying.
2. In a bowl, mix flour with the same amount of spices used in the marinade. One at a time, remove each chicken
from buttermilk marinade and dredge in flour/spices until completely coated. Let them rest on the baking sheet as you prepare to fry.
3. Heat oil to 350 degrees. Working in small batches (do not overcrowd) fry chicken until golden brown and has an internal temp of 165. If not deep frying, flip the chicken at around 7min.
4. Prepare your hot honey. In a small saucepan, melt 4 Tbsp butter, then add the honey and spices. Stir until thinned out and drop each piece of chicken in to give them all a quick coating.
5. Toast your brioche buns in butter and build your sandwiches with any topping you'd like. 
Baked Sigara Borek with Chili Honey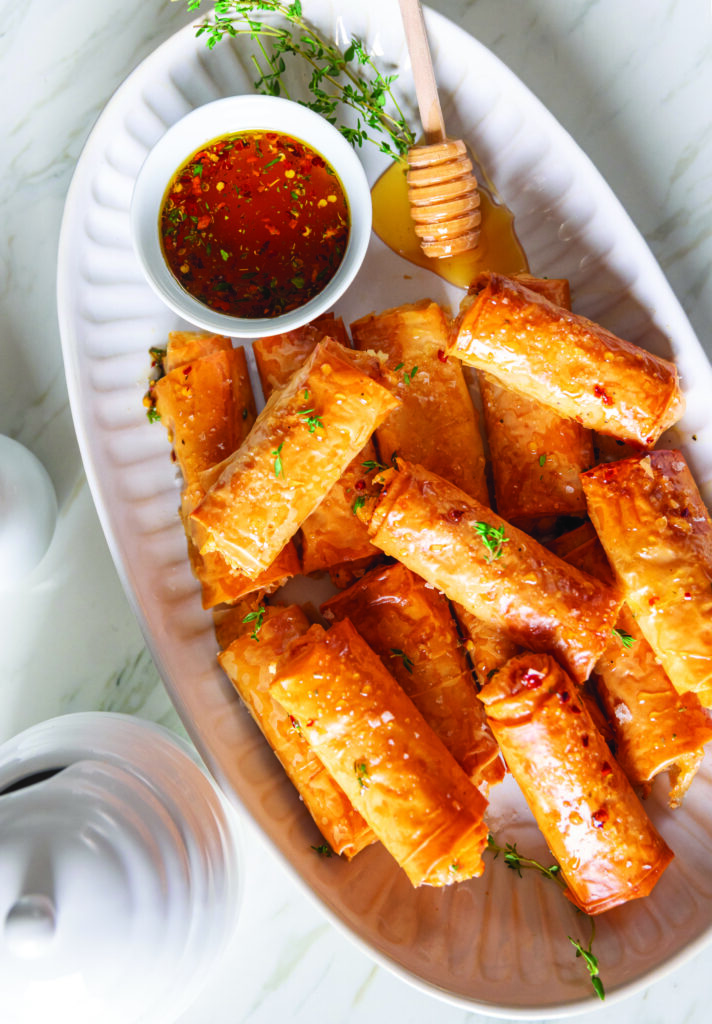 Ingredients:
2 cups all-purpose flour
1 stick of butter, softened
1 cup honey
3 large eggs
1/4 tsp almond extract
1/2 cup sour cream
1/2 tsp salt
1/2 tsp baking soda
Honey Chili Sauce:
5 Tbsp Honey
1 Tbsp Olive oil
1 tsp Chili pepper flakes
Instructions:
1. Preheat the oven to 425. Line a baking sheet with parchment paper.
2. In a large bowl, mix feta, honey, garlic, thyme leaves, paprika, salt and pepper.
3. Gently brush half a sheet of phyllo sheet with olive oil, then fold the nonbrushed side over top so that the entire thing is doubled-up and half its original size. Add around 1 tablespoon of the feta mixture on the bottom edge of the Phyllo. Brush the sides with oil and fold the edges in to envelope the sides of the feta mixture, then brush a bit more oil and roll it up like a burrito.
4. Brush all the rolls with a bit more oil and top with salt. Bake for 20min or until golden brown.
5.  Combine all the sauce ingredients in a small saucepan on low heat until it is hot and thinned out.
Honey Cake Infused with Black Tea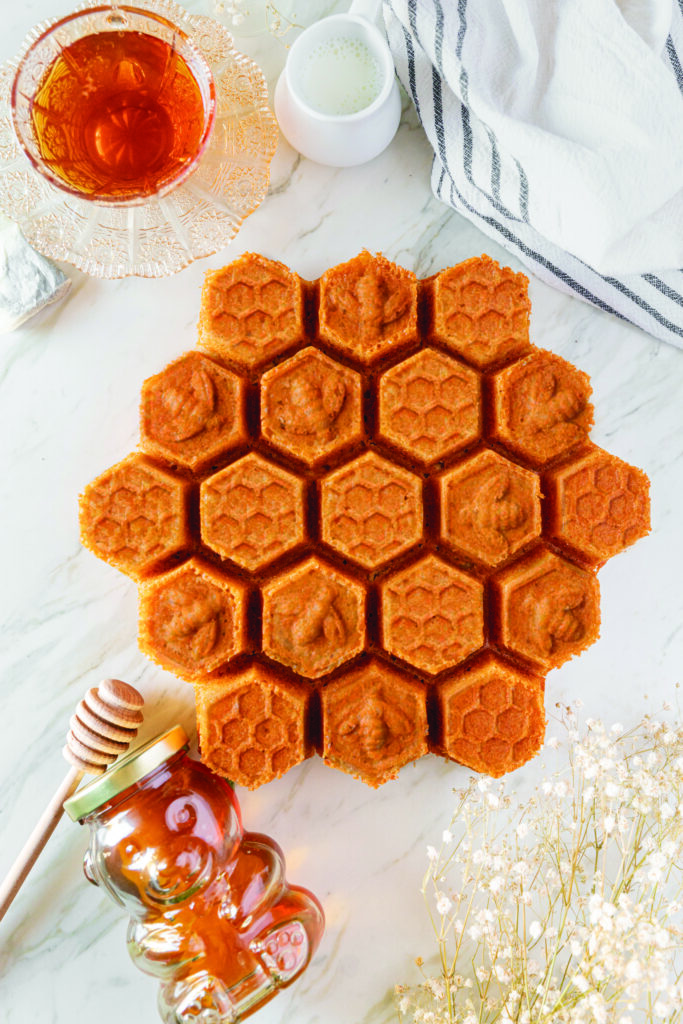 Ingredients:
2 cups all-purpose flour
1 stick of butter, softened
1 cup honey
3 large eggs
1/4 tsp almond extract
1/2 cup sour cream
1/2 tsp salt
1/2 tsp baking soda
Black Tea Infused Simple Syrup:
2 cups water
2 cups sugar
3 black tea bags
1. Preheat the oven to 350 and heavily grease a 9" cake pan.
2. Prepare the simple syrup by boiling two cups of water on the stove before removing from heat and adding in your tea bags. Steep the tea for the instructed time (on the tea box) and then remove the bags from the water. Add the two cups of sugar and stir until it has completely dissolved (store the syrup in the fridge for up to a month after using it on the cake – it can be used in drinks and other sweet recipes!)
3. In a large bowl, whisk together flour, salt, and baking soda. In another bowl, beat butter and honey together with a hand mixer until butter is smooth and creamy. Add eggs, one at a time while beating the mixture well after each addition. Add almond extract, then the dry ingredients and beat until barely combined. Then add the sour cream and beat until barely combined.
4. Pour the batter into your prepared pan, and bake for around 35 minutes (until a toothpick inserted in the middle comes out clean). Let cool before brushing with the black tea simple syrup. OL