The 1996 University of Kentucky championship basketball team, also known as "The Untouchables," has undoubtedly made a significant contribution to the legacy of Big Blue Nation. However, when team members Tony Delk, Walter McCarty, and Jeff Sheppard paid a visit to Brescia University on Thursday, June 14, 2018, it was about so much more than celebrity meet and greets and autographed basketballs. It was about supporting a man, a coach, and a town that they had made a connection with over 20 years ago.
This legendary group of players came together around the same time the Daniel Pitino Shelter was established in Owensboro. Father Ed Bradley not only founded the Pitino Shelter, but also served as the chaplain for the Kentucky Wildcats during the 1996 season. Tony Delk said that the players have always had a strong connection to Owensboro through Father Bradley and Coach Pitino. In fact, Father Bradley was quoted in the April 4, 1996 issue of the Rochester, New York, Catholic Courier, as saying, "I think I have a great relationship with the team. One of the great things about this team is that each of them is a fine young man, and they genuinely care about each other…" Those sentiments have not changed, for Father Bradley, or for the players. Delk said that, in great part due to the influence of Father Bradley and Coach Rick Pitino, "We became a great group of men."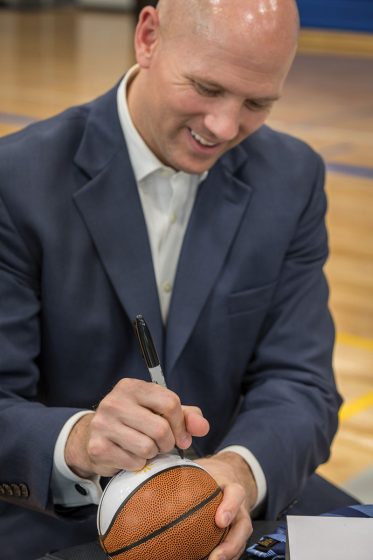 It is evident that their time playing at Kentucky had an indelible impact on these three. They all graduated from college, and each went on to play in the NBA, as did six of their other teammates. Delk jokingly mentioned how nervous he was the first time he was asked to go out on the floor as an NBA player and guard Michael Jordan. "I wore his sneakers. I still wear them to this day," he laughed. Delk said the nerves didn't last long. "Coach Pitino prepared us to be NBA players. He didn't let us take any days off." While Pitino seemed to have a knack for transforming these young men into better players, and preparing them to be NBA ready, the lessons he taught them have transcended the basketball court.
It is obvious that Delk, McCarty, and Sheppard still hold Coach Pitino in high regard. Even after his NBA tenure, McCarty says of Pitino, "He's the best coach I've played for. He was really good at motivating you and kicking you in the butt, but he was also good at picking you back up. He prepares players to play at the highest level, but also prepares coaches to coach." McCarty speaks from experience, as he not only played for Coach Pitino with the Wildcats and the Boston Celtics, but he also coached under him at the University of Louisville. McCarty will now carry the lessons imparted to him by Coach Pitino to the University of Evansville, where he was recently named head men's basketball coach. Tony Delk said Coach Pitino also helped the players better understand the challenge of making sacrifices. "I had to earn what I got. When you earn it, you get to keep it."
While it was great evening of reminiscing and learning from those who played the game with excellence, Father Bradley gave a gracious reminder of the true purpose of the evening. "We're here because of our compassion for the homeless," he said as he addressed the crowd. That compassion was evident through the $40,000 raised through ticket purchases and donations.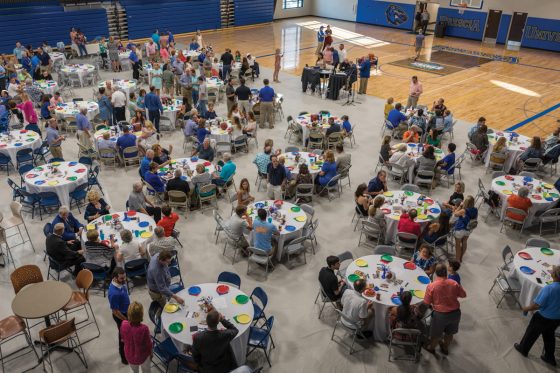 The evening also provided an opportunity to honor the memory and service of two generous community members, Ben Hartz and Rick Kamuf. During the heartfelt tribute and award presentation, Father Bradley made the announcement that, due to the donation of nearby land and a grant from the Kentucky Housing Foundation, another memory would be honored in the community. The land across the street from the Pitino Shelter on Walnut Street is now slated to become the future site of the Nicky Hayden Apartments. This 12-unit apartment complex will allow the Pitino Shelter to provide "rapid re-housing" for individuals in dire situations, educate them about the necessary resources to eventually secure permanent housing, and hopefully aid in preventing homelessness.
Both Father Bradley and the executive director for the Daniel Pitino Shelter, Thad Gunderson, felt the evening was a complete success. Gunderson said that the generous donations allow the shelter "to do what we need and want to do. Overall, as far as making a difference in people's lives, we're doing a good job." A small portion of that can be attributed to three dynamic players that selflessly gave of their time to support a man and a mission that will forever be close to their hearts.