Southern Secrets Pastries and Desserts is one of the quickly-rising stars in the local food scene here in Owensboro. At just 14 years old, Mackenzie Mahlinger took an online course through the Culinary Institute of America. That course inspired her to pursue a passion for baking, and then begin her journey into the world of small business. With help and encouragement from her family, Mackenzie started selling her goodies just over a year ago from a single table at the Owensboro Regional Farmers' Market. Today, she has four tables full of products ranging from mini cakes, pies, cookies, sweet breads, tarts, and other custom orders. Blackberry jam cakes, cherry hand pies, lemon blueberry Bundt cakes, bourbon pecan tarts, and banana bread are just a few of the delectable treats that Mackenzie makes. The three best sellers at the market are the cherry hand pies, lemon blueberry bars, and lemon blueberry Bundt cakes.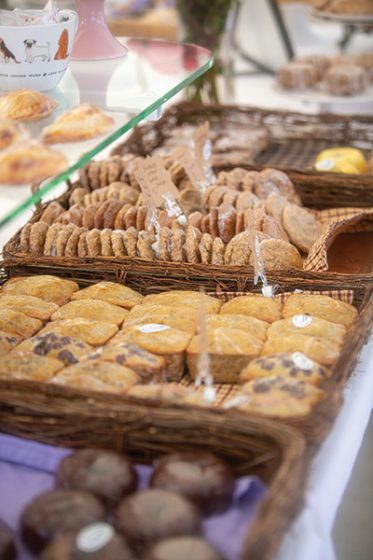 Southern Secrets is officially Mackenzie's business, but they keep it a family affair with her sister, Taylor, and her mother, Heather, providing assistance at the market, on social media, and in the business world. "She's the pastry chef," says Heather. "We help out with the other aspects of the business." Mackenzie borrowed the name Southern Secrets from her mother, who once sold Kentucky-crafted items under the same banner. Now Mackenzie uses the name to sell a slightly more delicious type of Kentucky-crafted item: baked goods!
Mackenzie says that the support of her family keeps things running at Southern Secrets. Her mother, Heather, provided her with the encouragement and empowerment to open a business, and is instrumental in helping the market run. Her older sister, Taylor, is majoring in Writing, Rhetoric, and Communication at Transylvania University and puts that degree to good use by managing the social media and online presence of Southern Secrets. Her father, Charles, actually created the booth and backdrop that the ladies use at the market. Southern Secrets really is a true family business that began simply as a sister helping a sister, and has quickly grown into an all-hands-on-deck operation.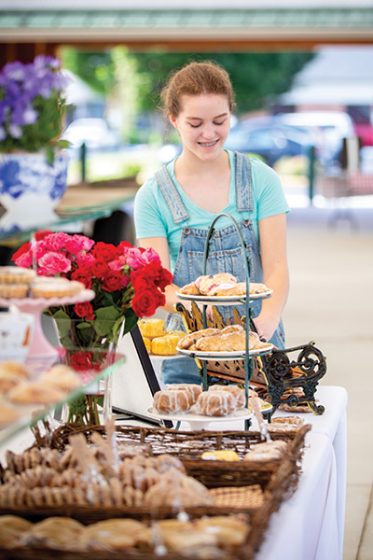 Southern Secrets does not have a permanent, physical store, but Mackenzie and her family are at the Owensboro Regional Farmers Market three times a week selling their goods, taking custom orders, and getting to know their customers who have become like a part of the family. "Treating people like family has helped us build a customer base. We always give more and extra. We keep them happy, and then they tell their friends and family," says Heather. Mackenzie makes a wide variety of custom orders for customers, including gluten-free, sugar-free, and vegan options.
"Everything we can, we get right here in Daviess County," says Heather. All treats are made the day they are sold and are all-natural, fresh, with no preservatives. The Mahlingers grow their own blueberries and rely on their fellow farmers market vendors for most of the other ingredients used in their products.
Southern Secrets is conscientious about giving to local non-profit organizations as much as they can. "We always try to give back. We want everyone to know that they are special," Heather says. At the end of each day, if there are extra items leftover, they go to organizations like Wendell Foster Campus, Girls Inc., the Red Cross, and various nursing homes around town.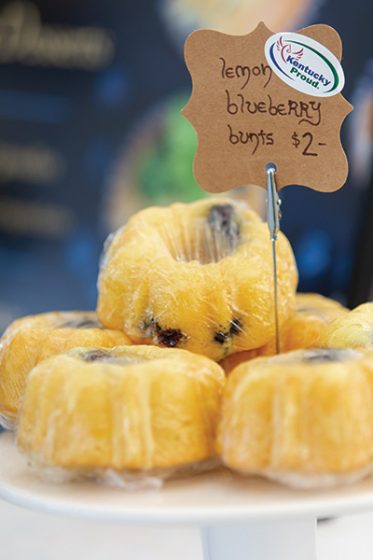 Heather is passionate about seeing her girls pursue their dreams. "Don't think because you're young you can't do anything. Teenagers need to know that they can create their own opportunities and follow through with their ideas." Thanks to her inspiration, the local Daviess County area gets to enjoy the delicious sweets made by her daughter, Mackenzie.
You can find the ladies of Southern Secrets along with their tasty pastries at the Owensboro Regional Farmers Market every Tuesday and Thursday from 6:30 a.m. – noon and Saturday from 8 a.m. – noon. Trust me, you'll want to try a sample, or seven!