Ever since he was 6 years old, David Wolfe has been enamored with ghost stories. Wolfe recalls fondly how his grandparents would pass the time weaving tales of ghosts and headless men. Wolfe says that he "devoured these stories as a child," and eventually found that he, too, had the family gift of storytelling. He also drew inspiration from the late Joe Ford who, Wolfe says, "was one of my favorite storytellers." As he grew older, Wolfe found that he was not only intrigued by the supernatural, but by the history behind these stories, as well. This curiosity and passion led to a bachelor's degree in history and to some of his most popular community roles, portraying such characters as Abraham Lincoln, George Washington, and Wyatt Earp. Although Wolfe has made a name for himself in the community as an engaging substitute teacher and Abraham Lincoln doppelganger, few know about the success he has had sharing some of the most chilling tales of our historic downtown. Due to that success, Wolfe and Haunts of Owensboro were recently recognized as the September Small Business of the Month by Murray State University.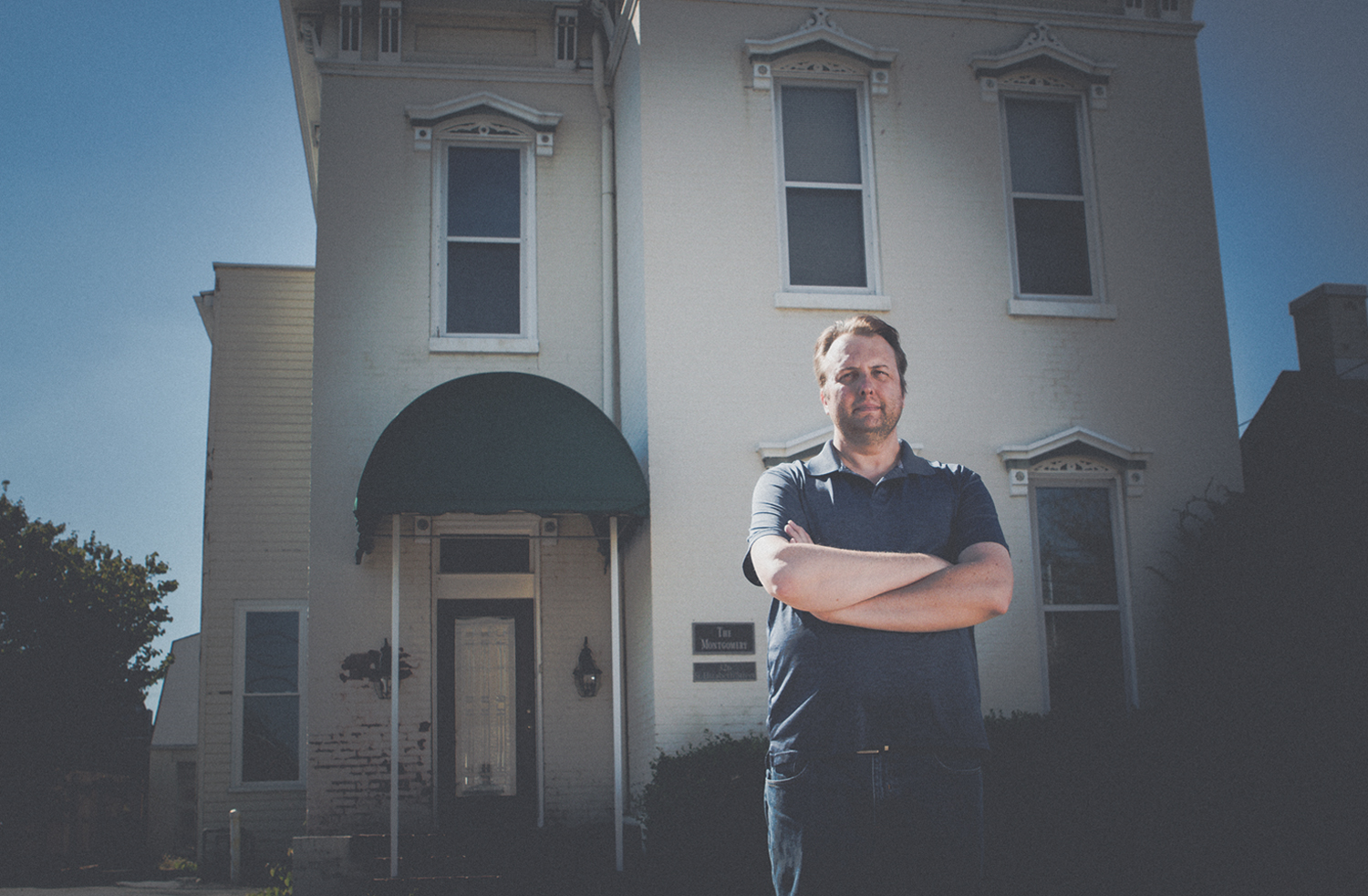 The Inspiration
Eleven years ago, Wolfe and his wife took a trip to scenic Hilton Head, South Carolina. What Mrs. Wolfe didn't know then was what a powerful impact the city of Savannah and its history would have on her husband. The Wolfes took in several ghost tours while in Savannah, and it was at that time that Wolfe thought to himself, "I can do this." He returned home inspired to create a one-of-a-kind tour that would captivate others with tales of the rich history of Owensboro. After going through print and interview research, Wolfe launched the first Haunts of Owensboro tour in 2007, which drew crowds of anywhere between thirty to forty people per tour. Now in its ninth year, as many as seventy inquisitive spectators, from near and far, arrive each weekend night in order to satisfy their curiosities and be entertained with the legends and folklore of the city of Owensboro.
The Walking Tour
The walking tour commences in the Hampton Inn lobby each Friday and Saturday evening at 8 p.m., and then circles downtown, to the storefront of Famous Bistro. After learning of the fine food and "fine spirits" that Bistro has to offer, the tour continues along the row to Bee Bop's diner, where one will learn that it is customary to say, "Hello," to George. The walking tour culminates on the grounds of the Daviess County Courthouse, where legends of deceased Union Soldier guards are shared. If the conditions are right, the lights on the K-II Meter will illuminate as a sign that there may be spirits detected in the area. An Ovilus device may also be used to convert any supernatural environmental readings into real words and digital text, giving clues to what may have occurred on this hallowed ground. If time permits, ghost stories will be told by the river's edge before returning to the Hampton Inn.
Creepy Carriage Rides
This year, there are two different one-and-a-half-hour tour options to choose from. Along with the traditional walking tour of historic downtown, there is also the option to partake in a "Creepy Carriage Ride." The carriage ride also meets on Friday and Saturday evenings at the Hampton Inn. But the carriage tours begin at 9:30 p.m. and take an entirely different route through town. Riders can expect their gracious host (Wolfe), dressed in 19th Century garb, to sit alongside them and guide the way along some of the most storied streets in Owensboro. The carriage will escort riders to Trinity Centre and the Theatre Workshop of Owensboro, which is reported to be "one of the most haunted places in the tri-state." While there, Wolfe leads the passengers in a little "ghosting" to see if there are any active spirits in the area. From the Trinity Centre, the carriage makes its way past the Campbell Club, the Victorian Homes of "Haunted Row," Haley-McGinnis Funeral Home and its two adjacent historical homes, and, of course, "Curse Corner," former home of the Owensboro Cemetery.
Reserve an Experience
This is the perfect time of year to reserve your one-of-a-kind downtown ghost tour. If you would like to make a reservation for a walking or riding tour, please contact David Wolfe at Haunts of Owensboro Ghost Tours. Walking tours are available for groups of two or more, while carriage rides accommodate groups of four (may be two parties of two). For the best experience possible, wear comfortable walking attire and come with an open mind. Wolfe describes the experience as "a bit like a roller coaster ride," a little bit scary, a whole lot of fun, and you never know quite what to expect.
For more information, David Wolfe at Haunts of Owensboro Ghost Tours at (270)313-5596 or www.HauntsOfOwensboro.com.