Update – We've just received word that this episode of American Pickers, filmed at Windy Hollow in Daviess County in April of this year, will air on the History Channel this Wednesday, June 22 at 8:00 p.m.
[tw-divider][/tw-divider]
American Pickers, a reality television series, made its debut to audiences in January, 2010. It began its successful adventure on the History Channel, where it remains a favorite for audiences of all ages. The show's premise is that two "treasure hunters" ask permission to rummage your house, storage unit, garage or even open property, with a list of items (some might call junk) to buy, collect or resale. Purchases have ranged from cars and motorcycles to small items like old gas station signs and vintage toys.
The loveable pickers, Mike Wolfe and Frank Fritz, are knowledgeable about many items, but if stumped as to the value of an item, they have "phone-a-friends" at their fingertips to get the best price for the seller. These men travel all over the world for their show, and recently landed in Daviess County! They "picked" a staple to the community, the Hal Miller family.
Locals know the Miller family well from their memorable landmarks in West Daviess County. Evelyn Miller, Hal's daughter, says her grandparents built Miller's Lake during the Great Depression, and her father Hal's twin brother, Tom, built Windy Hollow Campground and Recreation Area Inc., a family favorite that still stands today, providing fun and memories for all who come to visit.
It was Tom who first bought a collection of antiques to sell in a country store for Hal and Deanna, which stands on the corner of Waynebridge and Windy Hollow Roads.
However, a problem arose when the items in the store became treasures to Hal, so much so that he could not part with them. The building was no longer a store, but more of a museum that showcased his beloved treasures. His wife, Deanna, lovingly supported his hobby.
In 1974, when Tom was diagnosed with leukemia, Hal offered to buy the campground and restaurant. At that time, Hal began moving things from the museum to the restaurant so that others could enjoy them. They added onto the restaurant to make it a museum and new home for Hal's collection. He added about 2000 sq. ft. in total just to showcase all of the items.
In 2006, the Windy Hollow Restaurant caught fire, and the Millers basically lost everything – only salvaging about 100 items out of thousands. Not giving up, Hal, even at 83 years old, began renting The Old Cow Palace and reopened the restaurant in a new location.
Beginning in 2010, patrons began talking about American Pickers and how great it would be to highlight the Hal Miller family, and reached out to the show.
Amy Whistle of Kurtz Auction and Reality heard that American Pickers would be traveling through Kentucky, and asked Evelyn's mother for permission to take pictures to share with the show for consideration. Deanna gave her blessing for the submission. The Millers were then contacted by producers. A show scout, Dave Ohrt, known by fans as the "Pickers" motorcycle guy, came and looked at the collection to see what Mike might pick and sell, and what items Frank might like for his collections.
It was on April 11 that the American Pickers made their way to Daviess County. The Millers were elated! The show gave them a 2-week notice, enabling family from out of state traveling time to come and be a part of the Picker's experience.
Evelyn admits, in advance of the visit, she had a range of emotions, specifically, "do you sell?" since this was her beloved father's collection.
They began the day and "picked" at the restaurant, also preparing Frank and Mike a country breakfast. Evelyn noted that Mike especially loved their homemade donuts, eating 4-5. From there, Wolfe and Fritz picked the "barn," also known as the museum. Evelyn admits moments of tears as she shared her father's collectibles. It was just one week shy of the 2-year anniversary of Hal's passing.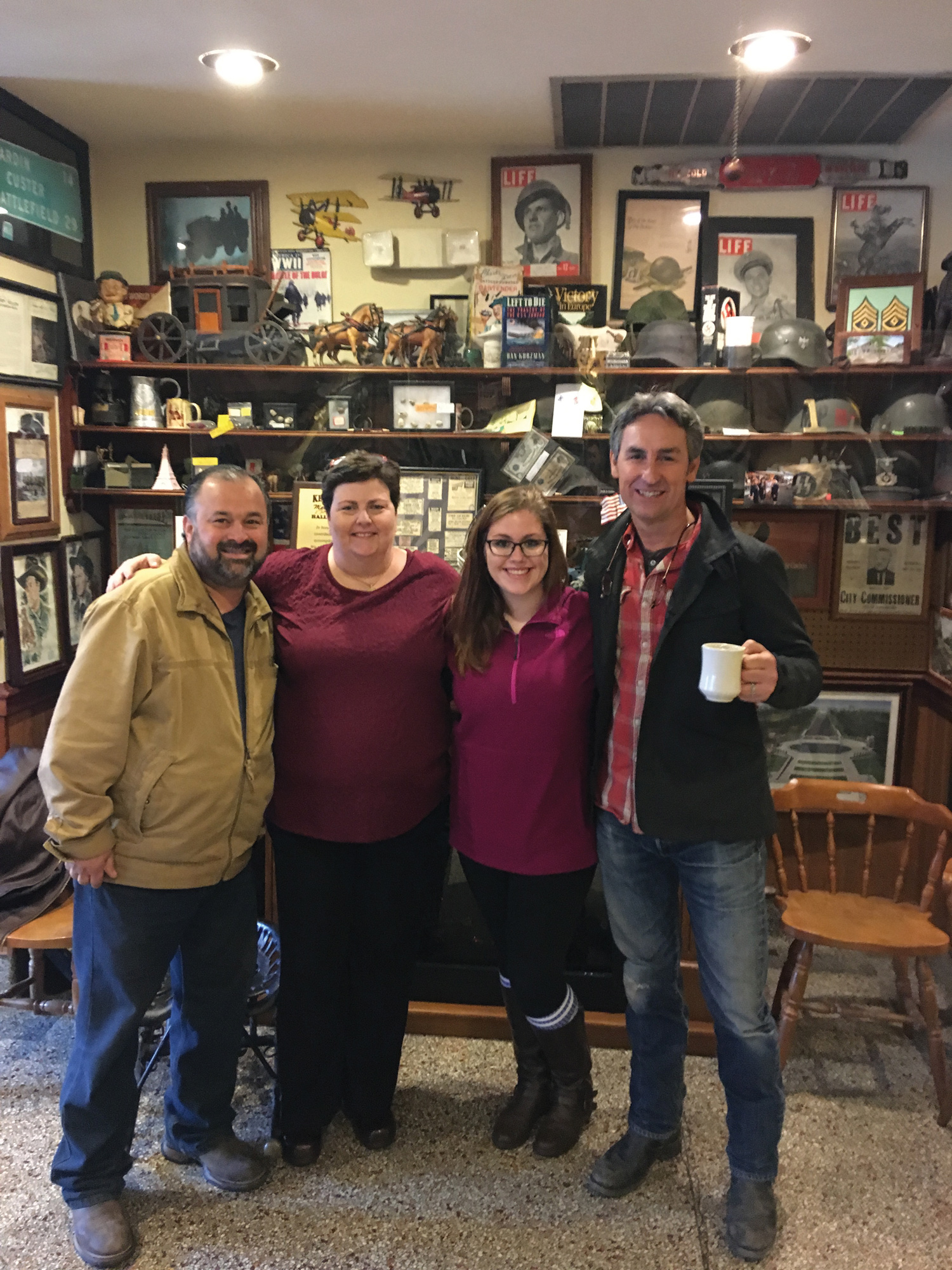 The burning question is "what did they buy?" Well, audiences will have to tune in to see what they picked, as Evelyn is not at liberty to share before the show's airing. However, she could disclose that she sold items she didn't think she would sell, and wouldn't have sold to anyone else.
As difficult as she knew it would be to part with items, she said she kept hearing a voice telling her "they are going to give it a good home." This gave Evelyn peace with her decisions, and happiness at the opportunity to tell her dad's story and the story of Windy Hollow!
Evelyn felt Hal with her as they picked that day; especially when the day had come and a rain storm blew through. She came outside to a beautiful rainbow, and couldn't help but think it was her dad.
Evelyn loved sharing the Miller family heritage through American Pickers. Their show is slated for the upcoming season. Viewers can check local listings for details.
American Pickers allowed Hal Miller, even in death, to share his beloved collection with millions of people who otherwise wouldn't have had the chance to enjoy it. If you ever want to see it for yourself, it's just a short drive from anywhere in Daviess County.
For more information: www.windyhollowrestaurant.com or www.facebook.com/windyhollowrestaurant.