If you were to ask Vanderbilt University senior John Augenstein how long he had been playing golf, he would tell you that he has been hitting golf balls since the age of 3, and that he participated in his first organized event at age 7.
While the 22-year-old sociology major will graduate with his bachelor's degree from Vanderbilt in May, he will do so after playing as one of six amateur golfers in the 84th Masters Tournament at Augusta National Golf Club in April.
The Road to the Masters
John qualified for the prestigious tournament after making it to the final two at the U.S. Amateur in Pinehurst in August. After leading most of the match, John finished as runner-up, which earned him, as well as the winner, an exemption to the Masters in April and the U.S. Open Championship at Pebble Beach in June.
When asked if John went into the tournament planning to win a spot at the Masters, he answered as the humble, yet fierce competitor he is.
"You show up to every tournament playing to win. I don't think you should ever show up if you don't think you could win," John said. "I showed up with two goals — to win the Walker Cup and to make the Masters. We went all the way down to the 35th hole where I was defeated. I played well for the majority of the day, and there's nothing I would change. It was a great week — one I'll never forget for sure."
As to whether or not he failed because he didn't win the entire tournament, he said he could not look at it as a failure, but as a positive learning experience.
"In golf, you play in so many tournaments and you win at such a small rate," John said. "If anything less than a win is a failure, you are going to fail at an extremely high rate. I don't look at it as a failure, I look at it as a great week that I accomplished a lot."
John said he first visited Augusta as a spectator in 2009, but was given an allotted number of days this past year to practice in preparation for the upcoming Masters. He said he and his father had the chance to play Augusta over the Thanksgiving holiday, and were able to appreciate the "awe effect" of the course before he returns in April as a competitor.
"Being there as a player versus a spectator — it's everything that it's cracked up to be," John said. "It's beautiful — it's the most peaceful and perfect place in golf."
Finding Support and Inspiration
Born and raised in Owensboro, along with an older and younger sister, John graduated from Owensboro Catholic High School. He said golf was always a sport his family loved, and that he inherited the passion at a young age, playing on the school golf team from fifth grade until his senior year. While golf has been a common thread in his family, John said they have a bond that extends far beyond the sport.
"I always grew up playing a lot with my dad and my grandparents, so it definitely created a sturdy bond between us," John said. "But we've always been a close family — I don't necessarily think that golf has brought us closer. It's something that I love to do and I want to continue doing — but it's not who I am or who we are as a family. There's a lot more to it than just golf."
When it comes to supporting his event play, John said his family is often present, and consistently encouraging.
"My parents never forced me to play golf and never told me my dreams were out of reach. They've always supported me," John said. "They attend a lot of college events, and they will definitely be traveling with me to the summer events. We've been talking a lot about the future, and they'll be there every step of the way."
As far as inspiration beyond family, John said one of his biggest influences in the golf world is a man that he will be sharing the course with in April at the Masters.
"No doubt, just about anybody in my age group would say Tiger Woods is the most influential player in golf history in my book," John said. "Just what he's changed in professional golf is something to marvel at. He's made golf more athletic, more competitive and more exciting — and I think that's what you are missing a lot in this younger generation."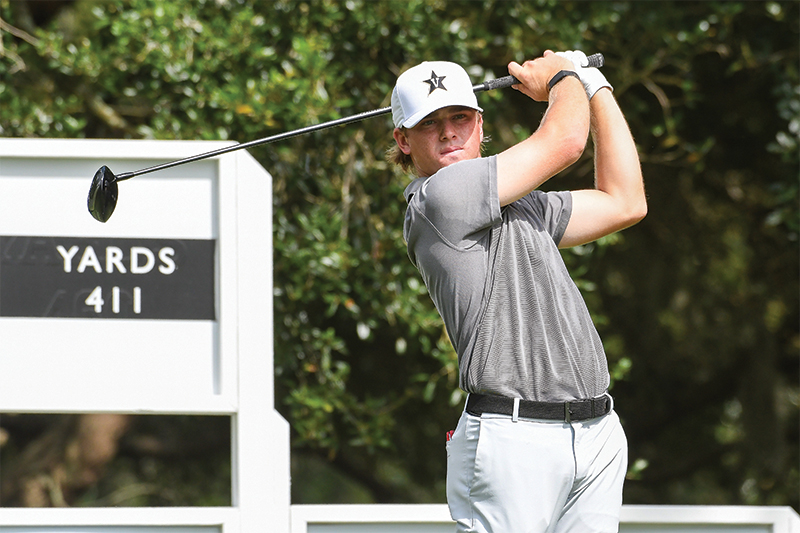 John has also befriended several young players on the PGA Tour, including Louisville native Justin Thomas, who is currently ranked fourth in the world.
"I look up a lot to him right now to get a jumpstart to kind of be ready for my professional career," John said. "I think you gain knowledge from guys that have been out there, and can learn from them to help you prepare for what you are about to go through. There's nothing in my life that I have figured out, so I'm always trying to learn and ask questions."
A Relationship of Mutual Respect
While John undoubtedly has the support of his family and current PGA players, there is one man whose opinion John values on a much larger scale. Vanderbilt Head Golf Coach Scott Limbaugh has been coaching for 15 years, eight of those being at Vanderbilt. According to John, Limbaugh was the deciding factor in his choice to attend Vanderbilt University.
"It's obviously a great school and a great city, but the true reason I chose Vanderbilt was Coach Scott Limbaugh," John said. "We have similar outlooks and personalities — we hit it off from the very beginning. He's been a major influence on me, not only in golf, but in the real world. I feel pretty confident in saying that there's a good chance I would have gone wherever he was."
Limbaugh said he recognized John had something special the moment he first discovered him unexpectedly in Lexington while there scouting other players.
"Here was this little kid coming out of his ninth grade year and he hit this one golf shot — it caught my attention right away," Limbaugh said, adding that John has grown into a golfer the program can be proud of. "John is a special young person. We think he's the best golfer in college golf right now. He knows how to take coaching and can handle criticism. When I talk, his eyes are on me, and he believes what I'm saying. He is tenacious on the course in terms of competitive spirit, he has the will to win, and is willing to do what it takes to win."
Concerning what it takes to win at the Masters in Augusta, Limbaugh said he is quite confident in John's ability.
"His game is really, really good for that golf course," Limbaugh said. "He controls the distance very well, and you have to have a great short game. There are no weaknesses in John's physical golf game. He drives at an elite level, he's long, his chipping is as good as I've ever seen at this level. His putting is good, and he's working to make it great. He just needs to enjoy it, and trust that he's good enough."
Limbaugh said the Masters Tournament has always done an excellent job of "giving young people the opportunity to play against the best players in the world."
"This is the first time I've ever been a head coach of a student athlete playing in the Masters — it will certainly be a very special experience for me. It will be his last tournament before our final postseason run together when we head to the SEC tournament in Sea Island, Georgia. It will be a very special week."
As for John's future beyond the Masters, he is looking forward to accomplishing his childhood dream of becoming a professional golfer on the PGA Tour.
"I've always wanted to be a professional golfer," John said. "Maybe culture encourages you to have a Plan B, but then I think you are not focused enough on Plan A. I've always wanted to do it and I've always known that I could." OL