"I hate running."
Those are probably the last words you would expect to hear from someone who has run over 40 marathons in his life. But, that's Dave Jones for ya. While an aversion to running would keep most people from even attempting a marathon, that aversion is actually what got him started.
Back in 2012, the Hanson, KY native was at West Virginia University watching a football game with this friends. Overweight and out of breath from his two-pack-a-day cigarette habit, he could only make it through the first half before calling it quits. While his friends continued having fun, he went back to his car and went to sleep!
After waking up in the middle of the night in an empty parking lot, he realized something needed to change. That's when he asked himself, "What's the thing you hate doing the most? From now on, that's what you're going to do every time you want to use nicotine."
That thing was running. Eventually, he found himself running so often that he decided to get serious about it. Running – the very thing he hated – was becoming the good addiction that replaced the bad addictions in his life. And then he had a crazy idea.
"I came in one day from one of those runs and told my family and friends: 'By darn, I'm running a marathon.'" They all laughed and dismissed him, but he was serious. He hopped on Amazon, found a book about training for marathons, and in six months he went from literally not being able to run the length of his driveway to running his first marathon – the Southern Indiana Classic in Evansville, IN, on April 6, 2013.
Addiction typically saps a person's will power. Where did he find the determination to make himself get up and run when he was so out of shape and dying for a cigarette? "To really make a change in your life, you have to look in the accountability mirror," he said. "Take a really honest look at yourself. Ask yourself, 'Am I stronger or is the addiction stronger? Am I stronger or is the pain in my muscles stronger?'"
Sometimes it takes hitting rock bottom to decide once and for all that you have to make a change. For Jones, he was just tired of being tired. "I wasn't happy," he remembers. "I didn't like that aspect of my life, I felt like I wasn't in control." Running became a school in how to get that control back. And after that first marathon, he became the class nerd.
"I didn't get bit by the running bug, I got bit by the I-love-to-set-goals-and-accomplish-hard-things bug," he said. "Pretty soon I was asking myself, 'What can I do next?' Like any good addiction, it progresses!"
He went on to run 12 more marathons that year. Running quickly came to mean more than simply getting his life back. Marathon after marathon became a quest to discover what he was capable of, to test his limitations, but also to be with other people who were striving to do something great, to encourage them, and to share in their joy.
That quest lead him to perhaps the greatest test of all, something no one had ever done before, The Triple-7 Quest: A marathon a day for seven consecutive days, each one on a different continent.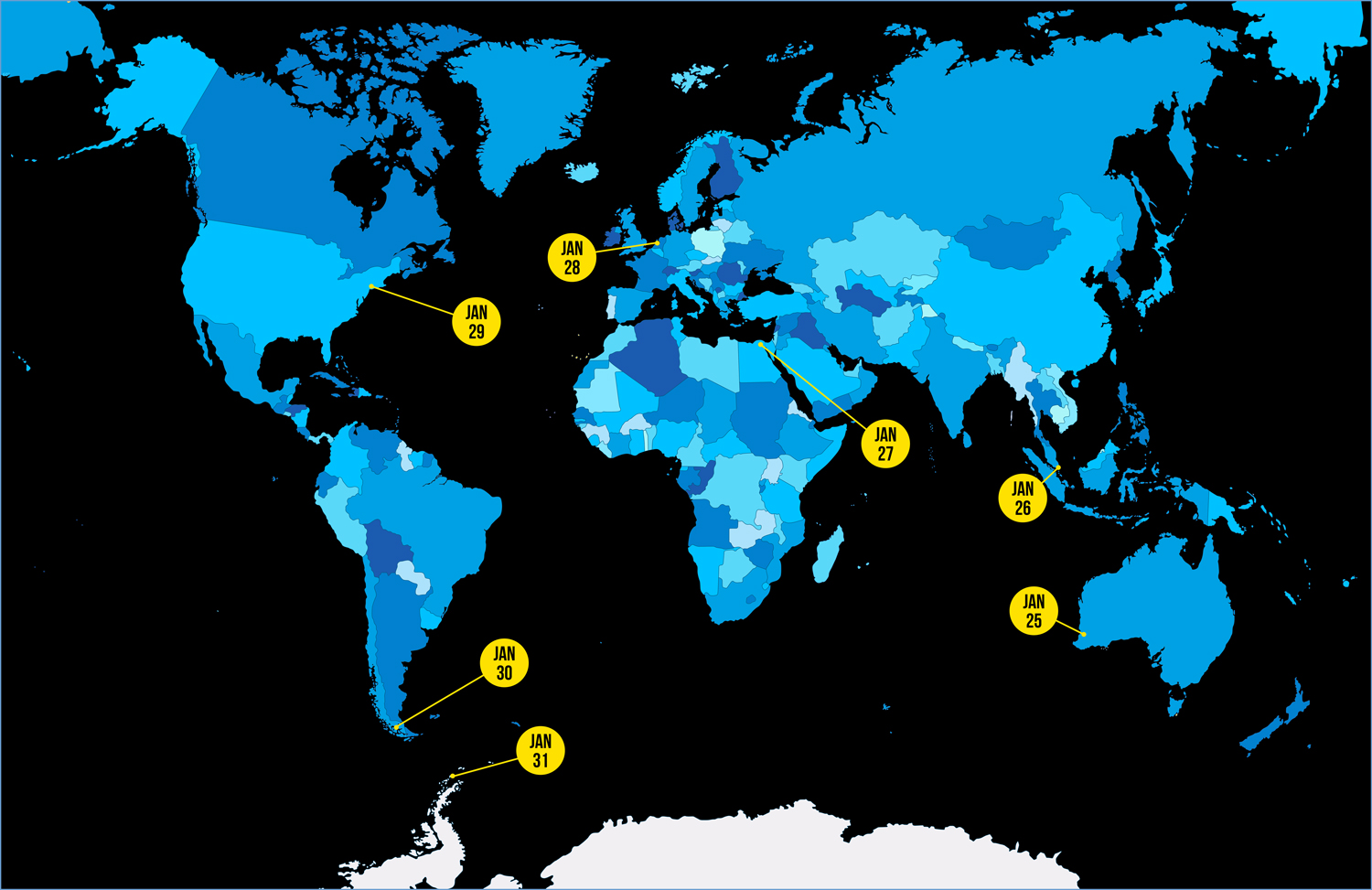 Just check out the itinerary:
Jan. 25: Perth, Australia
Australia Day Marathon
Jan. 26: Singapore
Singapore Beach Marathon
Jan. 27: Cairo, Egypt
Marathon Cairo
Jan. 28: Amsterdam, Netherlands
Shri Chimnoy Marathon
Jan. 29: New York, U.S.
The Inauguration Day International Marathon
Jan. 30: Punta Arenas, Chile
The Southern Cross Marathon
Jan. 31: King George Island, Antarctica
The White Continent Marathon
Since all that international travel means crisscrossing time zones, gaining and losing days, the only way to keep track is to count the hours from the start of the first race. By the time they got to Antarctica, they had to run the White Continent Marathon in under 6 hours in order to finish in seven days. He ran it in 5:12:55, his best time of the entire quest, even though it was the hardest of the seven marathons, and it was on the last day.
He described it as a transcendental experience. "I believe that the Spirit lives within me and that's how God uses me and molds me," he confessed. "That gives me a great deal of strength when the body fails or the mind is weak. When the mind and body fail and it's just the Spirit … then it's easy!" That's what happened in Antarctica.
It doesn't happen to him very often. "Sometimes God just lets me suffer!" he exclaimed. But even that is a valuable lesson. "I can't transcend on my own," he explained. "The difficult runs teach me that it has to be on His time and in His way."
What could possibly be next for the runner who conquered the world, who made Antarctica look easy? He wants to run a marathon in 30 states, territories, or countries in 365 days. He also hopes that the Triple 7 Quest will be a jumping off point for his career as a certified marathon and IRONMAN coach. And finally, he wants to give back to the countries and out-of-the-way places that host races every year and have given him so much, through his charity Must Add Heart.
My guess is he has plenty of heart to go around.
Check out these websites that Dave is a part of:
Eternal Endurance – Marathon/Ironman Coaching and Clothing Line
Must Add Heart – Dave's Charity
Marathon Maniacs -The running group that Dave is a member of
*This article first appeared in April/May '17 issue of Owensboro Living Magazine.