Worldwide clothing brand. Cut and sewn in New York City. Born and bred in OBKY.
As an 8-year-old boy, Ryan Jackson often found himself doodling sketches of flashy-colored sneakers he would imagine in his mind. He dreamed of one day working for one of his favorite brands, like Nike. He just didn't know how he'd ever have a chance to make his childhood dream of a career in fashion a reality.
Later, as a junior at Apollo High School, he'd spend his free time in the magazine aisle at Books-A- Million flipping through issues of GQ to catch the latest styles. It was already in his blood, and the man who was known for his football skills to the outside world couldn't deny his inner passion for clothing.
"I still remember the first Polo shirt I ever got," Ryan told Owensboro Living from his New York City office. "It was a hand-me-down from my big brother. I ironed it. Always hung it up. Took care of it like it was made of gold."
Looking back, he says he's always had a keen eye for design. "I could always see things. Little nuances. Visualize things certain ways. I've always loved bright colors and always paid attention to what people wear."
Which helps explain why, for the most part, Ryan says he was already looking beyond Owensboro during his high school years. But there were a few pivotal moments at Apollo. "Mr. Phelps, my art teacher, was amazingly gifted, and I loved seeing what he created. He inspired me. We could express our interests in his class and I'll never forget that. Mr. Miller, my psychology teacher, also stands out in my mind. He opened the floor to debate and let me speak my mind. I always felt like he understood what I was trying to communicate."
His lifelong passion for fashion began to develop more intently when Ryan enrolled in the Miami University of Art and Design in 2002. "Miami is not like the Florida most people think of from spring break trips or summer vacation. Miami is a culturally diverse, very cosmopolitan environment." Jackson found it ripe for creativity; seeing new things, exploring new trends, making connections and solidifying future business relationships, all the while building his confidence through internships and competitions that were critiqued by other students and professors. "But what I think helped me the most (is) I learned to make products people will look at and want to wear," he explained.  
After Miami, breaking in New York City was the next step in achieving his dream of launching his own clothing line, but how he got there was a stroke of luck that Ryan says "must have been divine intervention." While he was in school in Florida, Ryan worked at an Abercrombie & Fitch store. When he graduated, Abercrombie transferred him to be general manager at the store on 5th Avenue in New York City, which is widely considered the retail capital of America, if not the world.
It was there that he put what he learned in Miami into action. "I was managing people, dealing with customer relations, and meeting amazing people who have gone on to do phenomenal things." But most importantly, Ryan was directly involved in the inner workings of Abercrombie's flagship store, interacting with buyers and decision-makers who determine which products make it into other stores by testing them on 5th Avenue.
Not only was it steady income, it also afforded Ryan the opportunity to do some freelance design work on the side, which eventually segued into full-time design work.
For those reasons, the GM position at the 5th Avenue Abercrombie was a real transition point. "That experience helped me focus on what sells and what people want. I started to focus on what is my brand? What is my price point? Who is my customer?"
Finally, Jackson knew it was time to put some faith in his experience and make the jump. The designs and styles he conceptualized from 2001-2009 became a collection in 2010, and LFANT, his own brand, was launched in 2011.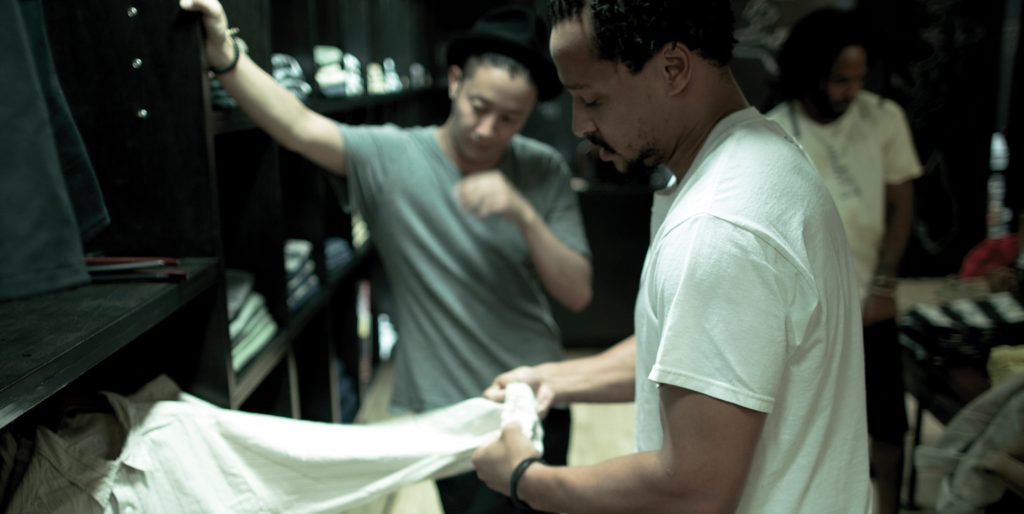 Pronounced "ele-ph-ant," Jackson describes LFANT as quality men's clothing that uses luxury fabrics. The line is a collection of contemporary, traditional and vintage pieces including hoodies, jackets, sweatshirts, cotton tees, and fleece sweaters. "Our main focus is on details and making products with sustainability that stand the test of time, no matter what the trends are."
Most importantly, it's fashion made in America. "Yes, it's cheaper to manufacture overseas, but even though it costs more to make clothing here in America, I believe it pays off in the long run because of consistency of production. I can keep a closer eye on it here," Ryan explains.
The past couple years Ryan says he's been focusing more on the "business side" of LFANT, beyond the creative side, and putting into practice all his experience in Miami and New York to navigate the changing tides in the fashion industry.
LFANT can be found in about 10 storefronts worldwide, but the majority of sales are on online, not in brick and mortar stores. "Instead of focusing on getting into more stores, we're focusing on making clothes for everybody, and building a brand that will be sustainable for a long time."
Yes, the bright lights of the Big Apple are exciting, but Ryan says his Owensboro roots keep him grounded. And don't think for a second he's lost his Kentucky accent. "Living in New York City is amazing, but my foundation is in Kentucky. My upbringing and the things that Kentucky set in me early on serves as my compass. It's in my DNA. It's my culture. It's imprinted on me. And I've always clung to it. The fact that I'm from Kentucky is fascinating to people in New York, and it's more impressive to them than if I was from New York or Paris. It's part of my story and I'm proud of it."