This article has turned into a marathon. When I originally started working on it, I set out to give an update on all the people from Owensboro who currently work for NASCAR. I soon found out that was nearly an impossible task because there are so many – everyone I talked to gave me two or three more names to follow up with.
As Travis Young told me, "NASCAR is a family because everybody knows everybody, but with all of us from Owensboro, there's almost a family within a family because there are so many of us that have that same connection."
Between drivers, pit crew, mechanics, engine builders and NASCAR officials, there is someone from Owensboro involved in every aspect of NASCAR. To get the full perspective, I did my best to contact at least a member or two from each family currently involved in NASCAR. As long as this article has already become, we may have to do a "part 2" to cover them all. (There's also Donnie Richeson, Barry Swift, and Kenny Davis, to name a few.)  But for editing deadlines, I finally had to wave the checkered flag on this piece.
We hope you enjoy reading this updated edition of the feature article from the February issue of Owensboro Living Magazine.
The Young Family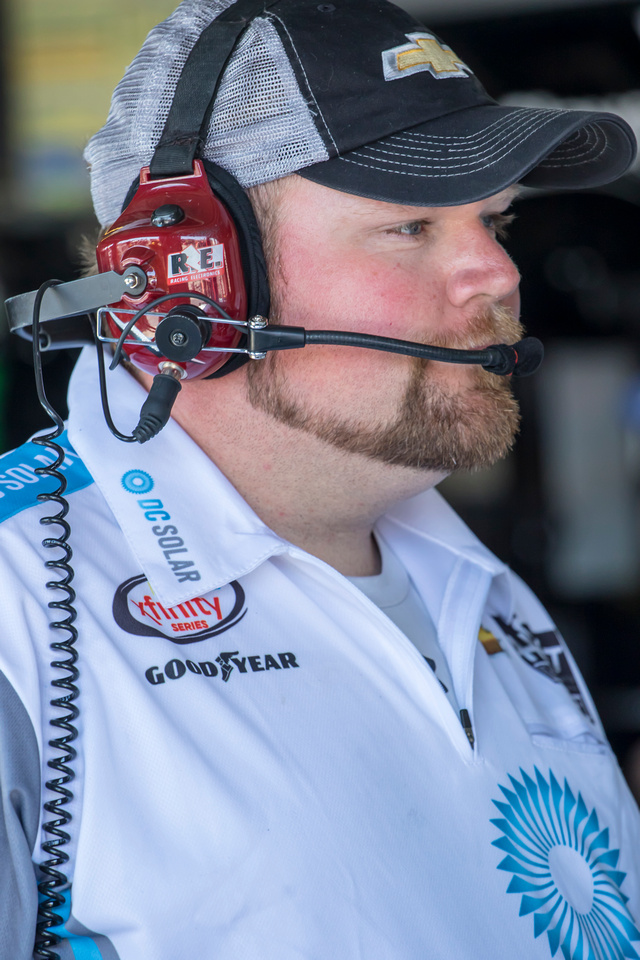 Travis Young knew at 14 that he wanted to work on race cars. "I was lucky to know at a young age what I wanted to do, and I feel privileged to be where I'm at. There are 43 teams, so there are only 43 people in the world with my job."
That fortunate job is being the mechanic for Chip Ganassi Racing XFINITY team.
Like many other Owensboro natives who now work for NASCAR, Travis can trace his love for race cars back to Kentucky Motor Speedway in Whitesville. "I've got my father to blame for that," young said, with a laugh. "My whole family was into it. There were times where we'd be at the track three nights a week with Mark (Green) and my dad."
[Editor's note: Travis' dad, Keith Young, and uncle, Marty Joe Young, now both work for Stewart Haas Racing.]
When Mark Green got involved in Brewco Motor Sports, that opened the door for the Youngs.
After graduating from DCHS in '02, Travis moved to Indianapolis to work on Butch Miller's ASA Series car. "I was the sole care-taker of his car, and I really got to hone my skills," Young said.
From there, Travis made the move to North Carolina and found some open doors with race teams because of friends he knew from the Brewco days. He bounced around on different teams for several years and is now in his second year with Ganassi.
As a mechanic, Young travels with the race team, but he's not an over-the-wall-guy with the pit crew. Travis gave OwensboroLiving.com a run-down of race weekend responsibilities for a mechanic in the XFINITY Series:
Early Friday morning – Charter jet flight from Statesville, NC to closest airport to track
Late Friday morning – Land at airport and travel to racetrack. From the moment we get to the track it's "GO! GO! GO!" It's a little nerve-wracking. There's lot to do and not a lot of time to do it all. We unload the car and all the parts and pieces from the truck and do all the pre-checks for the safety equpment for the driver.
Friday afternoon/evening – Two practice sessions.
Saturday morning – Report to garage at 7 a.m. Warm the motor up. Then take the car through technical inspections again. Once the car is presented to NASCAR they basically impound it and we're not allowed to touch it again until the race starts.
Saturday afternoon – Qualifying laps. Then the crew gets to relax until it's time for the race.
Saturday night – Race. Immediately following the race, the car is loaded back onto truck to drive back to the shop and we fly back home. Then on Monday morning we strip the car completely apart down to the chassis, service all the parts, and begin building the car back for the next weekend.
"It's a crazy life, and it can get a little repetitive. The only thing that changes week to week is the race track," Young said, with a pause. "But I love what I do."
 "It's amazing to see how we started at Sunday races in Whitesville and now we get to work at some of the biggest and best tracks in the world. To have that many of us involved from Owensboro is pretty amazing." -Travis Young
The Chandler Brothers
While the Waltrip brothers and Green brothers have famously spent decades behind the wheel in the driver seat, the Chandler brothers have spent decades under the hood building engines.
Tommy, Denny and Jeff Chandler all got their first tastes of working on engines in their dad's body shop in Mosleyville. Today, they live within five miles of each other in North Carolina, where they all build engines for top-tier teams.
Jeff, the older of the three, has been a mechanic in the Cup Series for 30 years; the past 20 of those with Joe Gibbs Racing.
Middle brother, Denny, was an engine tuner for Rousch Fenway Racing for 12 years and now works for Toyota Racing Development.
Following in his older brothers' footsteps, Tommy is in his seventh year as engine tuner for Penske Racing.
Jeff got his break into NASCAR by working on Alan Kulwicki's car and being introduced to Michael Waltrip. Along the way, he has earned a mantle full of hardware, including:
4 Championships:

Front tire changer for Bobby Labonte in 2000
Underneath mechanic for Tony Stewart in 2002
Lead mechanic for Tony Stewart in 2005
Mechanic for Kyle Busch in 2015

4 Brickyard 400 Victories
Tire Changer of the Year in 1996
World Pit Crew Award in 1999
To give you a glimpse into the life of a mechanic in the Cup Series, Jeff is one of about 30 mechanics for Joe Gibbs Racing. Together, they work on Denny Hamlin's #11 car, Kyle Busch's #18 car, Carl Edward's #19 car and Matt Kenseth's #20 car – all under one roof.
For example, the day I spoke with Jeff he had worked on chassis and dynos on all four of the cars getting them ready for Daytona.
There are some guys in the shop who specialize in installing the engines, some that are mechanics and engineers, and others who specialize in working on the electronics in the engines.
"Owensboro has been a breeding ground for NASCAR drivers, mechanics and fabricators." – Tommy Chandler
Just a few miles away, Tommy works in the Team Penske shop, where he is the lead mechanic for the #22 Discount Tire Ford XFINITY Car.
"The way Roger (Penske) set it up, we have seven cars in the shop: four Indy cars, two Cup cars, and the XFINITY car. We're the only team in NASCAR that's set up like that. It's really cool the way it works," Tommy explained. "Everything we do benefits the other cars in the shop. Everybody helps everybody else get better."
Last year, for instance, Team Penske won the Daytona 500 (with Joey Logano driving) and the Indianapolis 500 (with Juan Pablo Montoya driving) in the same year.
Tommy's responsibility is the XFINITY car, which is mainly split between Brad Keselowski and Joey Logano, who each will race 14 races this season. "Joey is driving the #22 at Daytona, then Brad is driving for three or four weeks and then Ryan Blaney will drive a few road races," Tommy said.
Penske's philosophy is that the XFINITY races on Saturday are research and development for Brad and Joey's Cup races on Sunday. "In the seven years I've worked here, we've moved a lot of people up from XFINITY to Cup," Tommy said. "If you don't have an XFINITY program for your Cup team, you're going backwards."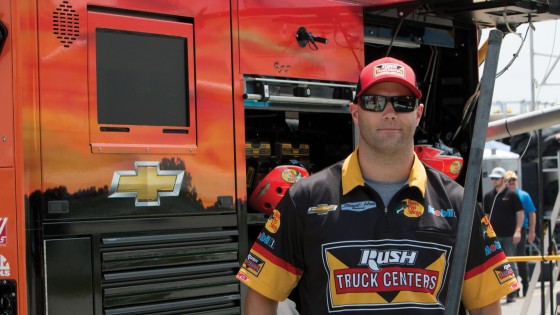 Getty Cavitt, Jackman
Cavitt is one of five "over-the-wall" guys – the ones who literally jump over the wall and work on the race car during pit stops. As jackman, Getty carries a 20-pound hydraulic jack around to the right side of the car, which he elevates off the ground in two or three pumps, then pulls the right rear tire off and hands it to the front tire carrier. Once the lugnuts are on the right side tires, he releases the jack, runs around to the left side of the car, and does it all over again. In a "good" pit stop, the car gets four new tires, a full tank of gas, and sometimes a clean windshield in under 12 seconds.
NASCAR is an extremely competitive sport that can come down to inches and hundredths of a second at the end of a 400-mile race. Oftentimes, precious seconds shaved off a pit stop can give a driver the advantage he (or she, since Danica Patrick entered the Sprint Cup Series) needs to gain position on the track. For that reason, races can actually be won or lost on pit road.
"If we can average 11.6 or 11.7, it's a good day," Cavitt said. "If it's more than that, it's a bad Monday watching film, and we work much harder the next week on our practice stops."
Getty is no stranger to competitive sports. He played football for the Owensboro Red Devils, then went on to play college football at Western Kentucky University. All those workouts and countless hours in the weight room prepared Cavitt well for his current position on the Stewart-Haas Racing team.
Owensboro Living caught up with Getty in the #14 pit box before the Sprint Cup race at Kentucky Speedway last season to talk about life in a NASCAR pit crew:
OL: How did you get involved in NASCAR?
GC –I was asked to try out for Brewco's pit team. I tried out and they hired me a couple weeks later to be on their pit crew. When they moved to Nashville, I stayed back and finished my degree at Owensboro Community College. Then when I got done there, I worked for an ARCA (Automobile Racing Club of America) team for a year and then moved to North Carolina to work for Michael Waltrip Racing. Now, this is my second year with Stewart-Haas Racing.
OL: Michael Waltrip, there's another Owensboro connection:
GC -Right, but I never even met Michael until I started working for Michael Waltrip Racing. I tried out for their pit crew coach, Kevin Sharpe, who is now here at Stewart-Haas, so I stuck with him.
OL: What do you love about being a jackman?
GC – It's fun to compete every week. I've grown up competing, with football, so this is something that I can still stay competitive in.
And it's a team atmosphere. We have five guys go over the wall, but we also have five more guys for support behind the wall. Then the road crew comes out and helps, too, so it's 11 or 12 of us that travel for race days. So it really does feel like a team. It's a good deal. We fly to the track together, work the race, then fly back home right after the race, which is really nice.
It's a lot of hours. Most of the pit guys also work in the shop Monday through Thursday, then we usually get Friday and Saturday off because we have a race on Sunday.
OL: What's your responsibility in the shop?
GC – When the cars come in, we take them all apart and take it back to the fabrication shop.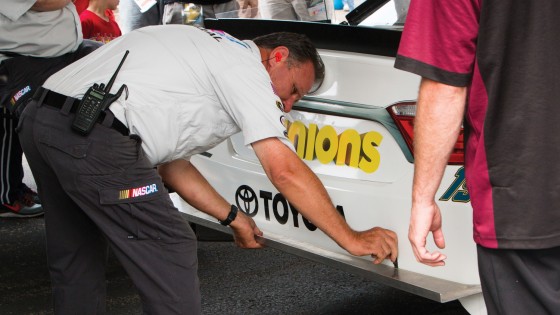 Dan Fenwick, NASCAR Official 
NASCAR official/inspector Dan Fenwick was born in Owensboro, moved when he was very young, then moved back when he retired from the service, and now lives in Livermore. Dan got his start in NASCAR as a fabricator, building cars in the shop for Brewco Motorsports. He then got the opportunity to work for NASCAR as an inspector in the Busch Series (now XFINITY Series).
Today, Dan works on the template crew during before-race inspections, where he checks the outside of the cars. "That's something I knew well because of my experience in the shop, so I knew what would be right and what wouldn't be right as far as the body of the car," Fenwick told Owensboro Living.
For his commute to work, Dan drives from Livermore to Evansville to catch a plane and go to work each week. A typical work-week for a NASCAR official means flying out on a Wednesday or Thursday, working the weekend race, then flying back Sunday night. "I'm home Monday through Wednesday," Fenwick explained. "So it's a little different schedule, but after you do it for a while, it becomes normal. It's just what you do. You make it work."
Fenwick says working for NASCAR is an interesting job. "Most of my friends are here because I've been around it so long. I know more people here at the track than I do in Livermore. We become one big family. We know everybody."
David Green, Managing Supervisor of Safety for NASCAR
After a long career as a driver, David Green is now in charge of NASCAR's safety department at the Research and Development Center. His official title is Managing Supervisor of Safety, which pertains to the car and driver, not the track.
Before last July's Sprint Cup Race at Kentucky Speedway David described his new role in NASCAR to Owensboro Living:
"We cover all three series (NASCAR Truck, XFINITY and Cup) and record any data that transpires from an accident. After an accident, we'll impound that car or truck and take it back to Research and Development and learn as much as we can from it – most importantly, how we can make it better.
The fun part about my job is not only coming to the race track each week, but also seeing how the future is going to evolve and get better – and safer. We've come a long way.
This has been a lot of fun and very educational for me. I've been able to take what I've learned in 30 years of driving, and use it to make our product better. Being able to share both sides of the car (driving and officiating), and being able to communicate that on a week-to-week basis has been beneficial.
Brian France, Nascar CEO, said it best when he said 'If we don't have safety, we have nothing.' We try each and every week to ensure that safety. It's a real satisfying feeling to know that drivers are safer than they ever have been, and we hope the driving will be better than it ever has been. And the fans are safer, too."
Kenny Lawson, NASCAR Official
Kenny Lawson is also a NASCAR official. He works in Research and Development as the Supervisor of NASCAR's engine inspection department.
The top finishing cars each week are taken to R&D for more critical post-race inspections. NASCAR officials can get to within an eighth of an inch with measurements at the track. At the R&D Center, the officials can get to within thousandths of an inch. That helps NASCAR try to keep the competition balanced and fair.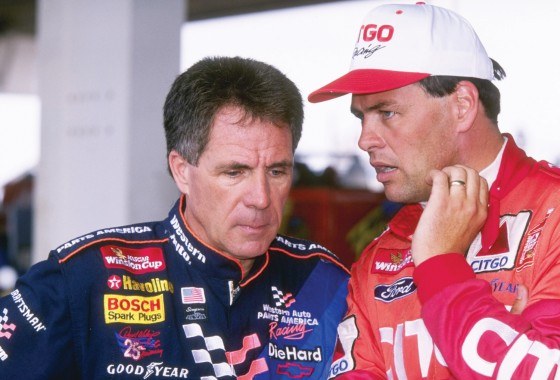 The Waltrip Brothers: From the Driver's Seat to the Broadcast Booth
DARRELL WALTRIP, Analyst, FOX NASCAR
Driving Career:
Three-time Sprint Cup Series Champion
84 career Sprint Cup wins
Named "Driver of the Decade" for the 1980s,
2012 NASCAR Hall of Fame inductee
For 2016 Season:
DW continues to serves as analyst for FOX NASCAR in 2016 for the 16th consecutive season, pairing with newcomer Jeff Gordon to provide seven championships' worth of insight. Alongside veteran race announcer Mike Joy, Waltrip has been an integral part of the FOX NASCAR broadcast team since the network's coverage began in 2001.
Waltrip also contributes to the FOX NASCAR pre-race show, FOX NASCAR SUNDAY, alongside his brother, Michael Waltrip, Gordon and host Chris Myers, in addition to his role as an analyst on NASCAR RACEDAY, FS1's pre-race show. Waltrip is a three-time winner of NASCAR.com's Fan Voice Awards, crowning the legend as the overwhelming fan favorite. In 2006, Waltrip captured 38% of the votes for Best On-Air Analyst. That same year, Waltrip received his first Sports Emmy Award nomination for Outstanding Sports Person – Event Analyst.
MICHAEL WALTRIP, Analyst, FOX NASCAR
Driving Career:
Raced 30 years in the Sprint Cup Division, with four career wins
2 Daytona 500 victories (2001 and 2003).
Team Owner:
Started Michael Waltrip Racing in 1995 with a team in the Nationwide Series.
In 2007, MWR began fielding full-time Sprint Cup entries as the flagship team for Toyota Racing Development, USA. MWR has collected seven Sprint Cup victories, more than 70 top-five finishes and earned berths in NASCAR's Chase for the Sprint Cup in 2012 and 2013.
For 2016 Season:
A member of FOX NASCAR's Sprint Cup coverage since 2012 and its Truck Series team since 2004, Waltrip contributes analysis on FOX NASCAR SUNDAY, the network's pre-race show, alongside host Chris Myers and fellow analysts Darrell Waltrip and Jeff Gordon, in addition to in-race commentary and updates from the Hollywood Hotel.
Michael Waltrip originally joined the broadcasting world with the launch of FOX Sports-owned SPEED in 1996 as a panelist for what began as INSIDE WINSTON CUP in 1996 and eventually became known as THIS WEEK IN NASCAR, leading to roles on TRACKSIDE, FAST TRACK TO FAME and NASCAR NATION. He also co-hosted Showtime's Inside NASCAR program from 2010-12. Waltrip is nationally renowned for numerous commercial appearances for major marketers, including Aaron's, 5-hour ENERGY, NAPA, Dominos, Best Western, UPS and Toyota.
The Green Brothers: Continuing the Legacy
The Green brothers (David, Mark and Jeff) could very well be called the First Family of the XFINITY Series.
NASCAR.com reported in 2011 that the brothers collectively have:
2 Series Championships
1,021 career starts
187,550 miles
168,534 laps
25 wins
161 Top-5 finishes
45 poles
and 286 Top-10 finishes
David told NASCAR.com, "It's real special to me that three brothers from a small town like Owensboro, from just a regular family, could all have the same interest and have all succeeded at it. I would have been happy if one of us had made it — but two of the three brothers are NASCAR champions, and only a few individuals get to do that."