This article originally appeared in August-September '17 issue of Owensboro Living Magazine.
A half marathon is supposed to only take you 13.1 miles. But, for one Owensboro family, it took them half-way around the world. On June 24, the Joskas – Robin and Jammia, and their children Maya (10) and Merrick (8) – ran in the Mattoni Olomouc Half Marathon and Family Run, in Olomouc, Czech Republic.
[tw-divider][/tw-divider]
It may seem strange at first to choose Central Europe as the location for an outdoor run with the family. But Olomouc is an official Sister City of Owensboro, and for Robin, it's home away from home. "I was born and raised in Chrudim, a small town in the Czech Republic. I went to Palacky University in Olomouc. So, I know the area really well."
After graduating with his degree in Physical Education and English, he became the first exchange student of Owensboro's Sister Cities initiative. "One of the professors [at Palacky] approached me and told me about an opportunity to go to the United States, go to college, and play soccer," Robin recalled. "I always wanted to do that, so I came over here, played soccer, and got my business degree from Kentucky Wesleyan."
His plan was to graduate from KWC, stay a couple of years, and then return to the Czech Republic. But Owensboro had certain attractions, even for someone from a beautiful and historic city like Olomouc. He got a job with Williams and then Southern Star. He decided to stay on as a board member of Owensboro Sister Cities and Regions. He met and married his wife, Jammia. Before he knew it, two years turned into 19 years . . . and he's still here.
He was starting to wonder if and when he would ever return to his birthplace. A mixture of good timing and good luck finally made the international trip a reality.
"My wife and I had been juggling this idea around [of visiting the Czech Republic] for several years now, but wanted to wait until the kids were old enough. We finally had a whole trip planned for this summer, and then I heard that Owensboro was looking for someone to run in the half marathon in Olomouc. I knew I couldn't do both. I wasn't sure what I was going to do."
As fate would have it, the half marathon was scheduled during their trip, on a day when they were already planning on being in Olomouc. "Everything worked out great," Robin said, with obvious excitement. "The city of Olomouc provided our accommodations, and we got support from the Owensboro Sister Cities program, so my wife and I were able to run the half-marathon, and my kids participated in a 2.5 mile kids fun run."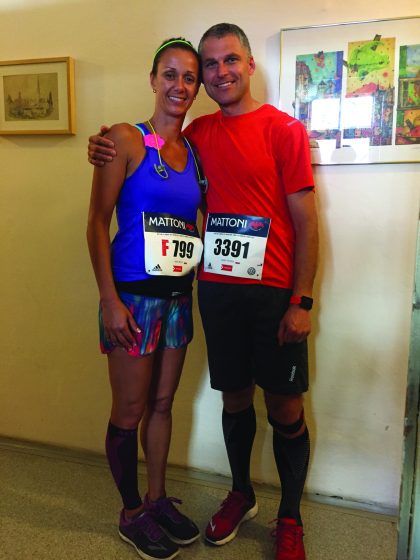 Now, Robin is even more of a champion of the program that brought him to the United States 19 years ago, and that made his trip back to the Czech Republic such a memorable experience. Robin described the benefit of the program:
"Owensboro Sister Cities and Regions has been a wonderful program. It's all about how everyone does things, like, 'We're doing things this way, you guys are doing things that way,' then you give some advice from here to there, maybe we can use some of these approaches, so people give some ideas.
"The Sister Cities program does a lot of exchanges between high school and college students, government officials, police officers, firefighters. They're actually organizing a friendship trip in September, which is going to be the first time that we get people together in this way to go to the Czech Republic."
There's no doubt that the Sister Cities program has done a lot of people a lot of good. But, Robin was most excited for how it was able to impact his children. "I was just so excited to show the kids where I grew up and where I went to school, where I played soccer, mainly, showing them a different culture. It's been such a great experience for the kids. Just some of the things they'll be able to talk to their friends about, and what they were able to do, it's completely different than if you went to the beach or to the mountains for vacation in the United States."
And the run? It was amazing. "There's a lot of history in Olomouc, a lot of historical buildings and churches, it's just beautiful there. The race started and finished in the main square, it was mostly around the downtown area. It was very well organized, too . . . and over 6,000 runners were there! That's a pretty big number for a city the size of Olomouc."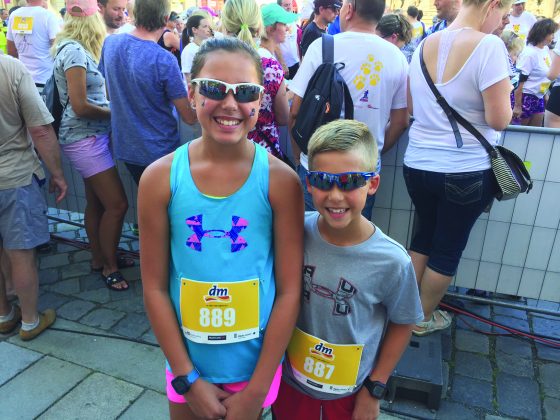 With about 100,000 residents, Olomouc is similar in size to Owensboro and the surrounding area, which is one rea
son why the two cities with an ocean in between became "Sisters" 23 years ago. Of course, for the Joskas, it has been a match made in heaven.
"I always like to share the story of the Sister Cities," Robin assured me. "I think it's a great program, and I'm just fortunate to be part of this, that it worked out that while we were over there we got to participate in the half marathon and travel a little bit. This has been one of those experiences that change you for life."