Runners across the country have braved the cold temperatures, snow and ice this winter to train for the Boston Marathon. But inclement weather does not compare to the emotions felt during last year's race, when two bombs exploded near the finish line, killing three people and wounding at least 264 more.
The bombs, exploding within 12 seconds of each other and only 50-100 yards apart, were inside of pressure cookers, containing BB-like pellets and nails, according to the FBI. After three days, 26-year-old Tamerlan Tsarnaev and 19-year-old Dzhokhar Tsarnaev, brothers from Cambridge, Massachusetts, were named as the bombing suspects. Tamerlan was killed during police pursuit and Dzhokhar was taken into custody after a televised manhunt ended in his arrest. He now awaits trial.
For two Owensboro runners April 15, 2013, the day of "the Boston," will be a day they will not soon forget.
Suzanne Holt has been running since high school, where she was a star athlete on the Muhlenberg South cross-country team.
"I've kind of centered my life around running," Holt, retail manager at Legends – Owensboro location, said. "I like to get out, be healthy, clear my head. I like that you get out of [running] what you put in to it."
For Holt, the Boston Marathon was never an ultimate goal, rather something she wanted to check off her bucket list.
The Boston Marathon is the only mass-participation marathon that requires qualifying times. Qualifying times differ based on age and gender. For Holt, a 3-hour, 16-minute finish time at the Chicago Marathon landed her a spot in the Boston.
Luckily for Holt, she finished almost 45 minutes before the bombs went off. In fact, because she had fatefully forgotten her cell phone and was unable to reach fellow runners at the race, she returned to her hotel room. It was then that she heard news of the bombings.
"I feel very fortunate, comparatively speaking." Holt said. "People lost loved ones."
With a recently torn hamstring, Holt will be unable to run the Boston this month, but is confident she will return in the future. The Boston Marathon environment, according to Holt, is unlike any other. More than running the race, Holt enjoyed hearing the stories of other runners, all answering, "Is this your first Boston?"
For Dr. Artis Truett, the Boston Marathon presents an atmosphere unlike any other experience. The local dermatologist has run the Boston three years in a row, qualifying for the first time in 2011 with a 3-hour, 29-minute finish time.
"You're in this atmosphere of the top runners in the country, the world," Dr. Truett said. "It's a great honor."
Truett has been running marathons for the last six or so years, with his ultimate goal: making it to Boston. "I've always been active, but this was a new goal, a new challenge, a new mission. It gave me motivation, always pushing to achieve more."
The Boston Marathon coincides with Patriot's Day, a holiday that commemorates the battles of Lexington and Concord, which were fought near Boston in 1775. Truett says this holiday means a huge turnout for the event, where nearly half a million spectators line up to view the race.
"The crowd, the fans, they respect the runners and the race," Truett said. "There is just so much energy and excitement."
According to Truett, that happiness turned to despair and sadness very quickly after the bombings. He had finished the race just 20 minutes before the explosions, but was already back to his hotel when he received a text from a friend asking if he was safe. Truett said police immediately responded and covered the city. What had been a day of celebration turned into tragic chaos within minutes.
Without a doubt, last year's traumatic events could have a significant effect on both the number of runners and the spectators. But in a recent interview, Dave McGillivray, the Boston Athletic Association's race director, said he predicts an even greater turnout for this year's race.
The "Boston Strong" mantra has swept the nation, motivating reluctant runners to attempt qualification and more supporters to line the 26.2 mile-race. Organizers say 9,000 more runners will enter the Boston this year and the number of spectators is expected to double, meaning almost one million people may show up to support the second biggest sporting event in the US.
According to McGillivray, about 98 percent of runners finish the race. "My sense is that we will see the highest percentage of finishers ever for the Boston Marathon," he said.
While Dr. Truett will not be able to make the race this year, he does plan to return for the 2015 Boston Marathon.
"It's an incredible atmosphere," he said. "One of the happiest times of my life. It's hard to explain running 26 miles and feeling so much happiness, but I had a smile across my face the entire race."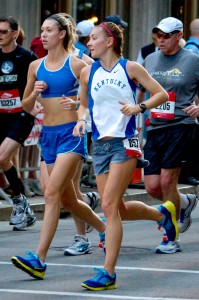 [tw-divider]By the Numbers[/tw-divider]
Organizers are expecting 36,000 runners in 2014, 9,000 more than usual. The race record was 38,708 for the 100th anniversary in 1996.
Runners are categorized by gender, then by age. The age categories are: Men's and Women's Open (age 18-39), Masters (40-49), Veterans (50-59), Seniors (60-69), and 70 & Over.
$806,000 in prize money is up for grabs in 2014
In terms of media coverage, the Boston Marathon is the second biggest single-day sporting event in the U.S., just behind the Super Bowl.