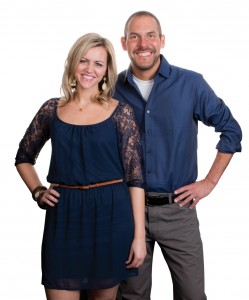 Chances are, if you have spent any time listening to country music during the morning or mid-day, you have come across the unmistakable voices of WBKR DJ's Chad Benefield and Jaclyn Graves. With his quick wit and engaging personality, Chad has become a beloved local celebrity within the Owensboro community and throughout the tri-state. A southern girl with a contagious spirit and a heart a mile wide, Jaclyn has been embraced as a local sweetheart. Although the two no longer share a large amount of air time, what they do still share is an unwavering friendship and passion for helping others. Out of all the charity events that they sponsor and support, the one that is undoubtedly most dear to their hearts is St. Jude Children's Research Hospital in Memphis, Tennessee.
For the last 11 years, WBKR has participated in the Country Cares Radiothon, "one of the most successful radio fundraising events in America." Country Cares was established in 1989 by country music artist and Alabama lead singer, Randy Owen. Owen strongly believed in the work being done at St. Jude and felt that he could draw support from the big hearts of country music listeners. He was right. In the last 25 years, "the Country Cares program has raised more than $500 million to benefit St. Jude Children's Research Hospital." A portion of that money has been donated by the faithful and generous listeners of WBKR. This year, the station raised a staggering $185,000 from its listeners, who pledged to become Partners in Hope with a $20 a month donation. That is not only nearly $30,000 more than last year's total, but it almost doubles the efforts raised at some medium and large market stations.
Over the last five years, the numbers have increased dramatically, and there's good reason. Chad and Jaclyn do things a little differently than some other stations. First, the work they do for St. Jude is something they prepare for year round. They personally make the drive to Memphis at least twice a year, where they also serve as panelist and co-panelist at the St. Jude Annual Conference. This gives them the opportunity to meet people and build relationships with patients and their families, which they continue to maintain year after year. In this way, when they speak on-air of those dealing with cancer, they are talking about their friends. However, 5 years ago, weeks before the Radiothon was set to begin, Chad had a crazy, yet powerful, idea. He offered to personally drive their listeners the five hour trip each way so that that they could experience the wonders of St. Jude for themselves. He prepared them for what they might expect to see, such as sweet, bald-headed children being pulled along in wagons. They took a tour of the facility, as well as the adjacent Target House, where patients and their families live without any concern about cost. It was important to Chad that his listeners observe how well the children were being cared for and that they come back changed. His plan obviously worked, as the donations have increased by over $100,000 in the last four years, and the upcoming trip to Memphis in September is already full.
Making the bi-annual trip to Memphis is not the only event that Chad and Jaclyn have coordinated to generate interest in the St. Jude Radiothon. Ten days prior to the kick-off, Jaclyn and Chad spent twelve hours on side-by-side treadmills at the Owensboro YMCA. Their intent at this event was not to solicit donations from listeners, but to walk/run for twelve local business sponsors who committed to pay them $2 a mile. Jaclyn's goal was 25 miles, which she far exceeded with a total distance of 32.4 miles. Chad, an avid runner who usually runs a total of 20 to 25 miles a week, set and accomplished his own goal of 50 miles in under twelve hours. Due to the constant beating of their feet against the treadmill for a pain-staking twelve hours (while being filmed live on webcam), the two are still recovering from severe blisters on their feet. Throughout that entire day, they were flooded with text messages and visitors providing them with snacks and encouragement. Jaclyn added that it is "so much easier to do what we do when we have such a great community that steps up and helps out." During the 26-hour St. Jude Radiothon, that is just what the community of Owensboro did.
While St. Jude supplies all of the country stations with the essential elements of music and patient testimonies needed to raise awareness and donations, WBKR once again sets themselves apart from the rest. While most stations continue to play regular music intermittently throughout the Radiothon, WBKR strongly stands by their decision to dedicate that air time to the children, their families, and their stories. Jaclyn grew up about an hour and ten minutes from Memphis and has "always had a connection with St. Jude." The two also find their motivation in such inspiring children as Gavin Howard, the local 9 year old with the amazing heart that raised $12,000 this year by designing and selling t-shirts to benefit the research hospital, not to mention the precious fighters that have captivated their hearts, such as Ellen Taylor and Ella Dreamer.
Recently the need for cancer treatment hit home with Ben Halbig and his family, who have now been relocated to Memphis. Ben's dad, Randy, shared during the Radiothon how truly impactful the work of St. Jude is. "When something like this happens, you get spiritual real quick and you get financial real quick. St. Jude handled the financial part."
As a community, we are privileged to have two such caring and compassionate individuals that are willing to work together for the "greater good." Chad is truly devoted to sharing the great work of St. Jude with others and readily agrees that Jaclyn is "a great partner to have" in such a meaningful endeavor.
For more information about becoming a St. Jude Partner in Hope for just $19 a month, please visit www.partnersinhope.org.