The second annual Boilin' in the Boro event benefiting Make-A-Wish Ohio, Kentucky, and Indiana took place on Saturday, September 15 at 6:30 p.m. at Reid's Orchard. Lisa Reeves, Senior Development Officer for Make-A-Wish, said that last year's event raised $75,000 to grant wishes for critically ill children in the local area, including Henderson, Daviess, and Hancock Counties.
Boilin' in the Boro consisted of a low country boil and bourbon tasting with specially-themed bourbon cocktails and slushies. As for the low country boil, the locally-famous Steamer Seafood, of Bowling Green, Kentucky, provided all the ingredients for the perfect dinner, including shrimp, potatoes, corn, sausage, and specialty desserts like white chocolate peach cobbler. The event consisted of a silent auction, live auction, a raffle for a uniquely-crafted bourbon barrel filled with bottles of bourbon—all for the benefit of the families and children waiting for their wishes to be granted.
After bourbon-inspired cocktails and the seafood dinner, Make-A-Wish presented their program by allowing the Belcher family to share their story of how Make-A-Wish changed their lives. Nina and Brian Belcher found out that their daughter, Lily, had Stage 2 Nephroblastoma in 2014. A week before her second birthday, she underwent surgery to remove a tumor and her right kidney. After six months of chemo, Lily was declared cancer-free. Lily's father, Brian said that, "Even though granted wishes may not cure a child, I believe it does better equip children with the encouragement and motivation to help them continue to fight their illnesses." Through the support raised by the Owensboro area, Nina and Brian Belcher were able to take their Disney princess-loving daughter to Disney World last year, where her favorite memories included having ice cream at midnight, getting to dance with the cast of the Frozen Sing Along, and dancing with Prince Charming. "We certainly feel it was a life-changing experience that strengthened our family," Brian shared.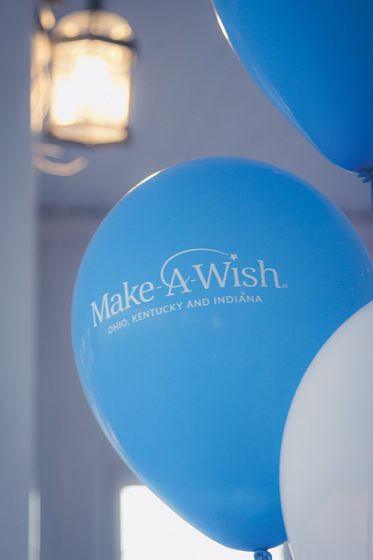 The business sponsors and donating individuals are responsible for making wishes like Lily's come true. As the presenting sponsor, Independence Bank played an instrumental role in providing funding for the event, contributing board members, and purchasing several tables. "98% of Make-A-Wish is composed of volunteers," Reeves shared. "We are always looking for more people to help, by working with families to help make their wish come true, by representing and speaking with civic groups, or manning tables at community events."
Across the state of Kentucky, there are as many as 140 wishes being granted per year. "We grant 15–18 wishes in this area each year," Reeves shared. Wishes average between $8,000–$10,000 and can be anything the child wants. "Some kids just want a playset in their yard. Other kids want to go to Hawaii or Disney World," Reeves said with a smile. It's probably no surprise that more than 60% of the wishes granted from Make-A-Wish involve going to Disney World. "80% of the Make-A-Wish kids go on to live normal lives," Reeves said. "Receiving their wish is a turning point in their health."
There are approximately 350 children in the state of Kentucky who are waiting for their wishes to be granted. Since Kentucky was the last state added to the Make-A-Wish foundation, there is plenty of need to develop the volunteer organization and visibility across the state. "We need people to get involved and support Make-A-Wish," Reeves implored. "This event is expanding our reach because we are affecting families in these local communities. We are trying to build a wish army of supporters to help grant the wish of every eligible child in the state."
To volunteer or contribute financially to the local Make-A-Wish chapter, visit oki.wish.org.