Cumberland Presbyterian Church is so very kind. Member Donna Scott stumbled across a beautiful gesture while caring for ailing family members in Elizabethtown, Kentucky. They were signs, yard signs, that simply read "Be Kind." Commissioned by a local church in Hardin County, they were made up of elaborate artistic lettering, all the way to sweet childhood penmanship with the phrase that would initially touch her heart, provide inspiration and encouragement, just when she needed it most, and now reach many others.

Appreciating the signs and their positive message, Donna reached out to the church. Elated with her enthusiasm to carry the torch, they were more than happy to share the "Be Kind" initiative.

Pastor Tim McGuire has been at CPC for 17 years, and says the church embraced Donna's passion to "Be Kind" in Owensboro. In August 2018 Cumberland Presbyterian began the kindness in Owensboro, through their "give because HE gave" grassroots ministry. This mission was created so that those in need could see the love of God without reservation through intentional servanthood. This ministry provides monetary, spiritual and physical support to single parents, the unemployed and any other situation where a person is in need.

This new way to help support the "give because HE gave" ministry came to fruition in September when the first "Be Kind" signs were sold in the community.

For just a $10 donation, signs can be purchased. The premise is simple, "Be Kind," and pay it forward when others are kind to you.

Shirley Brown has been a member of CPC for 45 years. At 84 years young, she says this mission has blessed her and brought her more joy than she would have ever imagined, and says "'Be Kind' is one the finest things I have witnessed in my history of attending" the church.

She, along with other members, is available at the church, located on Booth Ave. from 4:30 to 6:30p.m. on Wednesday evenings to sell the signs. In one humble two hour period "Be Kind" added $600 to their ministry. In total, over 700 signs have been sold.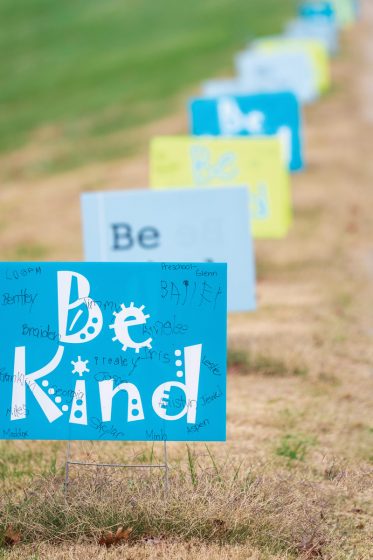 "Be Kind" can be seen in yards across Daviess County, but Brown adds that they have had people from McLean and Ohio Counties, as well from Southern Indiana, drive to Owensboro on a Wednesday evening to purchase them. These signs can also be seen at Deer Park Elementary, where two mothers purchased 20 signs and felt passionately about sharing the message of "Be Kind" with students, teachers and other parents. Shirley says it has been especially endearing to be able to place the signs in others' yards anonymously and often hears of people giving their signs away and purchasing more. Her heart is especially full at the sight of parents bringing in their children to see the importance of how a simple gesture of kindness can make a very huge impact in the lives of others.

Cumberland Presbyterian has not put a timeline on this project and hopes that individuals, community groups, churches and more will just run with the message of "Being Kind." They encourage the community to go to their Facebook page and post pictures of the signs from all across the community.
On a recent trip out of the country, Donna Scott placed signs in Rome, Italy and Athens, Greece. "Be Kind" is now truly worldwide.

Bro. Tim encourages, " It's about making a difference in the world we live in today because a little kindness goes a long way. In a world where we can be anything, why can't we just be kind?"

Make a donation, post a sign, and most of all, just be kind! For more information, contact Cumberland Presbyterian Church at 270-683-4479.