Like most non-essential small businesses in Owensboro, Headquarters Barber Shop endured a two and a half month shutdown for COVID-19. But now that restrictions are lifted, the five barbers there are happy to be serving customers once again.
"This is not like work, I'm telling you," Headquarters owner Lionel Bridges says with a smile on his face and a scissors in his hand. "We have a lot of fun with our customers, carrying on with people. You know what goes on in a barber shop. But we don't get too crazy with our talk, because it's a family place. Sports is what's driving this place, and that's what we mostly talk about."
Lionel found his passion late in life; he didn't start cutting hair until he was 40 years old and enrolled in barber school. Up until then, he was a coach and referee for third region high school sports and worked at US Bank home mortgage handling loans for airlines. But after 9/11, the airline industry changed, and Bridges took the opportunity to head to barber school.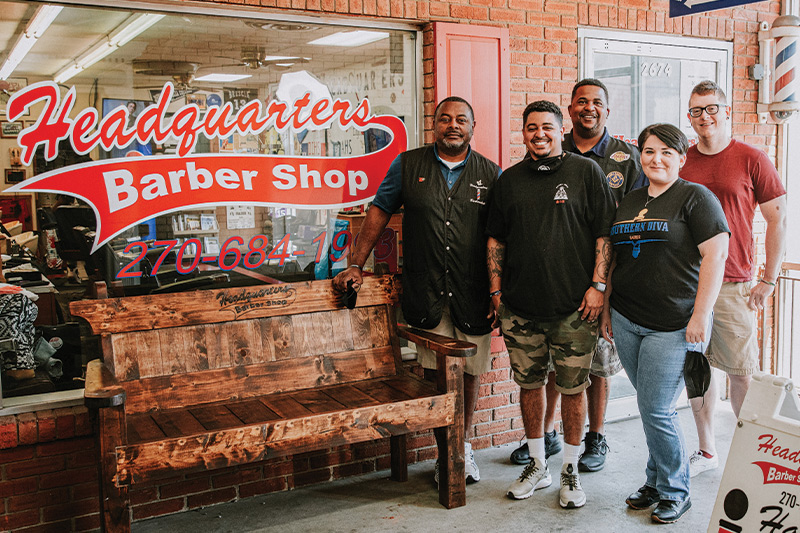 "I had been cutting hair for two years when Warren (Havelin) was ready to retire, so I bought this shop from him," Lionel remembers. "I asked Warren once how I would know when it's time for me to retire one day. He told me not to worry because the customers would let me know."
When Lionel bought Warren's Barber Shop in 2007, he gave it a new name: Headquarters. "I was down in New Orleans and saw a barber shop named Headquarters in the French Quarter and I thought, man, that is a cool name for a barber shop." Apparently several other shop owners agreed. When Bridges contacted the Kentucky Barber Board, he learned there were already six other barber shops called Headquarters in Kentucky.
With jerseys on the wall, a big mural of local high schools, and other sports memorabilia, the atmosphere is very sports-centric. "It'd make a good sports bar if it wasn't a barber shop," Lionel laughed.
Part of that flows naturally from Lionel's background as a coach and referee. Coaches and athletes he's worked with over the years are now clients. "The jerseys on the wall came about when I had to cover over a rough spot in the wall, so I just hung a jersey over it," Bridges explained. "Next thing I know people started bringing in other jerseys and it just became a thing."
But there's also still a classic feel. The shop's beginning goes back to 1964 (Havelin was the second owner) and several of the original chairs and sinks remain. A vintage rotary dial phone on the wall juxtaposes the new flat screen TVs. The phone gave Lionel a chance to tell another funny story. "It doesn't work anymore, but I left it up there. So one time a kid came in for a haircut and pointed at that phone and said, 'What is that thing'?"
Lionel's not kidding about it being a family place; they cut hair for men, women, and children. Headquarters even has a female barber. "She used to be a beautician," Lionel explained, "But she went to barber school to be a barber, too. We're glad to have her."
When COVID-19 hit, the shop was initially limited to 10 people inside, separated six feet apart for social distancing. To accommodate those guidelines, several of the wait chairs were removed. "That's what we miss the most. All the gabbin' with people in the wait chairs," Lionel said.
Then the governor mandated all non-essential businesses to close to prevent community spread of the Coronavirus. "That was a shock for everybody," Bridges admits. "We were closed for two months and seventeen days. We got through it. We got to draw unemployment, so that helped. I dipped into savings. But our customers are loyal and they were very patient with us. I knew we'd get through it."
Since reopening from COVID-19, the five barbers have been very busy. Normally Headquarters is a walk-in shop, but they're now taking appointments to get all their customers caught back up. "With five of us in here, if we get a walk-in, whoever has an open chair will work them in," Lionel explained.
Now that the scissors and clippers are buzzing again, there are additional precautions in accordance with the Kentucky Barber Board to ensure a safe environment. "We've always sanitized, but now there are 15 guidelines we have to meet for the barber board. We use disposable capes that we throw away after each customer. Wearing gloves and masks. Things like that. But we have to do those things to keep everybody safe, so we don't mind doing it." They also follow the now customary protocol of taking temperatures and COVID questionnaires as each client enters, along with collecting contact information for tracing purposes.
Overall, Bridges says everybody has been patient and things are working out okay. "We're just so glad to be back. We appreciate our loyal customers. We believe if you take care of your customers, listen to what people tell you they want, and give them a good haircut, then they'll take care of you. And that's what we're seeing. We missed our customers and we're glad to have them back."