Army Armstrong is on a mission to build the world's fastest bookmobile. For that to happen, Armstrong's creation has to exceed a speed of 211 miles per hour.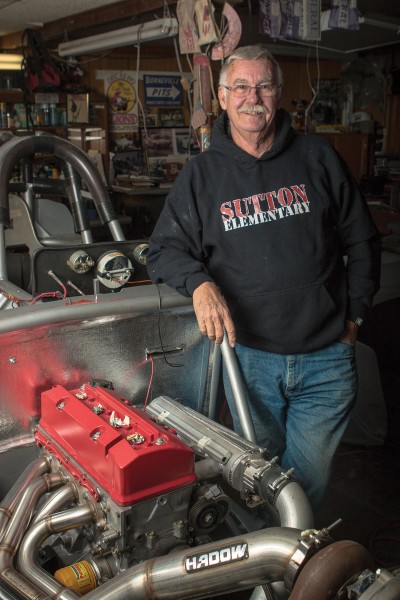 To be exact, he's building a car in his garage to attempt to break the world land speed record at the Bonneville Salt Flats in Utah next August. It's what he'll do with the car after the trial that makes it an educational piece. "All my cars are built with a purpose," Armstrong said. "This would be a great teaching tool to talk with kids about math and chemistry. You could talk about tire rotation, cubic feet, horsepower, all those different things." As you can see, Armstrong never misses a chance to teach or encourage kids. He may have legions of monster truck fans around the country who know him as a Hall of Fame announcer, but he's just "Mr. Knuckles" to the kids in the car-rider line at Sutton Elementary. For about 15 years now, he's been the guy who gives kids knuckle bumps each morning at the back door.
After that, it's back to work in the garage, tinkering on his Bonneville car and trying new ideas. Cooling the engine is one of the things he's still figuring out. "At that speed, it can overheat, so I'm trying to cool it using CO2." He's come up with a system that has a timer on it that shoots a puff of CO2 every six seconds. If his plan works, that little innovation just might be the thing that gets him enough extra horsepower to break the existing record.
Another issue to figure out is keeping the car straight. Once a car goes past 200mph, it has a tendency to spin out. Armstrong thinks he has an idea for that too. "I put something like a truck bed on a car once and it actually helped keep it steady by changing the aerodynamics."
Basically, this car is a culmination of a lifetime of experience in the racing industry. For as long as he can remember, Armstrong has always loved racing, and fast cars are all he's ever thought about. His first job was at a drag strip when he was 10 years old. "This is my passion. Everybody has theirs and this is mine," he explained. His career in motorsports includes 5 national championships (mostly NHRA) across different platforms of drag racing, designing, and building cars. Then he lucked into an announcing gig at monster truck events and tractor pulls. It turns out that all his first-hand knowledge and experiences with the racing industry, combined with his wit, humor, and personality, make him a pretty good announcer, too. Armstrong was inducted into the Monster Truck Hall of Fame in 2013. Before that, he was also inducted into the Kentucky Motorsports Hall of Fame in 2009.
Armstrong is now putting every little trick and tip he's learned along the way into building this car. He's named the vehicle the "Original Kentucky Colonel," in memory of a friend who passed away from cancer.
Racing at Bonneville is a bucket list item for Armstrong, but with all his experience in racing, he's never done anything quite like this. Drag-racing cars are typically very light, with wide back wheels and small, narrow front wheels, but Bonneville cars are built to be heavy, to keep them on the ground. Unlike a drag strip, the salt flat course is several miles long, which means the cars have a mile to get up to speed, a mile to reach top speed, and at least a mile to slow down after the parachute deploys. Therefore, the back wheels and front wheels are the same size. Another difference is the cars at Bonneville don't race side by side. You're really racing the clock. The cars line up single-file and race one at a time.
The Original Kentucky Colonel has been a 2½ year project that is still a year away from completion. Bonneville only holds races once a year, and this year it got rained out, so Armstrong now has another year to tweak his car and get it ready. If all goes according to plan, Armstrong will have a serious shot at breaking the world record, especially if his innovations work.
Armstrong's garage is filled with signs, stickers, pictures, tools, and other memorabilia from a lifetime of racing, but he's also a man of many other talents. One of his hobbies is painting doll houses, which he donates to children whose fathers or mothers are overseas in the service.
Being an announcer, Armstrong always has a story to tell, and you never know what you're going to hear next. But with Armstrong, nothing should surprise you – not even a 74-year-old from Owensboro, Kentucky breaking the world land speed record.