In the early morning hours of February 24, Russian President Vladimir Putin delivered a televised address on state media. In his remarks, Putin detailed the "Special Military Operation" in Ukraine he had ordered just moments before. In the months leading up to that fateful morning, a buildup of Russian troops and military vehicles had Ukrainian and Western officials on alert. As early as April of 2021, per Reuters, satellite images revealed buildups of Russian soldiers, vehicles, aircraft, armor, and heavy weaponry. Following a brief respite, in which troop numbers were drawn down during the summer of 2021, a second and larger buildup of Russian troops near Ukraine began in earnest in late 2021. According to The New York Times, by late January 2022, over 100,000 Russian troops had moved into areas bordering Ukraine on three sides: in Russia to the east, in Russian ally Belarus to the north, and in Crimea, a former Ukrainian territory annexed by Russia in 2014, to the south. Along with the buildup of troops and weapons of war, Putin announced a movement of Russian naval warships to the area, and US intelligence officials reported stockpiling of medical supplies by the Russian military. Ukrainian officials, along with leaders around the world, viewed Putin's moves as harbingers of full-scale invasion.
In the days and weeks immediately preceding the invasion, Ukrainian President Volodymyr Zelenskyy beseeched world leaders to press Russia to remove the troops and restore calm. Despite overwhelming evidence to the contrary, Putin claimed Russia had no intention of launching an invasion, defending the troop movement under the guise of "training exercises." Nevertheless, the Russian invasion of sovereign Ukrainian soil began in the pre-dawn hours of February 24. Employing multiple invasion points, Russian troops made their way to just outside The Ukrainian Capital of Kyiv in a matter of days. Many in the West feared that Russia would sweep through Kyiv and install a pro-Kremlin puppet regime. The Ukrainian military and people, bolstered by the brave and defiant leadership of Zelenskyy, had no intention of surrendering their capital city. At the time this article was written, Ukrainian military forces were still defending Kyiv and several other highly-populated cities in Ukraine, despite relentless Russian bombardment. In a matter of weeks, Russia's increasingly indiscriminate bombing of civilian areas has created the worst humanitarian and refugee crisis in Europe since World War II, according to The Guardian. UNICEF reports that by late March more than 10 million Ukrainian people had been forced to leave their homes as a result of the conflict.
Owensboro's Connections to Ukraine
Putin's unprovoked war has resulted in dire consequences around the world. In fact, multiple citizens of Owensboro have been impacted, directly in some cases, by the conflict.
Russ Tate
Owensboro native Frank "Russ" Tate, a 2001 graduate of Apollo, is a 10-year Navy veteran. Tate and his family now call Clarksville, Tennessee home. "On Friday (February 25) I was at home watching the news with my family when I texted my friend, Josh Martinez, who is a member of Aerial Recovery," said Tate. Aerial Recovery is a non-profit organization based in Nashville. Tate began working with Aerial Recovery after the deadly tornado that swept through western Kentucky last December, but he's known Martinez for some time. "I told Josh that whatever logistical support they needed stateside, I was here to help." The next morning, while Tate and his family were en route to Owensboro to visit family, he heard back from Martinez. "Josh called me and asked how long until I could have a bag packed and be ready to go to Ukraine? I told him to give me 24 hours." While Tate's family was understandably anxious about him heading to a warzone, as a husband and father he felt it was his responsibility to aid stranded orphans. "They initially told us we would depart for Poland on Sunday night (February 27), but we actually left on Monday morning and arrived in Rzeszow, Poland on Monday evening."
By Tuesday morning, Tate and Martinez were the first two volunteers with Aerial Recovery to have boots on the ground in Western Ukraine. Through the aid of Global Empowerment Mission (GEM), Tate and Martinez were able to set up housing and begin stocking a warehouse with supplies. After they set up their headquarters, GEM provided a van and two buses for members of the Aerial Recovery team to head east to provide assistance to orphans fleeing war-torn parts of the country. Tate described the scene that unfolded on Ukrainian highways: "The only way I can really describe it to someone who has never witnessed something like this is as a scene right out of The Walking Dead. Due to the war effort, Ukrainians were limited to 20 liters of fuel per day, so the highways were full of cars that simply ran out of fuel and stalled as they headed west, forcing refugees to abandon their cars and start walking. Every hotel and Airbnb was full, and gas stations had lines of hundreds of cars. Literally thousands of people were walking west on the highways."
Contacts within the Ukrainian Department of Defense provided Aerial Recovery team members with humanitarian passes that allowed them to pass blockades, and experts from other non-profits within the area provided them with the intelligence needed to access the stranded orphans. Tate and Martinez traveled against the flow of people, directly into the heart of the conflict. Their mission was to evacuate orphans abandoned in harm's way. "Since Aerial Recovery first arrived in Ukraine, we've helped 500 orphans, most of them from Kyiv, get to safety in western Ukraine, far away from the conflict. There, we're providing them with shelter, food, clothing, medical supplies, and extra comforts like blankets and toys."
Iryna Tincher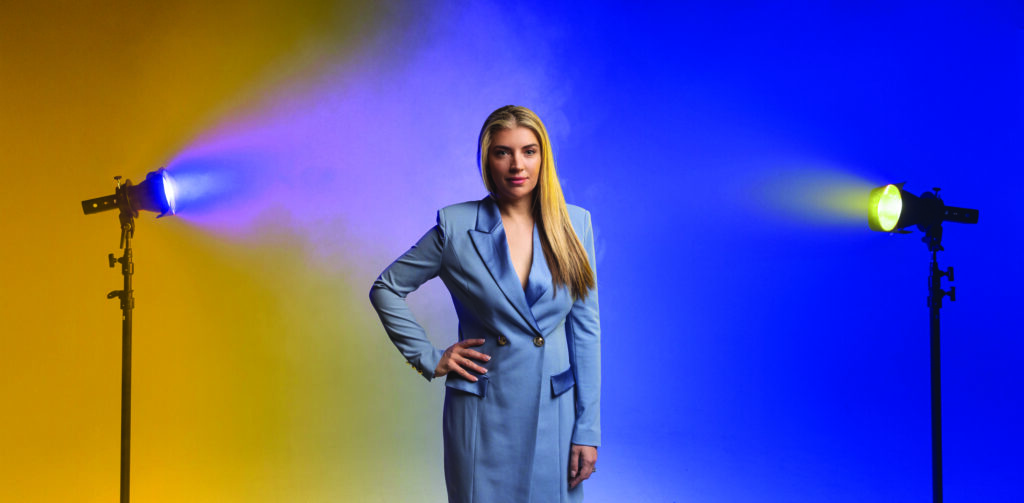 Owensboro resident Iryna Tincher originally hails from Ternopil, a city of 225,000 residents in western Ukraine, just 70 miles from the Polish border. Though her earliest memories involve living with her mother and father in the former Soviet Union, Tincher came of age in the newly liberated Ukraine following the dissolution of the USSR in the early 90s. "The early days (following Ukrainian independence) were tough, jobs were hard to find, the crime rate was very high, life was difficult. But slowly, over the years, life in Ukraine improved," she said.
Tincher fondly recalls vacationing with her family in Crimea in the summers and enjoying the newfound sense of liberty in Ukraine during her adolescence and early adulthood. "We were not like Russia or some of the other former USSR states like Belarus where the citizens cannot speak freely for fear of arrest. In Ukraine, if we do not like something we say it, and we are allowed to. If we really don't like something we will fight against it."
Tincher still feels a deep sense of pride in her Ukrainian heritage, recently returning from a trip to visit friends and family in her homeland in mid-February. Shortly after returning, Tincher called a friend in Belarus, who warned her of the impending attack. "My friend told me Russia is going to invade Ukraine and it is going to happen soon. I told her that wasn't right; Putin has said that the soldiers are only there for training purposes." However, her friend went on to tell her that she had never seen such a buildup of troops and weapons in Belarus.
Put on alert by the conversation, Tincher began paying closer attention in the days immediately preceding the attack. "One night I was scrolling through social media, and many of my friends, especially in eastern Ukraine, posted that they were hearing lots of planes in the air. Then, Ukrainian intelligence agencies reported that frontline Russian soldiers were instructed to turn off their phones, and that is exactly how it happened in 2014 (Russian annexation of Crimea)," said Tincher.
Then, on the evening of February 23, when the attack commenced, she attempted to contact her friends in Ukraine, especially in Kyiv. "At 10:31 local time, I called my friend in Kyiv, where it was early in the morning on the 24th. He told me that he had not yet heard bombs, although his friends in other parts of the town had." The next few days were a blur, constantly trying to stay in touch with friends in Ukraine, using WhatsApp and Telegram to talk to her loved ones and see how they were doing. According to Tincher, some of her friends and family back home were staying put, taking shelter in basements when bomb sirens would sound, while others were fleeing the country as refugees. Tincher denounces the Russian armies' tactics, describing the scene her friends are witnessing in Mariupol, one of the hardest hit cities in Ukraine: "Mariupol is 90% gone, and the Russians won't establish a corridor for refugees to escape the bombs. People are starving to death and many thousands have been forced into Russia." Despite the situation and heartbreaking scenes Tincher describes, she remains confident the Ukrainian people will persevere: "To live under a Kremlin-backed regime would be worse than to die, Ukraine can and will endure."
Vika Lawson
Vika Lawson came to America from Ukraine at 8 years of age when she and one of her older sisters were adopted. Lawson, now 25 years old and a graduate of Daviess County High School, calls Owensboro home. Though she has been in the US for nearly 20 years, her ties to Ukraine are still strong. Lawson's biological mother, 3 siblings, and a niece all reside in Chernihiv, a city of nearly 300,000 in Northern Ukraine. Located just miles from the Belarusian border, Chernihiv has been hit hard by the conflict. Russian forces laid siege to the city on February 25, and bombing has persisted since then. "I talk to my sisters and brother and my niece almost every day using Facebook Messenger," Lawson said. "Daily bombing and shelling has become a constant part of life for them. It goes on almost non-stop. Areas very near their home have been struck."
Lawson says she finds herself thinking of little else than her family, constantly worrying for their health and safety. "They just want the war to end, they're tired of constantly being afraid, they just want a peaceful ending."
This war and the constant sense of fear and anxiety it has caused for Lawson's family is nothing new; "Because they are so close to Belarus, they have had to live in fear of a Russian invasion since 2014."
Despite the incredibly difficult situation, Lawson says her family has found a new sense of hope and inspiration in recent weeks: Ukrainian President Volodymyr Zelenskyy. "My family has the utmost faith in President Zelenskyy. They love him. He is a hero to the Ukrainian People."
When asked what message she would love to give to the people of Owensboro, Lawson stressed the need for being skeptical regarding the 24-hour news that pours in from her homeland: "There is so much information coming in, on social media, the news, everywhere. Some of it is accurate, but a lot of it isn't. Everyone needs to make sure they are getting their news from sources that are actually in Ukraine." Above all, Lawson beseeches people everywhere to continue to provide support to and pray for the people of Ukraine as well as Zelenskyy and his government. "We just want a peaceful ending. My family just wants to be able to live in peace."

At the time this article was written, preliminary peace talks were underway between Ukraine and Russia, but evidence of war crimes committed were being alleged by residents of the suburbs of Kyiv, and fighting raged on all over the country.  Years will pass before the world truly knows the toll of Putin's invasion in Ukraine.  However, even in Owensboro it is evident that the effects will be far-reaching.