To be honest, it's difficult for me to do this story justice. You see, I never had to endure anything close to the trials faced by Houston Hogg. And many of the things he told me are hard to even fathom. But in listening to him recount the events of his storied life, one thing became abundantly clear: despite the unthinkable hardships he faced as a young adult, there's no trace of bitterness or anger in his tone. For all the burdens he may carry, hate isn't one of them – sadness, maybe, for the people who treated him so terribly, but not hate.
Hogg began playing football in the small eastern Kentucky town of Hazard. In high school, he was a standout at quarterback and linebacker, but according to Hogg, "We never played football with the idea of going to college – we just liked playing football." Soon, others around the state took notice of Hogg's immense talent, and with the promise of jobs for his parents, he and his family relocated to Owensboro. Hogg, who now calls Owensboro home, played his senior season as a running back for Daviess County High School in 1967. As Hogg recalls, he was the only black player on the team. To put it in historical perspective, the decision in Brown v. Board of Education, the U.S. Supreme Court case that ended public school segregation, had been handed down just over a decade prior, and Martin Luther King, Jr. was assassinated in 1968, the year after Hogg graduated high school. Still, despite the tumultuous times, Hogg says he never experienced overt racism during his time at Daviess County or Hazard.
Free to focus on football, Hogg excelled on the gridiron, and his performance garnered attention from Division I college programs.
"I started hearing from colleges my junior year at Hazard, and then during football season at County High, we had coaches visit practice, and I talked to some of them."
When asked about his historical decision to attend UK as a black football player in the late 60s, Hogg revealed that, as a high school senior, its significance was lost on him at the time. "One of the assistant coaches [from UK] came down. He spent quite a bit of time down here. And he kept asking and taking me out to eat, and finally I said, well, I'll go. I didn't know anything about [the University of] Kentucky, but I said 'I guess I'll go.'"
But upon arriving on campus in Lexington, while he still may not have recognized his place in the narrative of SEC football, Hogg certainly knew things were going to be different. After living in Hazard and Owensboro, where Hogg says the issue of race wasn't a problem for him, he was met with a rising tide of prejudice at UK.
When asked about his initial reaction to racial issues at UK, Hogg said, "They didn't prepare me for that aspect. I didn't realize that until I got there. It's a different world – especially when you go on the field. They didn't counsel us on any of what we'd have to go through. They let us go through it on our own. They could've prepared us a little bit for it – name calling and stuff going on, but when you get that many people, it's hard to get your mind on what you're doing. Something could happen out there on the field, and you just prayed it wouldn't happen to you. In college, they showed no mercy."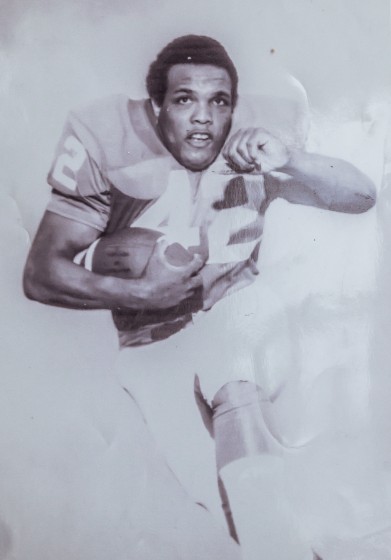 As Hogg recounted the details of his time at UK, it quickly became apparent that racism was rampant wherever he turned. In fact, it began from the moments before he even took the field. "Here you are going to college, and during our first couple of years there, they played 'Dixie' as our theme song when the football players were coming into the stadium."
And the atmosphere in his own locker room wasn't any friendlier. At the time, Hogg was one of four black players on the UK football team. Greg Page and Nate Northington arrived at UK the year before Hogg's freshman season, and Wilbur Hackett came to UK the same year as Hogg. As a running back, Hogg recounts, "We didn't have any blocking. A guy told me that he heard them talking and they distinctly said that they weren't going to block for me. When you see them, they act like they're your best friends, but when it comes to playing the game, they'd rather see one of their guys out there." Off the field, Hogg and his black teammates were excluded socially, as well. "They would get together and watch football games, but we weren't there, because we didn't know about it. They never did tell us. I've seen pictures of all of them together watching games and doing stuff that we never knew about."
Even accounting for the prejudice he experienced from his own teammates, the racism and hatred he faced from opposing teams and fanbases was far worse. Before they were scheduled to travel to Oxford to play Ole Miss, Hogg recalls receiving written death threats from Mississippi. Later, in Baton Rouge, the entire team went to eat together after a game, but the waitress refused to serve Hogg and Hackett because they were black. That incident ended with the team hotel being surrounded by Louisiana state troopers out of fear that the racial tensions might escalate to something more severe. "That was a sad day," said Hogg. "They expect you to play football in those kinds of conditions."
After the incidents at Ole Miss and LSU, as well as experiencing on-field death threats from the opposing team at the University of Georgia, Hogg was ready to walk away from football. The tragic death of teammate Greg Page pushed Hogg even closer to such a decision. Page's death resulted from a hit he suffered in the back during UK practice while the team was engaged in a no-pads, no-contact drill. Though nobody was ever held accountable for Page's death, the circumstances surrounding the hit that eventually killed him left many questioning whether it was an accident. On top of that, as Hogg recalls, "I can remember we went to Middlesboro for Greg's funeral, and after the funeral, we get back to Lexington, and [head coach Charlie] Bradshaw takes us out on the field and practices the same day. You kinda look at it like, he didn't care nothing about the guy. That stuck with us a long time, still does."
Though Hogg never quit, he didn't stick around Lexington to endure further prejudice once his time playing football for UK was finished. "You go through all that stuff, and you're wondering, how can I get out of here, where can I go?" But there's nowhere to go. At one time, I considered transferring to EKU, but I didn't follow through with it. I never did get the nerve to make that move. I went four years to UK, but as soon as my senior year, I left – I said, I'm going home."
Hogg's story takes a much happier turn once he returned to Owensboro. He met his wife, Deborah, to whom he's been married for 44 years, and raised a family of six children. Hogg is now retired from AEP, and he and Deborah have 19 grandchildren. Additionally, the Hoggs have generously opened their home as foster parents to over 200 children in the last 25 years.
For a long time after leaving Lexington, Hogg didn't return to UK. Only after nearly 15 years, and at the request of his daughter and son-in-law, who lived in Lexington, did Hogg go back to campus for a football game. Since then, despite the hatred he lived through during his time there, Hogg has re-established a relationship with the university. He's now a proud member of the University of Kentucky K-Club, described by their website as "an exclusive group of men and women who want to stay in the game, cherish their sports commitment, and nurture the legacy they helped develop."
As for the statue that UK plans to build in his honor, Hogg views it as an honor. But he also believes that what it represents is even more important for his kids and grandkids, one of whom now attends UK. Hogg recognizes that his contribution to the University of Kentucky was opening the door for those that have come after him. Says Hogg, "The fact that they're doing it [erecting the statue in his honor] – it's like, what we went through is turning out to be worth what we went through." But it's not the statue that makes Houston Hogg a UK legend, it's the fact that he's chosen to forgive those that hated him, and not let deep scars from the past keep him from living a life of purpose and meaning.