The Lanham Brothers Jamboree Celebrates 15 years
Photos by Taylor West
With another sold-out performance of the Lanham Brothers Jamboree on August 6 now behind them, Barry and Randy Lanham are already making preparations for their annual Christmas show at the Bluegrass Music Hall of Fame and Museum.
By gradually building their fan base over the past 15 years, the Lanham Brothers Jamboree variety show now regularly packs the house at the Bluegrass Music Hall of Fame and Museum's Woodward Theater. Each performance is also aired on KET (Kentucky Educational Television). Barry and Randy produce the show. The crew films it. Then Randy edits it and sends it to KET.
The most recent show on August 6 featured mostly young performers such as Lucy Chaney, Parker Malone, Emmie Kate Williams, Skylar and Sophia Cain, the Bluegrass Brothers, and Mackenzie Bell.
What the Show is Like 
The Lanham Brothers Jamboree is a fast-paced, high-energy variety show blending a mix of musical performances, Appalachian clogging, and comedy bits, entirely emceed by siblings Barry and Randy Lanham. The brothers' playful banter adds to the humor of the show and helps segue into each act so there is never any downtime. Each brother brings his own skills and expertise to stage. Randy is a proficient fiddle player and vocalist who teaches community lessons at the Bluegrass Music Hall of Fame, as well as private lessons for individuals. Barry shares his passion for clogging by teaching lessons and leading a traveling group called "Footstompin Express Cloggers."
Together, the duo has put together a show that brings out the best of each other, while also showcasing their students and highlighting some of the best talent in the region in a family-friendly environment.

"We work hard on the shows to make each show unique. No two shows are ever the same. We do that so it's entertaining for returning visitors and first-time visitors." Barry, explained. "Randy works with musicians on his end. I work with dancers on my end. And then we bring them all together for the show."
That means the show is also equally entertaining for the performers, because they've never seen the full show in its entirety until all the pieces come together the night of the performance. "There is no dress rehearsal," Barry explains. "There is a run-through with the musicians, of course, and a separate run-through with the dancers. But it all comes together for the first and only time at the show. We've been doing this for years, so at this point it's like a well-oiled machine." [See sidebar.]
Origins and Growth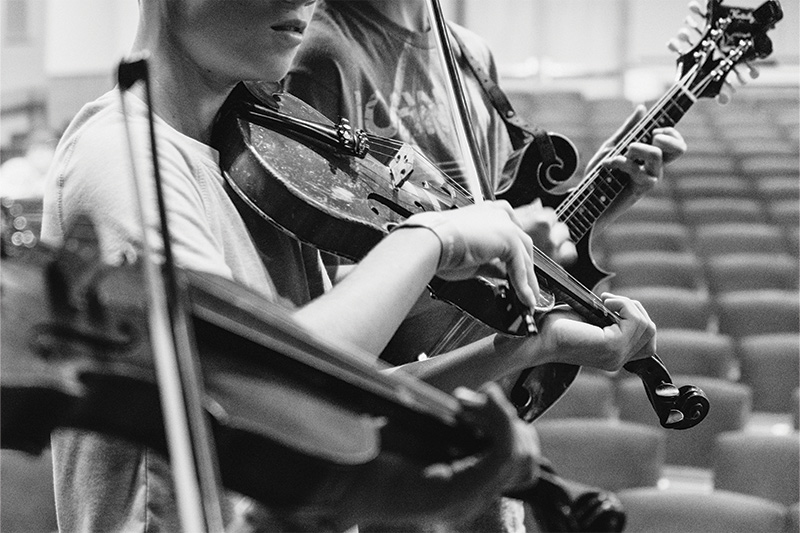 The idea for the jamboree came after a school assembly where Randy was brought in to play some songs and Barry was there to demonstrate clog dancing. The dynamic of the two Lanham brothers together at the same school assembly was the "light bulb" moment that inspired them to team up for a show. "We're brothers and we work together on different things anyway," Randy remembers. "So we thought why not put it all together for a show? We're not only brothers, we're friends. It all weaves together into an entertaining show."

Their first show together was a fundraiser for the Merle Travis Center in Muhlenberg County. The brothers had a blast, and both agreed they wanted to keep it going, so they reached out to Diamond Lakes, who agreed to host what was by then known as the Lanham Brothers Jamboree in the Good Times Theater. That was a successful partnership for several years. "We loved Diamond Lakes. We loved the facility, and the staff was so good to work with," Randy said. "Those were great times out there."

But the whole time the show ran at Diamond Lakes, Randy knew there were plans in the works to build a new Hall of Fame that would have its own theater one day. It took a few years for that to materialize. Meanwhile, the Lanham Brothers Jamboree slowly grew its fanbase. "In the back of my mind, I always hoped and dreamed our show could be staged at the Hall of Fame when it opened, and we were blessed to be able to do that," Randy said.
At The Hall of Fame 
That chance came four years ago when the Bluegrass Music Hall of Fame and Museum re-opened. Both Barry and Randy say that was the tipping point for the show, and took things to the next level. "It's always exciting to perform on the Woodward Theater stage. The atmosphere is great, and the energy of the full house is incredible," Randy said. "The greenroom is nice. There are always lots of volunteers. It's so much fun! Even the crowd feels different there because performing at the Hall of Fame brings in tourists and fans from out of town. These are bluegrass and gospel music fans. That's why they come to the Hall of Fame – to see live bluegrass music, gospel, and country. So our show is a good fit."
Barry echoed, "We have a wonderful relationship with the Bluegrass Hall of Fame. They are wonderful to work with. We'll bring in props and costumes weeks ahead of time. The sound, the lights, the audio equipment is all top of the line. Steve Chandler runs the house (sound). We bring in professional camera guys. The whole production is top quality."
From One Generation to the Next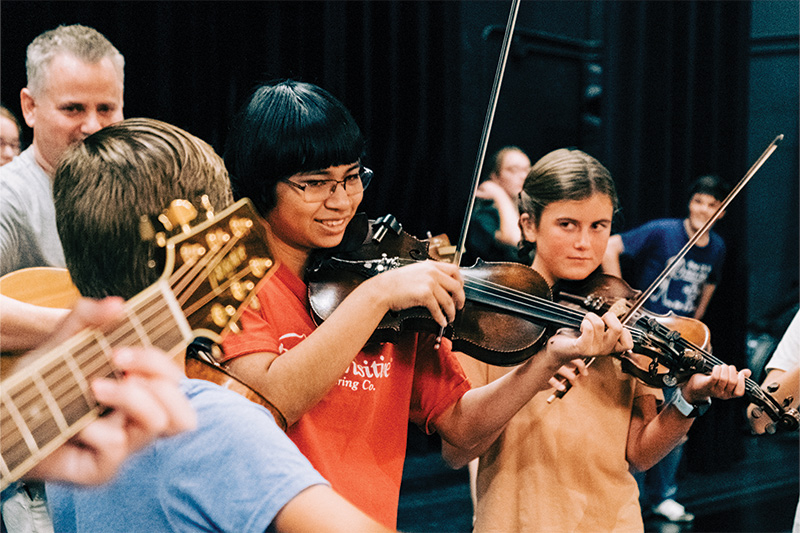 Barry and Randy grew up around several relatives that played instruments, including their grandfather, who played fiddle. They also remember going to square dances and bluegrass festivals as a family. Randy says watching variety shows like "Hee Haw" on TV was an early inspiration for the jamboree. But for Barry, Opryland USA was also a major influence. "I loved Opryland. Growing up, we would go, and I loved watching their shows. They had such a variety and mix between traditional country and newer country songs choreographed with dancing. I remember how flawless the show was. I was amazed by that, and it always stuck with me."
Both brothers also give credit to performing in Goldie's show (Goldie's Best Little Opry House in KY, formerly housed in the present-day TWO building on Frederica St) as a major influence when they were creating their show. "I performed at Goldie's for years, and I watched how Goldie and Charlie Payne were able to weave together their show so beautifully," Barry remembers. "Charlie worked the sound and lights while Goldie worked the show on stage and backstage. They worked beautifully together, so I took note of that, too."
But that was more of an unconscious influence. Barry says he had no big goals for creating a show one day when he started clogging; preserving the tradition of clogging was his main motivation. "I just fell in love with clogging. It's such a unique Kentucky and Americana dance form. It's the Kentucky state dance now. I really just wanted to keep it going in the area, so we started doing some shows across the state and eventually started doing school assemblies. It has expanded beyond anything I could have imagined. We introduced clogging to Shanghai, China once. Wherever God wants to take this, I'm just along for the ride."
The Lanham Brothers Jamboree is now helping expand that reach, as well, especially through the KET broadcast. "Almost every week someone will stop me and say, 'Hey Barry we saw the show on TV. We loved it.' I'm just honored to be around such incredible dancers that have a passion for it like I do."
Now that the Jamboree is in its 15th year, both Barry and Randy have students who performed in the show as kids who are now grown and have kids of their own performing in the show. "This has become a family tradition for a lot of families. Especially the Christmas show," Barry said. "We have lots of families that participate and have participated from the beginning and continue to do so."
Randy says that longevity is partly due to the family-friendly atmosphere they planned from the beginning. "We knew we wanted to do a family show that everyone would enjoy no matter their age." Randy said. "We always planned to have several guests and always feature young people. So I love it when people say they never know what's coming next, or they had no idea Owensboro had so much talent. That's a great compliment to us."
If you didn't catch the show on August 6, be sure to buy tickets early for the Christmas show. Tickets are available at Bluegrasshall.org. OL