Photos by Jamie Alexander
Over the past several years, Bellevue Baptist Church has reached thousands of visitors with their unique "Wonder of Christmas" productions. The one-of-a-kind live Christmas performance has drawn visitors from near and far. Despite the impressive turnout in the past, the staff agreed that this year's production would need to look a little different due to the impact of COVID-19.
"We've had about 3,330 to 3,500 come each year during the six performances over the last four years," said Worship Pastor JP Kwok. "It's increasingly gone up—the last two years have just been really exciting times in ministry."
Kwok said the creative team at Bellevue works hard to update the program each year, but now find themselves challenged with creating an engaging sensory experience like those in years past, while still adhering to the guidelines of social distancing.
"There's nothing like seeing live animals and snow machines," said Kwok. "It's the best thing in the world to watch people respond to something so beautiful in person."
When the decision was made not to do a large-scale in-house production to a live audience, Kwok said he began to pray about how the church could continue to minister to the community during the Christmas season. He said the idea came to him at one o'clock in the morning while he was camping in the backyard with his daughter. Within five days, he had written five chapters of an impactful short story that has now been cast for a Bellevue original screenplay-turned short feature film.
"We are sad that we cannot serve the community in person, but we are hopeful that this new direction will help us serve our community and beyond," said Kwok.
Reminiscent of the father-daughter theme he had previously written, Kwok said this year's story has more of a grandfather-granddaughter theme woven within a dream sequence with a lot of magical elements running through it.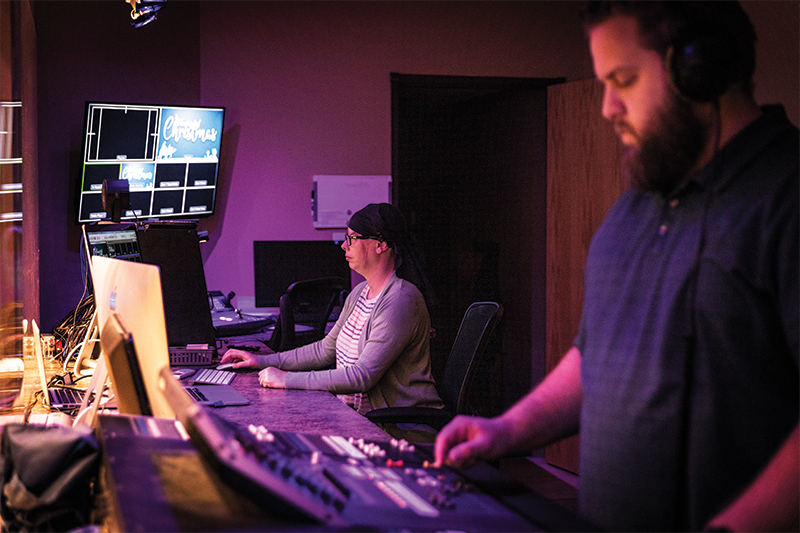 "It's not based on what we have done in the past—this is way more in-depth writing and character development—but it does have the overarching shape of the 'Wonder of Christmas,'" Kwok said. "This scares us to be honest. We've never done anything like this before, but we're scaling up for it."
Productions in past years have involved nearly 200 volunteers, including every role from greeter to cast member. This year will see a much smaller number of volunteers in very different roles. Rather than making preparations for a live walk-up or drive-up church event, the modest cast and crew, including lighting and graphic designer Alicia Berry and director Wes Buehler, have been filming in multiple locations throughout the area.
"There will be a lot of beautiful projections and actors—like a picture storybook," Kwok said. "My philosophy is this is the stained glass of the 21st century. The whole goal is to literally illuminate the word of God—and that is the hope of this movie/feature film."
Kwok said the feature itself should run about 50 minutes long, and a total of 70 minutes with the addition of the pastor's message and worship music. While he does anticipate that Bellevue will host an in-person Christmas Eve service this year, Kwok said plans are currently tentative, and are fully dependent on Governor Beshear's recommendations during the month of December.
As far as how the team will know if they have reached their intended audience, Kwok said the team's goal is to share their story through various forms of media, including an eBook and audiobook version, along with a livestream component.
"There is no consistent number to gauge how effective we are, but we would love to reach 6,000 to 10,000 people that would have the opportunity to view it all the way through," Kwok said. "Then, right before Christmas, we will release it to the public in a shareable version."
The church also hopes to utilize Facebook and radio advertisements to promote the livestream production, and encourage viewers to engage in some level of response.
"Our goal of having a livestream is—at the end of a particular broadcast—there would be a number to call and a team to respond," Kwok said. "The best case scenario is if we got to talk to people."
Regardless of how different this year's creative production looks, it will still maintain the familiar and ever-popular title "The Wonder of Christmas."
"We will keep the title 'The Wonder of Christmas,' because people know it," Kwok said. "But if I did retitle it, I would call it 'The Christmas Key.'"