Photos by Monica Smith
Owensboro natives Aaron Isom and Kevin Gore have made quite a name for themselves in the vintage and rustic furniture industry. The business partners created ARK Vintage Furniture in 2014, and in just six short years have propelled their efforts to new heights.
Capitalizing on the shiplap and old barn wood looks popularized by Chip and Joanna Gaines on the HGTV television show "Fixer Upper," the two have been able to stand out in a cluttered social media landscape. Using Facebook as their primary vehicle for promotions and sales, they have sold custom pieces to individuals all over the country.
Spending the early part of his career as a contractor, Isom decided it was finally time that he used his talents to venture out on his own. Rather than tackling the new business venture by himself, he reached out to long-time friend Gore, who uses his time off from the fire department to join in on the efforts.
"This craft has always been a passion of ours," said Isom. "We were eager to transfer our knowledge from building custom homes to the vintage furniture industry."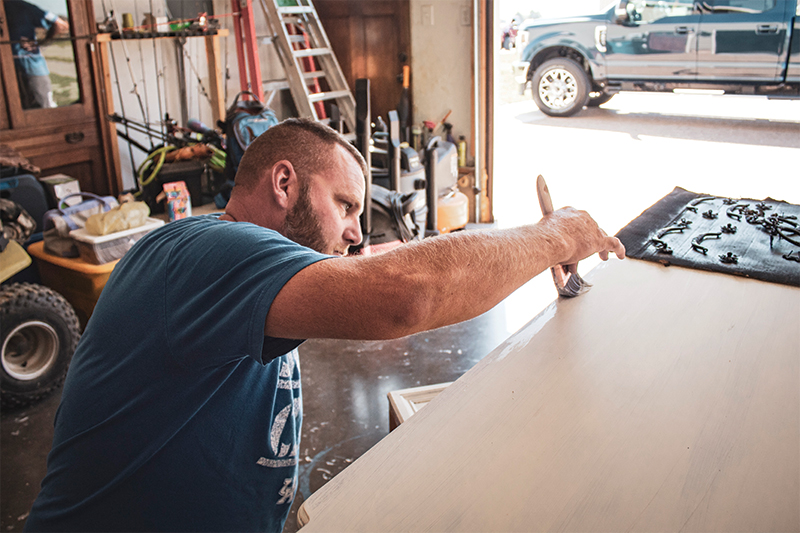 Placing faith and the community at the forefront of their efforts, the two set out on their adventure, much like Noah did in the Bible, hence the name ARK Vintage Furniture. The two most recently used their talents to construct a detached office dwelling for Teddy Hatfield, the CEO of Flamingos for Amber, a local organization that helps those in need.
"Noah didn't have a plan, and he became a carpenter and built a ship," he said. "That was a lot of our inspiration. We also give back to the community by crafting custom pieces that can be used at auctions and other charity events."
A dream that began with modest goals to earn some extra cash by refinishing vintage furniture is now a full-scale construction and home-improvement business. While vintage furniture remains prominent, the two are now into everything from laying sod to building custom boat ramps that feature elaborate masonry and light work.
"We remain dedicated to farmhouse furniture, and we rely heavily on our Facebook page to promote those pieces," said Gore. "We've expanded to all types of custom jobs – there aren't many services we don't offer."
As their business continues to expand and grow, the two decided it was finally time to build themselves a full-time work space. Their goal is to complete construction on a large-scale shop within the next few months, which will allow them to store their many pieces while also giving them room to let their imaginations run wild.
"We just really love what we do, and we have a lot of fun doing it," said Isom. "We're always tackling new challenges and searching for ways to improve. We're blessed to be able to wake up and do this every day."
For the latest into vintage and farmhouse furniture, or to check out some of their elaborate on-site construction and reconstruction efforts, visit their Facebook page at facebook.com/ARKVintageFurniture.