When the weather turns cool and crisp, it means peak season for autumn produce and comfort food! These recipes don't take much effort and will help you indulge in all the flavors of fall. 
Autumn Squash Salad with Dijon Vinaigrette 
Dressing:
1/2 cup white wine vinegar
1 cup olive oil
1/4 cup dijon mustard
2 garlic cloves, minced
salt & pepper to taste 
Salad:
1 Butternut Squash (peeled and diced)
2 tbsp olive oil (for cooking the squash)
2 cups cooked orzo
3 cups baby spinach
1/2 cup red onions
1/2 cup dried cranberries
1/2 cup pecans
Directions:
» Add all of the dressing ingredients into a jar and shake to combine (make adjustments to your liking). Chill while creating the salad.
» Preheat oven to 425. Toss the diced butternut squash in the 2 tablespoons of olive oil. Place the squash in a single layer on a baking sheet and season with salt and pepper. Bake on a center rack for 25 minutes, tossing halfway through.
» Let the squash cool a bit before tossing all the salad ingredients with some dressing in a bowl. Keep in mind the amounts listed for the salad are only a suggestion, and can be adjusted to your own taste.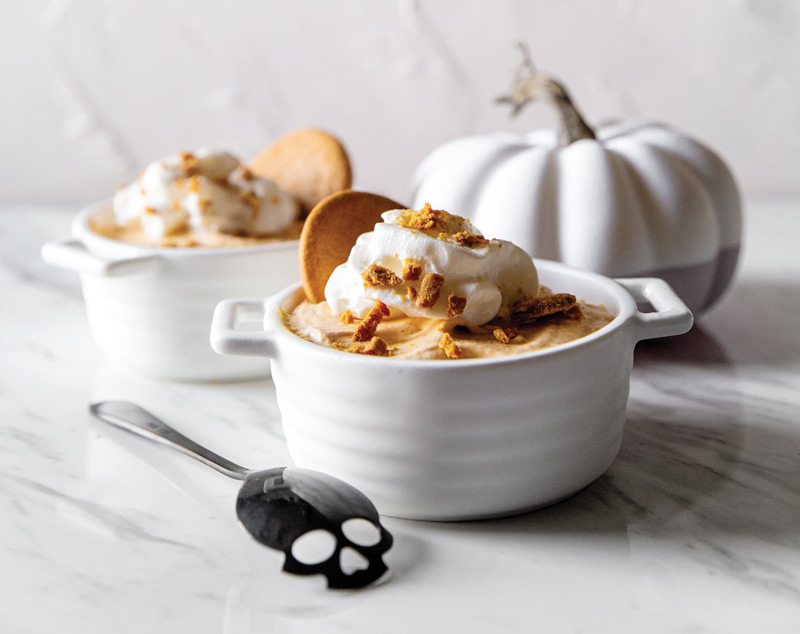 Easy Pumpkin Mousse
Ingredients:
1 can pumpkin puree
9 oz. sweetened condensed milk 
16 oz. chilled heavy cream
3 oz cream cheese
1 tsp vanilla extract
1 tbsp pumpkin pie spice (or more to taste)
Dash of salt
(optional) whipped cream and ginger snaps
Directions:
» Combine pumpkin, pumpkin pie spice, and the dash of salt in a medium saucepan and cook on medium until steaming and slightly thicker.
» Remove from heat and stir in cream cheese and vanilla until completely combined. Then transfer to a bowl and stir in condensed milk. Let cool completely.
» Using an electric or stand mixer, beat the heavy cream until tall peaks form (I recommend chilling the bowl beforehand to speed up this process). Fold in the pumpkin mixture.
» Spoon the mousse into smaller bowls and chill for at least ten minutes (or until ready to serve). Top with whipped cream and crushed ginger snaps.
Spicy, Extra-Crispy Sweet Potato Wedges 
Ingredients:
3 sweet potatoes
3 tbsp olive oil
2 tbsp chili powder
2 tsp brown sugar
2 tsp (each) paprika, garlic powder, cumin
1/8 tsp cayenne pepper (or more to taste)
Salt & pepper to taste
Cilantro and grated parmesan for garnish (optional)
Directions:
» Preheat oven to 450 degrees. Line a baking sheet with tinfoil and fit a nonstick baking rack on top of the prepared sheet.
» Cut the pointy edges off each sweet potato, then cut them lengthwise and into wedges. If you prefer, you can also remove the skin.
» Toss the sweet potatoes in all of the ingredients (minus the garnish) until evenly coated.
» Arrange the wedges in a single layer on the baking rack. Bake the wedges 30 minutes, flipping them halfway through. For even more crisp, turn the broiler on and cook the wedges an additional 3-5 minutes (they will crisp fast so keep an eye on them).
» Serve topped with parmesan and cilantro.