Nothing pleases the senses like a home filled with family, friends and the welcoming aroma of a holiday meal. Whether you're cooking up a full-menu feast from your own kitchen or you need a delicious idea or two to share at a potluck-style gathering — these dishes please the palate. With timeless flavors of turkey and butternut squash, or treats that charmingly display a symbol of the season, guests will surely be encouraged to dig in.
[tw-divider]Roast Turkey with Sausage Stuffing[/tw-divider]
Prep time: 15 minutes
Total time: 3 hours, 30 minutes
Servings: 20
Ingredients:
1 pound breakfast pork sausage
1 1/2 cups hot water
2 packages (6 ounces each)
Stove Top Stuffing Mix for
Turkey
1 Butterball Frozen Whole
Turkey (10 pounds), thawed
Heat oven to 325°F.
Brown sausage in skillet; drain, reserving 1/2 cup drippings. Add drippings to large bowl; stir in hot water. Add stuffing mixes and sausage; stir just until stuffing mixes are moistened.
Stuff neck and body cavities lightly with stuffing. Truss turkey; place, breast-side up, on rack in large roasting pan sprayed with cooking spray. Spoon any remaining stuffing into separate baking dish sprayed with cooking spray; cover. Refrigerate stuffing until ready to bake.
Bake turkey 3 to 3 1/4 hours or until internal temperature of thigh is 180°F and breast and center of stuffing are 165°F, adding dish with remaining stuffing to oven for the last 30 minutes.
Keeping it safe: Do not stuff turkey until ready to roast.
Substitute: Substitute butter for the sausage drippings.
For more recipes, visit www.kraft.com.
[tw-divider]Butternut Squash and Apples[/tw-divider]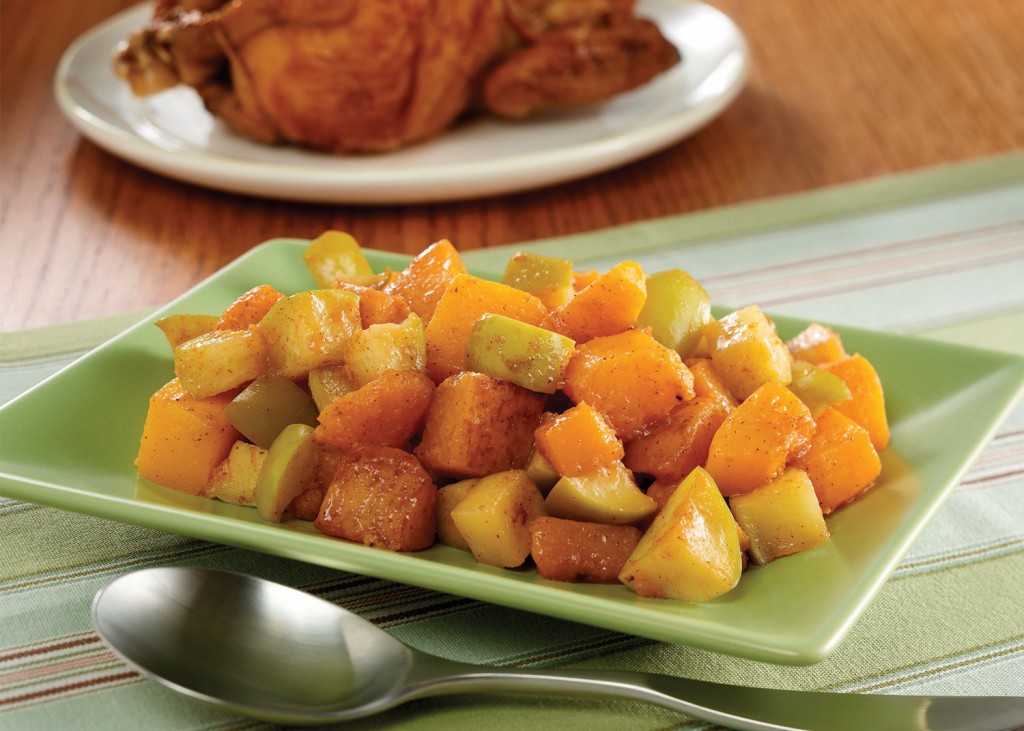 Prep time: 15 minutes | Total time: 15 minutes | Servings: 4
Ingredients:
3 tablespoons Parkay Original Spread tub
1 package (12 ounces) refrigerated butternut squash
pieces (about 3 cups)
1 1/2 cups chopped Granny Smith apple (about 1 large apple)
1/2 cup apple juice
1/4 teaspoon ground cinnamon
1/4 teaspoon ground ginger
1/8 teaspoon salt
Melt spread in large skillet over medium-high heat. Add squash; cook 5–7 minutes or until lightly browned, stirring occasionally.
Add apple, apple juice, cinnamon, ginger and salt; stir to combine. Reduce heat; cover and simmer 15 minutes or until squash is tender.
Note: Fresh butternut squash may be used in place of refrigerated squash. It will take more time to peel and cut into pieces.
For more recipes, visit www.readyseteat.com.
[tw-divider]Turkey Casserole[/tw-divider]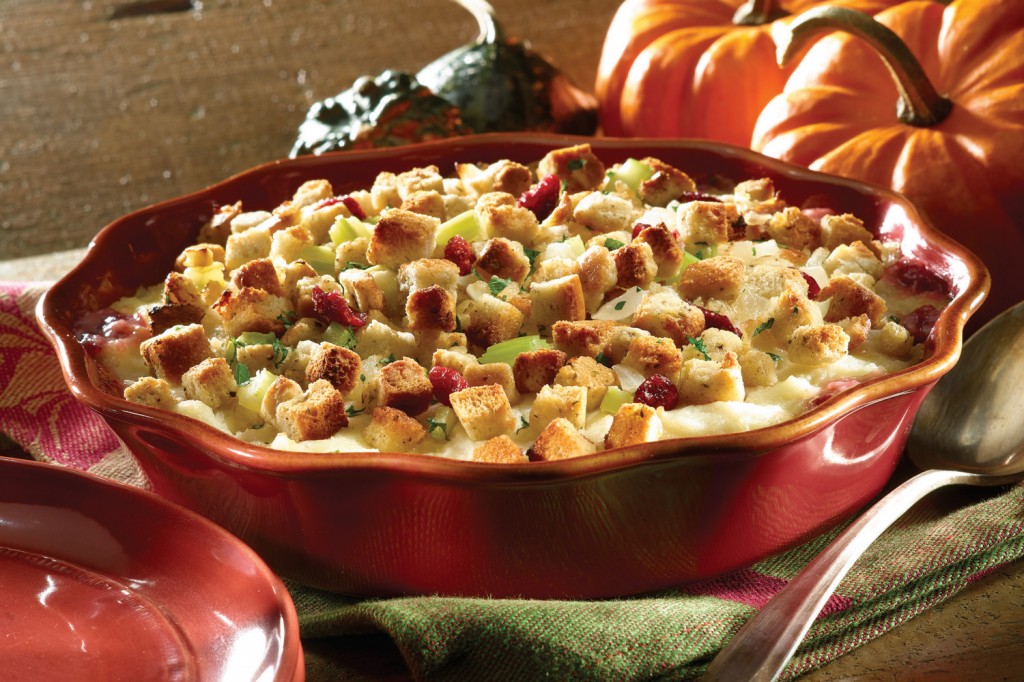 Prep time: 15 minutes | Total time: 55 minutes | Servings: 6
Ingredients:
4 cups leftover prepared stuffing, divided
4 cups coarsely chopped leftover cooked turkey (about 1 pound)
3/4 cup Hellmann's or Best Foods Real Mayonnaise, divided
1/4 cup whole berry cranberry sauce
2 cups leftover mashed potatoes
1 1/2 cups shredded mozzarella cheese
Preheat oven to 375°F. Spray 8-inch baking dish with no-stick cooking spray. Spoon in 2 cups stuffing, then top with turkey.
Combine 1/4 cup mayonnaise with cranberry sauce; evenly spread over turkey.
Combine remaining 1/2 cup mayonnaise, potatoes and cheese in large bowl. Evenly spread on turkey, then top with remaining 2 cups stuffing.
Bake 40 minutes or until heated through. Let stand 10 minutes before serving. Garnish, if desired, with dried cranberries.
For more recipes, www.hellmanns.com.
[tw-divider]Pan Roasted Cheerios Christmas Trees[/tw-divider]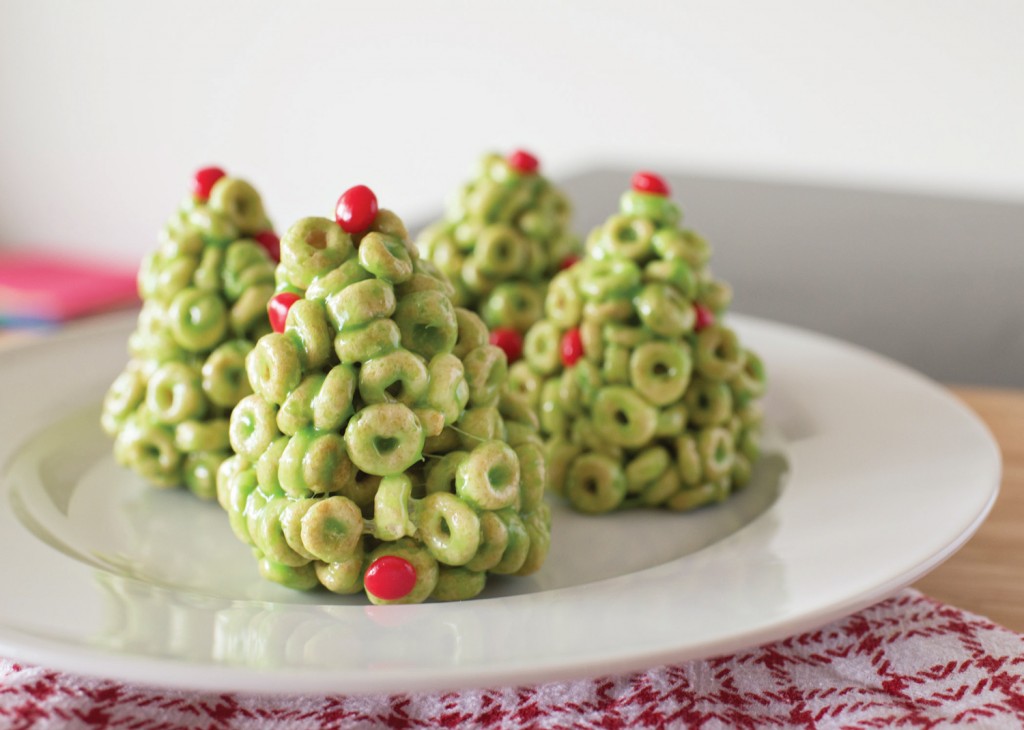 Prep time: 45 minutes | Total time: 1 hour, 45 minutes | Servings: 18
Ingredients:
6 cups Honey Nut Cheerios cereal
6 tablespoons butter or margarine
4 1/2 cups miniature marshmallows
Betty Crocker green gel food color
Betty Crocker red cinnamon decors or sliced gumdrops
Line cookie sheet with waxed paper.
Pour cereal into 4-quart bowl. Set bowl aside.
Place butter and marshmallows in 3-quart saucepan. Heat over low heat, stirring constantly, until mixture is smooth. Remove saucepan from heat.
Stir in food color until mixture is evenly colored. Pour marshmallow mixture over cereal and stir until cereal is evenly coated.
Lightly spray hands with cooking spray. For each tree, shape about 1/4 cup of cereal mixture into tree shape on cookie sheet.
Press candies into trees to decorate. Refrigerate until firm, about 1 hour. Store trees in loosely covered container.
Note: Personalize trees using decorator icing (from 4.25-ounce tube) and use as place cards. Use icing to add garland.
For more recipes, visit www.generalmills.com.