The selected children who attended Trooper Island Camp this summer rode to Dale Hollow Lake in a beautiful looking motor coach. All thanks to some generous area businesses.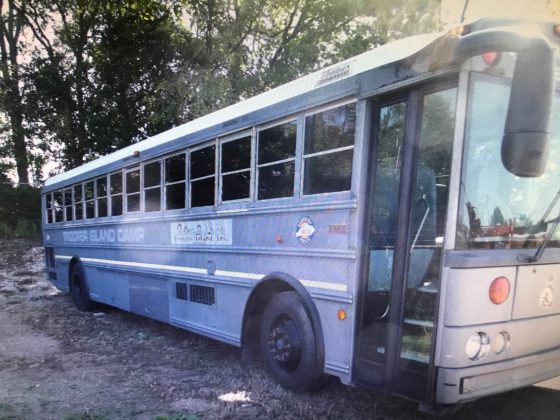 Last fall, First Class Services of Lewisport was approached about partnering with Trooper Island in providing an updated look to the 2004 Thomas Motor coach. The bus is the only transportation Trooper Island has which transports nearly 800 children annually across the Commonwealth. The faded gray paint was original to the manufacture year which looked very aged and dated.
Without hesitation, First Class Services owner Randy Stroup offered to completely redo the outside of the bus for free! The trucking company, who has their own large paint booth and paint mixing station, specializes in first class looks of their own transportation equipment. Stroup stated he understands the importance of giving back and wanted to help his community.
During the five-month long project, the bus was stripped, primed and repainted at their paint shop location on Alsop Lane in Owensboro.
DMC Graphics of Owensboro also helped in the project by designing, supplying and wrapping the graphics on the newly repainted bus.
Whayne Supply Caterpillar of Owensboro performed a thorough DOT safety and maintenance inspection of the coach without charging Trooper Island.
A spectacular video of the transformation was filmed and designed by Brent Knight of Song Bird Productions. Songbird also graciously donated their time with the project and produced the video all free of charge. View it here.
Truly a touching story of what WONDERFUL things can be accomplished when area businesses band together for a greater purpose and greater good! Thank you guys for all your help in making the Trooper Island Bus Project a success!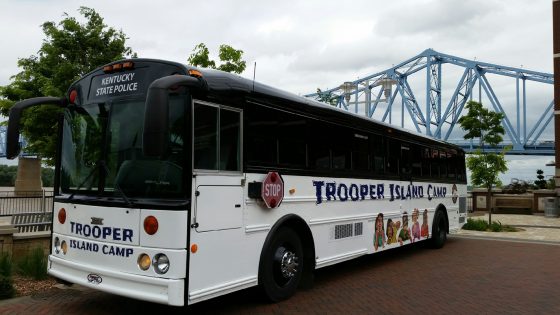 About Trooper Island:
Trooper Island Camp was developed by the Kentucky State Police as part of a long range program of public service to the youth of Kentucky: a place where the tensions and turmoil of our everyday lives can be forgotten and for one week young people can be given a touch of hope and desire of a better tomorrow.
A location was selected in a secluded corner of Dale Hollow Lake near the Cumberland and Clinton County line, where an island was leased from the U.S. Army Corps of Engineers, and a non-profit charitable corporation was formed.

Trooper Island was formed in the mid 1960's and still fully operates today.

Troopers send nearly 800 disadvantaged/at risk children every year to a week(s) long camp.

100 percent of proceeds go to the cause!

Trooper Island is a 501C3 charitable, non-profit organization. Meaning all contributions are tax deductible.

Troopers, Social workers and school teachers help select these children every year. (Boys and girls whom are 10-12 year olds).