Thunderbird, Holiday World's $22 million steel roller coaster, does not have a standard lift hill, but instead will launch winged trains full of riders into a 140-foot-tall loop, accelerating from zero to 60 miles per hour in just 3.5 seconds.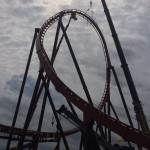 The top piece of the loop, which weighs nearly nine tons, encloses the first of Thunderbird's four inversions. This, the highest loop, is called an Immelmann, named for a "half-loop, half-roll" aircraft maneuver created by German pilot Max Immelmann a century ago.
With Thunderbird's topping, 21 of Thunderbird's 77 track pieces are now in place.
In addition to Thunderbird's 14-story Immelmann loop, the launched wing coaster will also feature a zero-G roll, barrel roll, and a loop soaring 125 feet in the air.
Continuing Holiday World's tradition of sending roller coasters through its thickly wooded and hilly terrain, Thunderbird will at first soar and loop high in the air and then hug the ground, surprising riders with rapid-fire "near misses" such as keyholes, themed elements, other rides, trees, and even the ground.
Holiday World's website includes two webcams showing live views of Thunderbird's construction site: HolidayWorld.com/ThunderbirdCam
Holiday World's Happy Halloween Weekends, featuring a 12-acre corn maze, park rides, and the Graveyard Smash musical show, continue through October 26. For more information about Happy Halloween Weekends and to purchase discounted tickets for $24.95 each, visit HolidayWorld.com/Halloween.