"At the end of the day, we want to help people live fully and have good quality of life. That's what's most important. If we're meeting that need, then we're doing our job."
Jeremy Bradford may be the newly appointed CEO of Hospice of Western Kentucky, but this is very familiar territory for him. In fact, he's actually returning to the very same position he held once before.
Bradford grew up in Henderson, but his wife is from Owensboro. He worked for Hospice for several years, managed a nursing home, and also worked at Owensboro Health before accepting a position as Vice President of Ambulatory Services at a hospital in Florida. When the position for director of Hospice opened back up, the timing seemed right, and the Bradfords were ready to come back home.
Hospice of Western Kentucky serves the population of Daviess, Hancock, Muhlenberg, and Hopkins County, so Jeremy certainly has his work cut out for him. He has a calm disposition that immediately puts you at ease, which suits him perfectly for this role. One of his first goals is raising public awareness about the services offered by Hospice. Owensboro Living sat down with Bradford to talk about returning to Owensboro, public perceptions, a renewed vision for Hospice of Western Kentucky, and living life to the fullest.
OL – Welcome back to Owensboro! What does it feel like to be back?
JB – Thank you! We are glad to be back in Western Kentucky. There's nothing like home, and family is very important to us. That's why we're back here. This is a great organization and it's something that we, as a family, have a great passion for.
OL – What's the most exciting thing about your return to CEO of Hospice?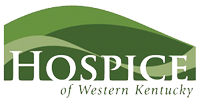 JB – Enhancing the awareness of Hospice is what I'm most excited about. My goal as new CEO is to partner and collaborate with businesses, healthcare providers, and people in the community to enhance the awareness of Hospice services. This is a community organization, we want to be an active participant in the communities we serve.
OL – Can you give our readers a quick overview of what Hospice does?

JB – All too often people associate Hospice with people who are dying, but Hospice is about living life to the fullest. If someone has been given a diagnosis of a life-limiting illness, then we want to make sure they're living whatever days they have left to the fullest by being as active as they possibly can and enjoying their time with family and friends. That's what Hospice is all about.
We collaborate with the medical community closely because without the medical community we couldn't render services because we're driven by a physician's order. It truly is a team approach to care that involves the patient and their family as well as our staff and their physician.
Once a plan is in place, Hospice provides personalized care in the patient's home, Heartford House, or a healthcare facility. We want to be good partners in providing the continuum of care, whether that be in hospitals or nursing homes or assisted livings in any of the counties we serve.
Also, we care for the family as much as we care for the patient. We follow the family for 13 months after the loss of a loved one and offer grief counseling for children and adults.
OL – How does a family member get Hospice care started?
JB – To start the process, anybody can make a referral to Hospice. When a referral is made, Hospice evaluates the patient and collaborates with the patient's physician, nurse practitioner, or physician's assistant to render services along with our Hospice Medical Directors.
OL – How are hospice services paid for?
JB – As a non-profit, mission driven organization, Hospice relies on many volunteers in the community. This is a community organization, and it is a ministry.  That's why we want to make sure we are good stewards and we are properly serving individuals and families in our communities. We are a Medicare/Medicaid benefit, most private insurances are accepted and no one is ever turned down due to inability to pay. We are able to fulfill our mission because of the support of the community and through our annual fundraising event "Spring Fling" which is coming up on March 28th at the Owensboro Convention Center.

OL – You mentioned Heartford House. What is the Heartford House and how is it utilized? 
JB -The Heartford House is the only free-standing Hospice inpatient facility in Western Kentucky. This is the community's center. We want people to come out and take advantage of it. Again, the emphasis is not only for those at the end stages of life; Heartford House is also often used for pain and symptom management because the staff is able to provide 24-hour care where a patient may not be able to have that at home, as well as routine care. Respite care is also available to Hospice patients, which is a 5 day stay every 30 days giving oftentimes a much needed rest to both the caregiver and the patient. We've been told multiple times by families served at the Heartford House that it is Owensboro's best kept secret. We're very proud to have a facility that is home-like and peaceful and we're humbled the community has seen the facility and considers it a blessing to our community.
OL – What is one thing you hope to improve on moving forward?
JB – Nationwide over half of hospice patients are only receiving care for 30 days or less. Hospice of Western Kentucky is very passionate about changing this standard. Our hope is that people will start care with Hospice much sooner so patients and their families can take full advantage of the services Hospice provides. It's an inspiring thing to see patients under our care have a quality of life during their journeys that many probably didn't see even possible. Our staff are able to build relationships one on one with the patients and their families and beautiful memories are made when they are able to utilize their hospice benefit earlier rather than later.
OL – It's interesting you say "Hospice is about living life" because I always perceived Hospice to be about end of life. Can you share any other common myths or misconceptions you'd like the community to know and maybe understand better?
JB – Absolutely. That's why I'm so committed to community education and building relationships within our coverage area. Within our communities we're working hard to educate on the following common myths regarding Hospice care.
Myth #1- Hospice is only for people with cancer.
In reality, more than one-half of Hospice patients nationwide have diagnoses other than cancer.  Hospice also serves families coping with many chronic diseases, such as COPD and emphysema, Alzheimer's, heart/cardiovascular and neuromuscular diseases.
Myth #2 – Hospice is only for the elderly.
Hospice serves anyone with a life-limiting illness, regardless of age. Although the majority of Hospice patients are older, almost 20% are under age 65.
Myth #3 – Hospice is only for dying people.
As a family-centered concept of care, Hospice focuses as much on the family as on the patient facing a life limiting illness.  And once the patient has passed, Hospice stays available for family members offering them bereavement services free of charge.
Myth #4 – Choosing Hospice means giving up hope.
When death is in sight, there are two options: submit without hope or live life fully as possible until the end.  The gift Hospice brings is the capacity to help families see how much can still be shared at the end of life through continued personal and spiritual connections.  This is the reason why so many family members look back with gratitude upon their Hospice experience.
Myth #5 – You can't keep your own doctor.
Hospice physicians work closely with the patient's doctor to determine a plan of care.
OL – Thank you so much for sharing your passion with our readers. If we took away one key point what would you want us to really take away?
JB – Hospice is about living. According to post-care satisfaction surveys, the number one comment is: "We wish we had known about Hospice sooner."  When it comes time to have those tough conversations, it is never too early to call and talk with Hospice.  We want people to know they can call Hospice and have their loved ones evaluated. Anyone can call and make a referral to Hospice.  We'll be happy to come out and make an evaluation and refer the patient to further care. We truly are about focusing on quality of life.
—
For more information, call 270-926-7565, stop by the Hospice of Western Kentucky office at 3419 Wathens Crossing (just off Carter Road), tour The Heartford House (2914 Hartford Road), or connect with us on Facebook or our website www.hospiceofwky.org.