Santa made a special early delivery to the Pitino Shelter this morning to drop off presents for Thursday night. The jolly old guy got a lot of help from Cromwell Radio Group, who loaded their vans and transported the presents to the shelter for him. 
Thanks to the generosity of Cromwell Radio Group's listeners across the tristate, and a contribution by Howard's Post Frame Buildings, each of the 29 children at the Daniel Pitino Shelter are in for some real excitement Christmas morning. 

"With the goodwill from our community and Howard's Post Frame Buildings, all 29 children were provided for and they will each receive every item on their lists – and then some!" said Brack Stacy, General Manager of Cromwell Radio Group. Listeners of stations 94.7 WBIO FM, 100.5 WVJS FM, 102.7 WLME FM, 97.1 WXCM FM "97X", 101.3 WKCM FM, 105.7 WCJZ FM "CJ 105.7", and 93.3 WTCJ FM, helped check off the Christmas list of each child housed at the shelter.  
This is the second year Cromwell has helped Santa's efforts at the Pitino Shelter. Taunya Iverson coordinated the project. "It was a pleasure to be a part of," Iverson said. "I always love giving back."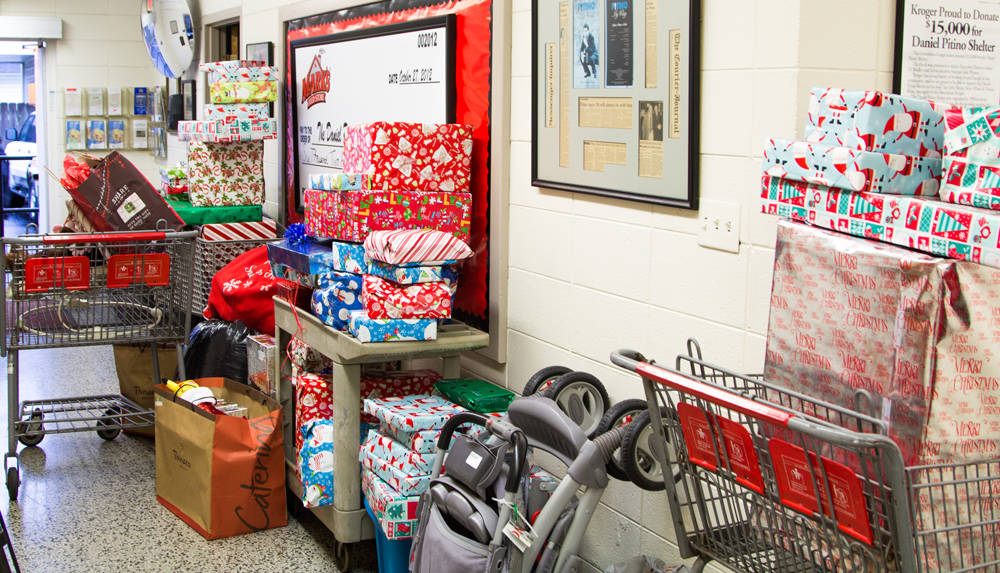 Barnett, along with several adult residents, received the presents, which will be stored until Thursday night for safe keeping so Santa can distribute them when he makes his rounds Christmas Eve.
"Cromwell worked hard to get all these kids sponsored, so this is a real blessing," Barnett said. "If parents are working and making minimum wage or on social security, it would be very hard to buy all this stuff for Christmas. These guys made that possible. Can you imagine explaining to a child why Santa didn't come to see them on Christmas?"
Not to worry, though.  Tristate area listeners stepped up in a major way – again.