The RiverPark Center unveiled its 25th anniversary season today.
Executive Director, Roxi Witt, said during the last 25 seasons, the RiverPark Center has served 4 million patrons at 10,000 events and 2,500 performances while serving 800,000 kids. "None of that would ever be possible without this community and the investment they have made in the RiverPark Center," Witt said at a press conference this morning.
It took a large effort to get it going. The nine million local dollars the fundraising committee raised was the largest single capital campaign to date in the city for any non-profit agency, according to Witt.
Owensboro BB&T Market President, Bob Turok, announced the BB&T 25th Anniversary Broadway Series at the RiverPark. "It's unique for a sponsor to have a 25-year history," Turok said. "We feel it's part of our mission at BB&T to make our city a better community to live and work and we feel that our community sponsorship of the RiverPark Broadway series embodies that mission."
The BB&T Broadway at RiverPark Series performances include: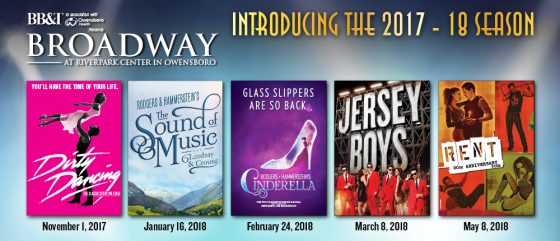 DIRTY DANCING – THE CLASSIC STORY ON STAGE is an unprecedented live experience, exploding with heart-pounding music, passionate romance and sensational dancing. Seen by millions across the globe, this worldwide smash hit tells the classic story of Baby and Johnny, two fiercely independent young spirits from different worlds who come together in what will be the most challenging and triumphant summer of their lives. Featuring the hit songs, "Hungry Eyes," "Hey Baby," "Do You Love Me?" and the heart-stopping "(I've Had) The Time of My Life." London's
Sunday Express says, "This crowd-pleasing stage adaptation hits the jackpot!" Don't miss your chance to see this record- breaking live theatre sensation. You'll have the time of your life!
Rodgers + Hammerstein's The Sound of Music – January 16, 2018 – 7pm
THE HILLS ARE ALIVE! A brand-new production of THE SOUND OF MUSIC is coming to Owensboro. The beloved musical story of Maria and the von Trapp Family will once again thrill audiences with its Tony®, Grammy® and Academy Award® winning Best Score, including "My Favorite Things," "Edelweiss" and the title song. THE SOUND OF MUSIC enjoyed extraordinary success as a live television production when "The Sound of Music Live!" aired on NBC in December, 2013 and was seen by over 44 million people. 2015 marked the 50th anniversary of the film version, which continues to be the most successful movie musical in history.
Rodgers + Hammerstein's Cinderella – Saturday, February 24, 2018 – 7pm
Rodgers + Hammerstein's CINDERELLA is the Tony Award®- winning Broadway musical from the creators of The Sound of Music and South Pacific that's delighting audiences with its contemporary take on the classic tale. This lush production features an incredible orchestra, jaw- dropping transformations and all the moments you love—the pumpkin, the glass slipper, the masked ball and more—plus some surprising new twists! Be transported back to your childhood as you rediscover some of Rodgers + Hammerstein's most beloved songs, including "In My Own Little Corner," "Impossible/It's Possible" and "Ten Minutes Ago," in this hilarious and romantic Broadway experience for anyone who's ever had a wish, a dream…or a really great pair of shoes.
Jersey Boys – Thursday, March 8, 2018 – 7pm
"TOO GOOD TO BE TRUE!" raves the New York Post for JERSEY BOYS, the 2006 Tony Award® winning Best Musical about Rock and Roll Hall of Famers The Four Seasons: Frankie Valli, Bob Gaudio, Tommy DeVito and Nick Massi. This is the story of how four blue-collar kids became one of the greatest successes in pop music history. They wrote their own songs, invented their own sounds and sold 175 million records worldwide – all before they were 30! JERSEY BOYS, winner of the 2006 Grammy® Award for Best Musical Show Album and most recently, the 2009 Olivier Award for Best New Musical, features their hit songs "Sherry," "Big Girls Don't Cry," "Rag Doll," "Oh What a Night" and "Can't Take My Eyes Off You." "IT WILL RUN FOR CENTURIES!" proclaims Time Magazine. JERSEY BOYS CONTAINS AUTHENTIC JERSEY LANGUAGE.
RENT – 20th Anniversary Tour – Thursday, May 8, 2018 – 7pm
In 1996, an original rock musical by a little-known composer opened on Broadway…and forever changed the landscape of American theatre. Two decades later, Jonathan Larson's RENT continues to speak loudly and defiantly to audiences across generations and all over the world. And now, this Pulitzer Prize and Tony Award® winning masterpiece returns to the stage in a vibrant 20th anniversary touring production. A re-imagining of Puccini's La Bohème, RENT follows an unforgettable year in the lives of seven artists struggling to follow their dreams without selling out. With its inspiring message of joy and hope in the face of fear, this timeless celebration of friendship and creativity reminds us to measure our lives with the only thing that truly matters — love. RENT CONTAINS ADULT LANGUAGE AND SUBJECT MATTER.
Director's Series
RiverPark Board Chair, Rick Hobgood, then explained that a task force was assembled to book the entertainment for the 25th Anniversary Season. "That task force recommended to the board that we put a spotlight on all that has happened at the RiverPark Center by celebrating 25 events throughout our 25th season," Hobgood explained.
Two events will be highlighted each month such as Owensboro Symphony Orchestra, Broadway at Riverpark, Movies on the River, Missoula Children's Theater, Owensboro Dance Theatre, Friday After 5, and Back Alley Musicals culminating in the 25th Anniversary Celebration that will take place April 14, 2018.
The 25th Anniversary Director's Series performances include:
Dark Side of the Wall
Saturday, August 19, 2017 • 7:30 p.m
Featuring some of the top music and production talent in the region, the Louisville-based Band, "The Dark Side of the Wall" recreates the legendary shows of Pink Floyd's classic era in exquisite detail.  The Dark Side of the Wall delivers an uncanny sonic reproduction of the studio and live sound of the band using vintage equipment played by exceptional musicians. Along with the detailed and accurate sound, the band incorporates intelligent lighting and video production to create an immersive multimedia experience that enhances the music and transports the audience backwards in time.
Lesson Plans to Late Night
Comedian Lucas Bohn
November 17, 2017 • 7 PM & 9:30 PM
"Lesson Plans to Late Night" is a one-man comedy show about Lucas' transition from elementary school teacher to national touring comedian.  "Lesson Plans to Late Night" is truly a one of a kind comedy experience combining live stand-up comedy and visual images.  This show has been compared to "Defending the Caveman" and was called "A Comedic Multimedia Masterpiece" and "Hysterical" by Parade Magazine.  "Lesson Plans to Late Night" is one of the highest rated main stage shows on Norwegian Cruise Lines and was called "Truly Innovative" and "A total crowd pleaser" by cruise directors and entertainment coordinators.  If you've ever worked with children or have kids or grandkids, you don't want to miss this hilarious show.

A Christmas Carol
Sunday, Dec. 3, 2017 • 4 pm
Adapted for the stage by Charles Jones
Musical arrangements by John Bennett
This celebrated Charles Jones adaptation of Charles Dickens' A Christmas Carol from Nebraska Theatre Caravan is rich with thrilling ensemble music, alive with color and movement and is created to tell this great and enduring tale in a manner that people of all ages will enjoy.  Featuring a cast of 23 performers, live musicians, and Broadway-style scenery and costumes, audiences cherish this sumptuous holiday classic.

Men are from Mars Women are from Venus LIVE!
Friday, January 19 • 8 pm
Saturday, January 20, 2018 • 4 pm and 8 pm
This hilarious show, based on the number one best-selling book from acclaimed author, John Gray, has been entertaining thousands of people and letting them see themselves in their own relationships. Join our favorite Martian and discover how to get a little "piece" on earth! The number one best-selling book now comes to life as a hilarious one-man theatrical comedy! This hysterical show will have husbands and wives elbowing each other all evening as they see themselves on stage. This sexy, salacious fast-paced show is for adults, but will leave audiences laughing and giggling like kids!
Missoula Children's Theatre presents Jack and the Beanstalk
February 3, 2018 •2 PM
What happens when a young boy plants Wonder Beans in his backyard? For Jack, it is the beginning of a great adventure. With a little help from P.T. Wonder and a vegetarian Giant, Jack learns a valuable lesson about true happiness. Presented by Missoula Children's Theatre, this original adaptation of the classic children's story, Jack and the Beanstalk will be performed by a cast of local young actors
Bob Eubanks and The Not So Newlywed Game
Friday, February 9, 2018 • 7 pm
The Bob Eubanks Not So Newlywed Game Show is an evening of laughter, fun, prizes including that someone has the chance to win $100,000. It's called the Not So Newlywed Game, because it doesn't matter how long you have been married. Eight lucky married couples are chosen at random from the audience to play the Not So Newlywed Game. The questions are funny, the couples are funny, and they play for great grand prizes. It's an evening of games, prizes, and laughter that you will never forget.

One Night of Queen
March 18, 2018 • 7:30 PM
In 2000, Gary Mullen won ITV's "Stars In Their Eyes" Live Grand Final, with the largest number of votes ever received in the show's history.  The record of 864,838 votes was more than twice that of the runner-up.  Gary began touring on his own and in 2002 formed a band 'The Works', to pay tribute to rock legends Queen.  Since May 2002, 'Gary Mullen and the Works' have performed throughout the UK, USA, Europe, South Africa and New Zealand to sell-out audiences.  The outfit have also twice rocked the prestigious BBC Proms in the Park, in front of a very enthusiastic crowd of 40,000. One Night of Queen is a spectacular live concert, recreating the look, sound, pomp and showmanship of arguably the greatest rock band of all time. This show will ROCK you!
HYPNOHYPE
Friday, May 4 at 7 pm & 9 pm
Master Hypnotist Asad Mecci stars in HYPNOHYPE, a hilarious comedy/hypnosis show. Mecci's jaw-dropping performances have captivated audiences worldwide having performed for over 1.5 million people live and millions more through mass media. Mecca has been featured on Entertainment Tonight, MTV, HGTV, Much Music or Maxim Online.The most spectacular show some of you will forget!
Stay up to date at RPC25.org.