Owensboro Health announced a grand total of $696,866 in Community Health Investment Grants this morning. The grants support nonprofit agencies and organizations across the system's coverage area.
Director of Community Engagement, Debbie Zeurner Johnson, said that money is being distributed to 34 organizations covering 38 community initiatives which will impact 516,899 lives, according to grant applications.
Fiscal year 2018 recipients are:
American Heart Association
Apollo High School Health & Physical Education Department
Audubon Area Community Services, Inc.
Boulware Mission, Inc.
CASA of Ohio Valley
Cliff Hagan Girls & Boys Club
Community Dental Clinic
Father Bradley Shelter for Women and Children
Friends of Sinners
Girls, Inc. of Owensboro Daviess County
Greater Owensboro Young Life
Green River District Health Department (Teen Outreach Program)
Green River District Health Department (Quit Now)
Hospice of Western KY
MentorKids KY
Munday Activity Center, Inc.
New Beginnings Sexual Assault Support Services, Inc.
Owensboro Public Schools
Owensboro Regional Suicide Prevention Coalition
Project C.A.M.P. Inc
Puzzle Pieces
The Way of Rockport, Indiana
Tri-State Food Bank
University of Kentucky Research Foundation
Western Kentucky University Research Foundation
Arts and Culture: 
International Bluegrass Music Museum
Owensboro Dance Theatre
Owensboro Museum of Fine Art
Owensboro Museum of Science and History
Owensboro Symphony Orchestra
RiverPark Center
Theatre Workshop of Owensboro
Community Support/Partnerships:
Daviess County Public Schools and OCTC
Supplies Overseas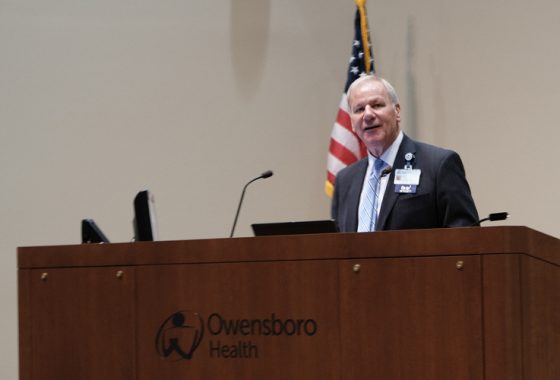 Owensboro Health President and CEO, Greg Strahan, said the reason Owensboro Health provides Community Health Investment Grants is "because we care about people – our family and neighbors in this community. We can do more in the community by partnering (with the grant recipients). So the money we give today makes a difference in all these projects and it makes a huge difference in quality of life."
Strahan also announced that US News and World Report named Owensboro Health a Top 7 hospital in the state of Kentucky.