Thanks to everyone who purchased the Nicky Hayden commemorative cover special edition of June/July Owensboro Living Magazine!
This afternoon, we presented Hayden family members (fresh out of the pool) with a $3,600 check from the proceeds to go toward Nicky's memorial fund. The poster in the photo is a blown up version of the limited edition cover which everyone who picked up local orders had a chance to sign.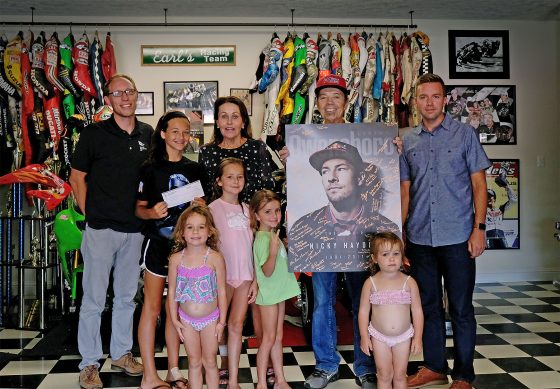 International orders have been shipped, so we will no longer be accepting international sales, but we have had several people asking if they could still pick up an issue here in town.
Still Need One?
We do have several boxes left, so we have decided to do one more round of sales for local pickup only.
Copies can be picked up in our office next week Monday-Friday (Aug 11) from 9-11am or 2-4pm. Copies can be purchased for $5 cash-only. Our office is located at 3115 Commonwealth Court, Building B-6. (In between Pizza by the Guy and Ol South Barbecue, next to Balance 54).