The Kentucky Mavericks hosted a grand opening at their new training facility (former Executive Inn Racquet Club) on Friday, October 2nd from 10-4pm.
"We are so proud to be here," coach Steve Tucker told the crowd at the ribbon cutting.  "This building is going to be good for the community.  We have a lot planned to make this an active building."  Kentucky Wesleyan College has already practiced at the facility, for example.
Now in their new facility, there is even more excitement surrounding the Mavs as they prepare for their opening game at the Sportscenter January 9th. To help our readers get to know the Mavs a little better, Owensboro Living sat down with players Anthony Jackson, Mike Crain, Jon Rogers, and Alex Sanders, along with head coach Steve Tucker and assistant coach Sarah Gaylor.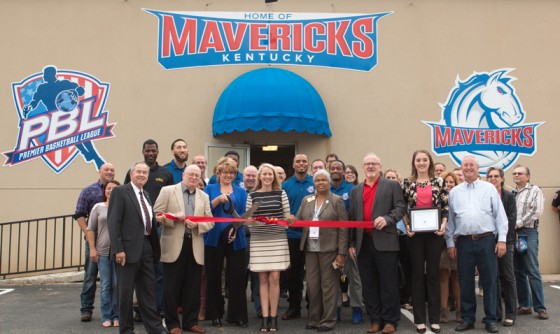 What do you think of Owensboro so far?
Anthony – We love it here! Owensboroans took us in.
Mike– Everybody has been welcoming and accepting us with open arms. It's been good so far.
What's your first impression of Owensboro and/or Kentucky?
Jon – We played the Bisons here (at the Sportscenter) and the atmosphere was crazy with the fans and the energy! So I hope we get the same thing when we play here. But it's been nothing but love so far – starting with the crowd that came to our press conference. And it's just snowballed from there.
Mike – This is actually my second time playing in Kentucky. I played two seasons in Pikeville for the Eastern Kentucky Miners. Kentucky is basketball country.
Coach Tucker, community service is a priority for the Mavs. Why is it important for you personally?
Coach Tucker – I think as a team you've got to be open to meeting people half way. We have to extend our hand first. What you see these guys doing, we've done in Texas and Louisiana. The reaction we've gotten here has been great. We had 85+ at the press conference. We had great media coverage. We've been really well received at community appearances. The fan base is already here. We did our homework. This is the #1 sportstown in the state of Kentucky, so we want to tap into that. We want to make all these basketball fans MAVERICKS fans. That's what we're working to create. These guys are not putting on an act. Jerry Nelson (the owner) himself exemplifies that by the way he gets involved and the charities he gives to. When we go out and do things in the community we are sincere about it. From the top to the bottom, we believe in it whole-heartedly.
Alex – Personally, I grew up in the YMCA and Boys & Girls Club of America, so I definitely like going back to those places because they remind me of my own childhood when a Houston Rocket or Astro would come to our YMCA. We always enjoyed getting pictures and autographs from those players.
Jon – For me, I grew up playing at Boys & Girls Club like Alex, and helping kids is my passion. Seeing the smiles on their faces is what it's about. Even though we play semi-pro, to them we're their NBA stars or celebrities. I try to play well on the court but I also try to be a better man off the court as well. Anytime we can do that with a large crowd of kids, that's the world to me.
Anthony – Being good role models for the kids is number one in our book.
Coach – Mike and Alex are parents, so they have that perspective too.
Mike – Yeah, not only do I do stuff in the community when I'm here, but I also do it when I'm home. It goes hand in hand. I'm constantly away, sometimes six months at a time. But when I am home, I try to go read to the kids in my daughter's class. I've helped with her PE teacher. I think it's a good thing. It's second nature to all of us. Something we thoroughly enjoy.
Alex – My first child was a girl, and my second child was a girl, then nine years ago God blessed me with a son. So for him to be able to see me win my first championship and be in the building when that happened was a very special moment. Now, coming this far away from my family back in Houston, I would never play for any other organization but this one because this organization means the world to me. I'll miss about four or five months being away from home but I think it's well worth it. We'll get them down here for the finals, which we hope to host here in Owensboro.
Coach Gaylor, how did you get into coaching mens basketball?
It is rare to see a woman coaching men, but it is a little more prevalent with Becky Hammon coaching the Spurs and Nancy Lieberman with the Kings. But honestly it stems back all the way to when I first started playing because someone told me that in order to be the best ball player you have to watch the best and play with the best. So to me, I watched the men and started playing with guys and studying their game. In college I played with our team but I would watch every guys' practice too. Once I graduated, it just kept going. Of course I like women's basketball, but this is what I studied and what I did. This will be my third season with the Mavs.
Alex, you're turning 40 this season and you're still playing. What is the secret to your longevity?
Alex – I try to stay in shape. I never stop playing. I've been blessed and never had any major injuries. I take a lot of supplements and vitamins and stay active. If I didn't play basketball for money I would still be playing anyway. Now that I'm able to make a few dollars playing basketball it's just icing on the cake. I try to stay active with my kids and nieces and nephews and stay active as much as possible.
Jon, at the press conference Coach Tucker called you the best center in ABA. What is your reaction to that?
Jon – I'm very appreciative. But I only care about winning. I don't really care about accolades or anything like that. I attribute everyone and how well we get along with each other. We know our roles and do it the best way we can and come together as a team.
Mike, you're a player but you also work for the team as player liaison. How do you balance that?
Mike – It's just me thinking long term. After the season last year, I went to our GM and she said that I have more to offer than just bouncing a basketball. I have a degree. So I thought it would be good to get some experience in the front office for when I'm done playing. All of it ties in together, but it will be something good for me to add to my resume. It's in preparation for life after playing basketball and Mrs. Green gave me the opportunity, so I ran with it. Coach has full faith that I can handle both. I'm excited to get started.
Anthony, how did the nickname "Jet" come about?
Anthony – (Pointing to Coach Tucker.) Coach! After everyone else is huffing and puffing I'm still running back and forth. I guess I have ten extra lungs or something. I don't get tired easily. And I've always been fast.
Coach – When he played against us I had other nicknames for him, I can tell you that! (All laugh.)
Anthony – I actually started off playing pee-wee football, but I was getting crumbled, so I switched over to basketball and tried to mastermind that. And it took over the rest of my life.
Alex – I played all sports since I was 8 or 9. Basketball took over my 10th grade year. Then it was strictly basketball 24/7.
Jon – I started with teeball but started playing basketball in middle school. My mom actually got me started because she was a great player and had passion for the game. I fell in love with it.
Mike – I also played baseball and football growing up. I was actually a better baseball player and played football up until high school. Then I played AAU basketball and that conflicted with baseball. I didn't want to get injured playing football, so I stopped playing football to focus on basketball.
Coach Tucker, what does coach Gaylor bring to the team?
Coach – Dedication. Being a pioneer. You talk about Becky Hammon, Nancy Leiberman, or Annie Myers who was the first woman to play on a men's roster. These ladies are being courageous. Up until a few years ago I had only heard one woman's name mentioned that could coach men. Pat Sommers. I think Sarah will coach in the NBA. As a young coach at 29, I think she will get an opportunity. She helped us win two championships and I think she's gonna help us win more. I think this season will be a big season for her as we move into the PBL. I think her dedication to the game is really special. She has been more of a blessing to me than I ever have been for her. She's the daughter I never had and I'm extremely proud of her.
Players, can you tell me more about the rest of your team?
Anthony – PJ Couisnard is a really special player. When I played against him he was a big shot maker.
Jon – I love all my teammates, but Brandon Davis and I really compliment each other. We play well together, and hopefully the fans will see that. The chemistry we have is really something – I never played with anybody that good on any level before him.
Coach Tucker – We're gonna bring 12 guys in this year. Our training camp is a little more condensed – we've got 11 days, so when we get here we need to be more focused in on getting ready for our opening game. We've got a couple of surprises.
Coach Gaylor, you're going to have open tryouts in November. How can adding a player from Owensboro impact the team?
Coach Gaylor – I think signing local talent would be great for Owensbsoro because it's a familiar face. It would be good for the fan base, good for the player, and good for us.
Coach Tucker – Guys are gonna get legitimate looks. We've signed several players from open tryouts.
Coach Gaylor – They'll sign up online. It's going to be all day on Saturday 8am till 6pm. We're going to give everybody a chance and invite the best players back on Sunday. That's when we'll sit down and talk with each player to try and figure out who's going to help us the most.
How do you balance travel with family.
Jon – It's tough. I don't have any kids, but I have family in my hometown two hours south of Atlanta. It's time management. When you're home you make the best of it. But it's like that in any job. As long as you love what you do the time away is easier. We receive the love when we're home, but we receive the love when we're away with our extended family -the coaches and players. These players are like brothers. It's still tough, but it's easier that way.
Alex – I think it's tough but I order a lot of gifts; diamonds, flowers (all laugh). Facetime helps to feel like you're not that far away.
Mike – We do have times during the season when we do go home. Coach will give us a couple days off and we can go home for a day and a half and come right back. So while we're gone we're still in touch. For me, when my daughter turned 3, I stopped playing overseas. At that age she was looking for me. So I had to personally make that decision. It's worked out so far and I've been able to reach out and touch her when I need to; she's only a flight away or a drive away. This is our family away from home. We've all been together for a long time and this organization takes care of us.
Last thoughts or comments to the people of Owensboro?
Alex – We're excited! We've been in existence for six years now and we're excited to get a taste of what Owensboro's going to give us back. All the kids we've been talking to are excited. The adults have been excited. We've been excited. We're ready to hit the court and get going. We're enthused. We're going to bring dedication, desire and determination to the Owensboro area on and off the court, and we look to have this place packed out every game we have, including the playoffs. So thank you Owensboro.
*This is the full interview.  A condensed version can be found in the October issue of Owensboro Living Magazine.