Kentucky State Police Captain Robert Shoultz welcomed a new trooper to the Henderson Post Friday, August 11, 2017. A total of 41 new troopers graduated from the Kentucky State Police Academy in Frankfort Friday, bringing agency's strength to a total of 866 troopers serving the citizens of the Commonwealth.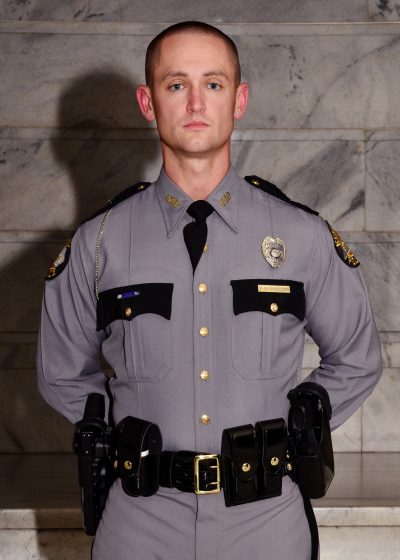 Trooper Shaun Ryan Schroader, 29 of Philpot, (Daviess County) KY, will be soon assigned to the McLean and Ohio County squad. Trooper Schroader is a 2010 graduate from Western Kentucky University and began his law enforcement career with Owensboro Police Department in December 2011 to May 2017 when we was accepted to the Kentucky State Police academy.
His first shift will begin next week.
KSP Commissioner Rick Sanders said the addition of these newly-graduated troopers will help with the current strength, but does not come close to resolving the agency's shortage of personnel.
"Like other police agencies, we have been challenged with maintaining our strength of active officers in light of retirements and attrition," Sanders said. "In 2000, the agency manpower was more than 1,000. Yet, we are doing more today with fewer personnel and resources than we had back then. To add to this dilemma, we are servicing a higher population while seeing new crime that we didn't have in the past such as human trafficking, electronic sexual exploitation of children and the potential threat of terrorism."
Sanders went on to say that "the role of law enforcement has developed exponentially to meet the needs of an ever-changing society, and KSP is a significantly more specialized agency compared to the past. With more troopers working in specialized capacities that means fewer troopers available to respond to calls for service."
Trooper Schroader and the new troopers are part of the agency's 95th cadet class, which was the agency's fourth Law Enforcement Accelerated Program (LEAP), a condensed course for current officers who have two years of Kentucky Police Officer Professional Standards (POPS) law enforcement experience.
They reported for duty on May 21, 2017, in a class that consisted of 63 cadets. Twenty-two resigned during the program.
The training included more than 500 hours of classroom and field study in subjects such as constitutional law, juvenile and traffic law, use of force, weapons training, defensive tactics, first aid, high speed vehicle pursuit, criminal investigations, computer literacy, hostage negotiations, evidence collection, radio procedures, search and seizure, crash investigation, drug identification, traffic control, crowd control, armed robbery response, land navigation, electronic crimes, sex crimes, hate crimes, domestic violence, bomb threats and hazardous materials.