Owensboro High School junior, Zion Riley, 16, sculpts something out of snow each year Owensboro sees snow accumulate.
This year Zion decided to sculpt Mickey after working on a sketch of the famous cartoon character in another project — an abstract piece made of cardboard that Zion plans to cover his wall.
In years past Zion has sculpted a UK Wildcat out of snow. It fell over, so the dedicated teen rebuilt the Wildcat, bigger and better. The next year he took on Olaf from "Frozen." Each year Zion has improved his skills, building taller, more detailed characters. This Mickey Mouse stands over 6 feet tall and is the tallest project Zion has tackled to date.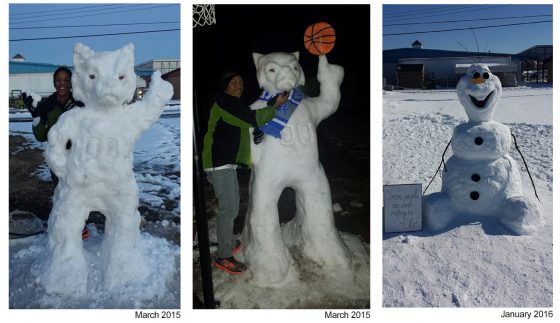 Mickey took just over 21 hours to build, using only a squirt bottle of water and a spatula for sculpting. Zion began construction of Mickey at 8 a.m. Saturday morning, not stopping for a break for eight hours.
With more snow in the forecast for today, Zion hopes to add a character next to Mickey. Maybe Minnie? Goofy or Pluto? You will just have to drive down Lewis Lane and see for yourself!
Zion hopes that one day he can profit from his artistic passion, which is why he has displayed his sign asking that people share his story in hopes of receiving a scholarship to college.
A very talented young man, Zion likes to take materials you wouldn't typically think of as artistic, like cardboard, and turn them into something special. In fact, two of his favorite projects were shoes he built out of cardboard, paper and hot glue.
Be sure to drive by Zion's snow sculpture on Lewis Lane just off of Scherm Road. He will more than likely be outside working on a second sculpture.