Update: In addition to winning the International Woodworking Fair Challengers award (read below), Phill Crabtree II was also profiled in the Wood Industry 40 under 40 Class of 2016 during the IWF Ceremony on Thursday, August 25.
40 Under 40 is an award program seeking the next generation of young people destined to make an impact on the wood products manufacturing industry in North America. The 40 Under 40 program finds movers and shakers already making their mark in all walks of wood products manufacture, as well as suppliers and educators. Winners were selected from a field of more than 135 nominations.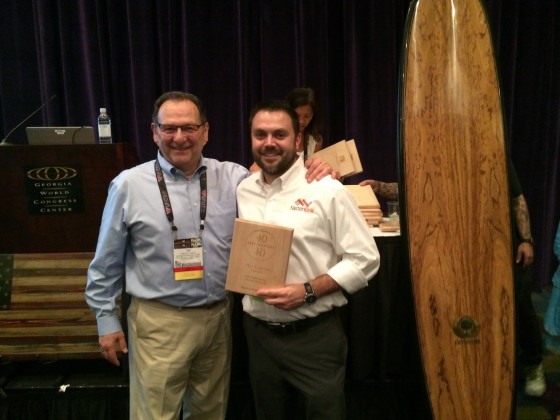 According to the 40 Under 40 bio on Woodworking Network, "Phillip Crabtree is a seriously serial entrepreneur, having founded Cabinotch, the snap-together RTA cabinet system sold only to the trade. After selling that still thriving business to Columbia Forest Products, Crabtree has launched FastenLink, among the new generation of fasteners that makes assembling RTA furniture and building cabinets easier. Based in Owensboro, Kentucky, Crabtree's video pitch is so compelling it's no doubt he will succeed in his newest venture."
---
[Original article – Aug 25] How can a small, 8-millimeter plastic dowel revolutionize the woodworking industry?  By allowing customers to assemble furniture and cabinets by simply sliding pieces into place without the use of any tools.
The bright orange, plastic dowels I'm speaking of are a patent pending invention called FastenLink, a camless, clampless connector which is creating quite a buzz in the woodworking industry.
This week, FastenLink™ earned an impressive recognition when it received the prestigious Challengers Distinguished Achievement Award at the International Woodworking Fair in Atlanta, the industry's largest tradeshow.
The Challengers Award is an international innovation award which was started 50 years ago in Louisville, KY, and has become known throughout the world for recognizing outstanding companies who have developed innovative technology in products, services, or manufacturing techniques that will advance the industry.
FastenLink™ was one of 74 entries from all over the world. "We are honored to bring the award back home to Kentucky for the 50th anniversary year," said Phillip Crabtree II, second-generation owner of Phill's Custom Cabinets and creator of the Cabinotch snap-together cabinetry system. The Fastenlink™ system replaces wooden dowels with a patent-pending design which utilizes a groove cut into the tip of the plastic dowel, creating a shoulder that slides into the tapered "ramp" cut into the wood which guides the Fastenlink™ dowel until it clicks into the locked position, seamlessly connecting the adjoining pieces into place. Fastenlink™ thereby replaces wooden dowels and eliminates the need for cams, screws, or finish nails.
The high-functionality of Fastenlink™ makes it highly marketable because it works with almost all wood products: furniture, cabinets, vanities, end tables, bookcases, bunk beds, desks, etc.
For the consumer, the beauty of Fastenlink™ is that anybody can assemble the end product without any tools and without that dreaded bag full of hundreds of fasteners. You simply line up the pre-inserted Fastenlink™ dowels into the holes and snap it together.
For manufacturers, FastenLink™ is an easy retrofit, requiring only the use of standard CNC machinery. With the purchase of a bit to cut out the ramp, wooden dowels can be eliminated for plastic Fastenlink™ dowels. At that point, manufacturers can conceptualize countless ways to make a better profit.
"We believe this can radically change our industry for the better, which then will change it for the consumer too," FastenLink Vice President of Operations Jamie Mindrup explains. "If companies can cut their own assembly time drastically, it lowers the cost of the product for the consumer."
With FastenLink, Mindrup says, the possibilities are endless. "FastenLink is changing the way wood products are being manufactured and assembled all over the globe," Crabtree added.
The Origin of FastenLink
The idea for FastenLink did not come overnight. "It's hard to pinpoint the exact time it came to me," Crabtree says. "It was really a bunch of small steps along the way."
The original prototype, which still sits in a corner in the shop, was built several years ago. "Then through a series of providential meetings with people in the industry, we realized we needed to go from a 10mm dial to the industry-standard 8mm dowel," Crabtree explained.
Originally, the idea was to produce and sell pieces of furniture using the FastenLink system.  But based on feedback gathered from some regional manufacturers, the model has changed to market FastenLink to furniture, closet, and cabinet makers so they can incorporate the FastenLink dowels into their own product lines.
Crabtree and Mindrup then worked with software designers to offer a plug-in that will work within existing CAD to CAM manufacturing software systems.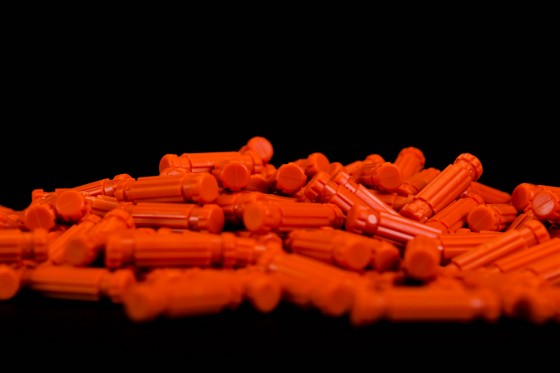 With a solid plan in place, Crabtree presented FastenLink to the Economic Development Committee, who immediately recognized the potential.  FastenLink was recommended by the EDC to the Daviess County Fiscal Court to be awarded a $300,000 local economic development grant which is being  used as seed money for buying equipment and hiring employees as needed.
"That grant was just one of many, many blessings," Crabtree explained.  "We believe the Lord went before us to the EDC to make all this happen.  To have this crazy idea, which was actually a bunch of different ideas collected together, and then to have it blessed by the community (the EDC and Daviess County Fiscal Court) that says 'We believe in the product, we believe in you because you're from Daviess County, and we're going to give you $300,000 to go build this thing! Now go make us proud!'… We're honored, we're blessed, we're excited."
Which makes the Challenger Award even more special for Crabtree and Mindrup. "They (the EDC and Daviess County Fiscal Court) took a risk on us and we are proud to claim this award as a result of their investment in us," Crabtree acknowledged. "FastenLink is now poised to bring more jobs to Owensboro/Daviess County."
Phill's and the Future
None of this is to say that Phill's Custom Cabinets (the shop where FastenLink was born) is going away. Quite the opposite is true. "Phill's has been blessed to be in the community for 40 years and we're still going strong. But this is a new venture that we're extremely passionate about," Crabtree explained.
The experience and background of FastenLink and Cabinotch do help Phil's Custom Cabinets in the sense that they allow the use of better processes and more efficient systems, which in turn enables Phill's to be extremely competitive in pricing while still providing the same quality products, customer service, and custom designs they've always been known for.
"I'm sitting in a place where I love to create. I love to think about things and build systems. And now we're able to share this system that we've been blessed with," Crabtree said.  "Our passion about FastenLink is immense. It's going to change the industry. It's going to have an impact on businesses and people all over the world. We're extremely passionate about the opportunities this will bring to us, to Daviess County, and beyond."